Don't miss the opportunity to spend an evening with the award-winning Daily News columnist,
Dennis McCarthy
Tuesday,
March 11
at 7 PM
Mr. McCarthy will be sharing stories and experiences at our March General Membership Meeting.
For some three decades, he has been providing readers with his unique and thought-provoking look at the Valley and its citizens.  In his inspirational commentaries, he writes about average working people who do something very unaverage to make our community a better and safer place. In his words, after the first 10 years of his writing career, "I dumped the losers and went looking for the winners because they deserve more of our recognition and gratitude."
His commentary appears exclusively in the Daily News four days a week, and select columns are available on-line.  If you haven't had the opportunity to discover why he is a Valley favorite, be sure to treat yourself to an evening guaranteed to delight you and let you in on what's right about the Valley and our people.

Going Out of Business Super Sale ~ The closing of the book stand at the Canoga Park Swap Meet gave us a rare opportunity to bring the surplus books to Platt Branch for a 1-day sale, kicking off the New Year with a special treat for Friends members and other Platt patrons. For details see The Volunteer Connection and Book Chats.
Boutique Begins Holidays on a High Note!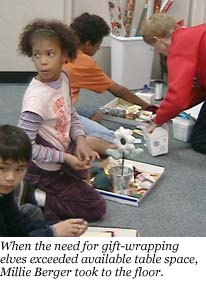 Tables filled with hand-crafted gift items, a troupe of Friends volunteer "elves", and a crush of eagerly shopping children filled Platt's Multipurpose Room on December 1st. The Children's Holiday Boutique was back, and in full swing. The shoppers came with long lists and jingling pockets. By the end of three hours, they had pretty well emptied the boutique as they bounded out the doors with gift-wrapped,

labeled, "child-priced" presents for family and friends. Upon leaving, each child was presented with a chocolate sucker, either Hanukkah or Christmas themed, for his or her own treat.
In many ways it was an exhausting day for the volunteers. Little ones had to be guided, and wrapping sometimes was carried out on the floor. But the shining eyes made it all worthwhile—including the months of preparation.
None of this could have been possible without the efforts of so many who planned, sewed, glued, crocheted, knitted, donated, wrapped, and otherwise gave of their time and patience. Many thanks go to Ed Berger, Eileen Bernfeld, Pam Bieber, Phil Binderman, Susan Bougetz, Ruth Bromund, Elaine Corman, Frona DeCovnick, Lynn Durbin, Virgene Engberg, Faye Faraldo, Annie Haas, Therese Hearn, Freya Maneki, Patty O'Bryan, Eileen O'Neill, David Perrell, Nancy Reeve, Carol Roseman, Samantha Roseman, Paula Russo, Erin Schaeffer, Lin Schonberger, Sharon Schuster, Samantha & Sue Schuster, Harriet Strauss, and Andrea Zeller from their Chair­person, Millie Berger, and from everyone who enjoyed the fruits of their labors so much.
Ballot Issues Past and Pending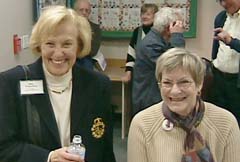 Ellen Pangarliotas and Sue Strickland share a laugh after the discussion.
It was "déjà vu all over again" on a cold January evening when over 90 people crowded into the Multipurpose Room to hear a discussion of the measures on February's primary ballot. Ellen Pangarliotas of the Los Angeles League of Women Voters Speakers Bureau once again enlightened an attentive audience with her analysis of the propositions. Discussion was lively, per usual, but not without humor.
My thanks to Frona and Stan DeCovnick for helping set up the room and to all others who helped facilitate this review. And of course, thanks to Carol Roseman for her energies in getting the word out.
At the time of this writing, there are 51 initiatives and referenda in circulation and 16 in the Attorney General's office awaiting verification of signatures. So, we may be hosting another gathering on May 14 to discuss ballot propositions before the State primary in early June 2008! Stay tuned, and check out our website for further developments!
LA Opera Talks
Platt Branch 07|08
7:00 pm on the 3rd Tuesday of each month in the Multipurpose Room
MARCH 18
BEHIND THE SCENES IN OPERA
APRIL 15
PUCCINI'S TOSCA
MAY 20
PUCCINI'S LA RONDINE
JUNE 17
LIVE RECITAL!
LA Opera Talks Captivate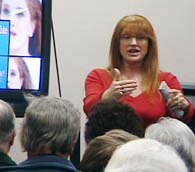 A hush spread over the seventy-member audience on January 15 as Anne Russell Sullivan, our presenter from the LA Opera Speakers Bureau, unraveled the story of Tristan und Isolde. Opera buffs enjoyed Anne's extensive knowledge of Wagner's life and works. Novices appreciated her in-depth commentary on the impact that innovations in this opera had on Wagner's contemporaries and on the stunning staging David Hockney designed for LA Opera's production. Previously, in November, speaker Phyline Novack Polakoff provided an equally comprehensive and well-received introduction to La Bohème.
At the end of each Talk, the Opera Guild raffles off a CD and presents a duplicate copy to Platt Branch. Tristan arias winner was Barbara Baral.
At press time, we are still anticipating the next Talk on Otello, February 19. Save the accompanying box for the final three LA Opera Talks in March, April, and May. Do join us. You will leave aware and educated.
Frona DeCovnick, Program Coordinator
ADDENDUM: Opera Talks has been so successful that Platt branch has been selected for a extra program on Tuesday, June 17 with several performers from the L. A. Opera.
New Senior Outreach Lending Library
The Friends recently introduced a new community outreach program—a free lending library to serve senior retirement and assisted-living facilities in the Woodland Hills/Canoga Park area. Based on its needs, a selection of used books from the Friends' Bookstore will be delivered to the facility and periodically replaced with a new selection. The first deliveries to Sunrise of Woodland Hills and Hallmark Retirement Center took place in January and February. We look forward to expanding the number of facilities participating in this program. If you know of one that might be interested, please contact me at 818-340-6534.
Freya Maneki, Chair—Senior Outreach Lending Library

The Friends of the Platt Library Newsletter is produced and maintained by Hearn/Perrell Art Associates. Editor: Therese Hearn
Artwork, photos and information are copyrighted by their respective Authors, the Friends of the Platt Library, and/or Hearn/Perrell Art Associates and may not be reprinted without permission.
Problems? Comments? Suggestions? Please tell the Webmaster.