Book Chats
with Shel Schuster
Got a question or comment about current Bookstore offerings, out-of-print titles, or other topics of interest? Click on Shel's picture at left.
Q: Do you sell all the books that are donated?
A: No way! While we do a very nice job in the Friends Bookstore, it only holds two to three thousand books and related merchandise. Frequently, we get that many donations in a week! After saving those we need to keep the Bookstore well stocked, we box the rest and offer them to other libraries and non-profit organizations. (After the recent 1-day sale, the Salvation Army took over two hundred boxes of books for their store.) The only caveat is that recipients must pick the boxes up; we don't deliver.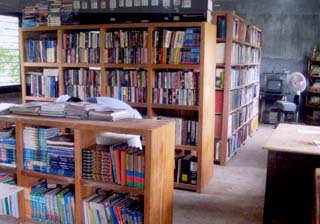 In addition to local outlets, we recently helped stock some public libraries being set up in the Philippines. Seen here are some of our books in the stacks of the Pudtol (Apayao) Public Library. These further distributions help get books to where they are needed, as well as alleviating our lack of long-term storage space.
Bottom line: Your donations not only go to raising money for the books and programs at Platt Library, they also support other community projects both here and abroad. Keep them coming!
Shel Schuster, Bookstore Manager

The Friends of the Platt Library Newsletter is produced and maintained by Hearn/Perrell Art Associates. Editor: Therese Hearn
Artwork, photos and information are copyrighted by their respective Authors, the Friends of the Platt Library, and/or Hearn/Perrell Art Associates and may not be reprinted without permission.
Problems? Comments? Suggestions? Please tell the Webmaster.