Notes from the Senior Librarian

Hi! My name is Lynn Light, and I'm the new Senior Librarian at Platt Branch Library.
A summary of my background is included in the changeover article on page 1. Most important, though—some of you may remember seeing me at Platt's Reference Desk when I helped out here on and off over the years.
I enjoyed working with my predecessor, Jan Metzler. Van Nuys Branch will appreciate her experience, and I join the Friends in wishing her all the best. I also know first hand that this is a great branch and deeply appreciate the Friends of the Platt Library Board and membership's desire to help me preserve Platt's success.
Calming Troubled Waters
One of my first acts as Senior Librarian was continuing Jan's efforts to resolve the disruption caused by unruly middle school students. I have already met with Hale Middle School's new principal, Robert Marks, and can assure you Hale and Platt Branch will be working closely to end the behavior that has disturbed many of Platt's patrons. In the interim, LAPL security guard Gus Kyles deserves recognition for being very effective while he's here. I will continue to request that security presence be expanded until the root causes have been cured.
Managing the Transitions
Platt Branch isn't alone in experiencing a sense of transfer shock. Citywide, the branch closings and openings have caused major readjustments. Actually, Platt's staff has remained remarkably stable through it all. Other permanent staff departures have been limited to one adult librarian promotion, one part-time young adult librarian, and a few part-time messenger clerks—well within normal staff shifts. Unfortunately, I can't tell you it's over quite yet, because as temporarily relocated staff members return to their branches, others have gaps that must be filled.
Platt's Young Adult Librarian, Dan Cormier, has transferred to the newly reopened Woodland Hills Branch.
Our new Young Adult Librarian, Jack Zafran, has joined us temporarily from Fairfax Branch. We're not sure how long he'll be here because work on Fairfax just started 3 months ago. When you see Jack at the Reference Desk, please give him a big smile and a warm welcome to Platt. We're fortunate to have a seasoned YA librarian to replace Dan.
Michelle Crespo, who joined us as a part-time messenger clerk last January, will be leaving due to family obligations.
We're also missing Bernie Singer, our Computer Aide. Due to renewed budget constraints citywide, the position has been phased out for the time being. I'm working on other ways to fill this important gap. Until I succeed, however, Platt's Internet computer classes and afternoon assistance have to be suspended.
Bright Notes
My sincerest thanks to Platt's remaining staff and in-house volunteers for carrying on while I get my bearings and learn where attention needs to be focused.

Congratulations to Vicki Migliori, our Children's Librarian, who got married in October.

Special thanks to Changing Perceptions: Theater by the Blind & Physically Disabled and its producing artistic director, Christina Kokubo, for presenting their intriguing and enjoyable original play in October. Thanks as well to Christine Leahey, curator of the Visual Art Exhibit by the Blind, for making her exhibit accessible to Platt Library patrons. Both projects celebrated Disability Awareness Month with verve and creativity.
Also on the bright side, this is the longest note from me you'll ever have to read. Introductions done, let's all pull together and get back to normal.
Lynn Light, Senior Librarian
Thanks for the Large Type Books!
Platt's Adult Librarians want to send a special thank you to the donor of the shopping bags full of brand new best sellers in LARGE TYPE. Our supply never equals the demand, so we were especially happy to receive these donations.
Sherry Brent, Adult Librarian
Wedding Bells for Vicki!

Special wishes for a happy, happy life went out to Children's Librarian Vicki Migliori last month. On Sunday, October 12, Vicki began married life as Mrs. Magaw. After a blissful honeymoon in Hawaii, she returned just in time for Halloween week festivities.
Ever the librarian, Vicki said to be sure to mention: "Access to the library is very useful in planning a wedding. With a budget to consider, I avoided spending more money on books, magazines, and CDs. Our catalog features books on wedding etiquette, floral designs, and music, as well as on calligraphy, travel, and weather. I was able to access the latest bridal magazines, music CDs, and videos on ballroom dancing. Not to mention the Internet, which has directory information on everything bridal—from shops to invitations and bargain ideas." Brides and parents of brides be advised.

Get Your Free Trees at the DWP's Special Home Shade Trees Workshop at Platt Branch Saturday, November 1 from 10 am to 2 pm
This somewhat overlooked free community outreach program has come to Platt Branch several times in the past. It's a good basic how-to workshop. And now that tree-planting season is upon us, you really can't afford to pass it up again—for the sake of your time and frustration as well as your budget—unless your home is already well-shaded AND you have no problem keeping it that way.
The workshop teaches proper tree selection, placement, and planting techniques. You'll also learn how to draft a site-specific plan based on your residence. You can ask questions about on-going maintenance at your house—pruning, watering, and such relative to your existing trees as well as the ones you'll get from the DWP gratis.
This is a truly win-win deal.
You benefit by getting a selection of over 40 different species of 5-gallon size shade trees—FREE. You'll also keep your home and yard cooler, lessen air conditioning use and costs by up to 20 percent, and increase the value of your property. Your home will also be both prettier and (pick the right trees) easier to keep up.
The City wants you to have these benefits because a well-planted city reduces energy use. Reducing energy use lowers air pollution and greenhouse gas emissions. Trees trap and hold water, which reduces flooding and polluting stormwater runoff during the rainy season. You do the work, reducing the City's time and budget expenditure. Fair trade. And you, the taxpayer, win on both sides of the responsible land-management equation.
Here's how it works
You sign up for the Workshop. Attendance is required to receive free trees.
You learn how to care for your trees and sign an agreement to plant and maintain them.
Your free trees will be delivered within two weeks after you mail in your tree order to the LADWP. Whereupon, you plant them.
Simple. The only condition is that you have to be an electricity customer of the Los Angeles Department of Water and Power to participate in Trees for a Green LA. And obviously, while minors can come learn tree care at the workshop, you have to be old enough to sign a binding agreement to qualify for free trees.
For Registration or Further Information
Call 1-800-GreenLA (1 (800) 473-3652) or e-mail Tree@GreenLA.com to register (giving this location and time, your name, address, and phone number) or ask questions. You can also learn more about the program at www.ladwp.com/GreenLA.
Shake, Shake, Shake
September brought out the shakes. No, not the earthquake type, but the kitchen kind. Thanks to Charlene Montante (our new Publicity Chair), we had a great library cabinet display of many types of salt and pepper shakers. A variety of animals graced the shelves. There were also some eye-catching pairs like the mouseketeer ears and the proverbial hungry snacker and "fridge".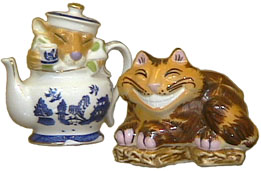 Even Santa and holiday ornaments were there to enjoy. Many took the time for a "seasoned" look.
Anyone who has a collection they would like to loan in future months can contact either Millie Berger or the library staff to schedule a month for display.
Millie Berger, (818) 347-1240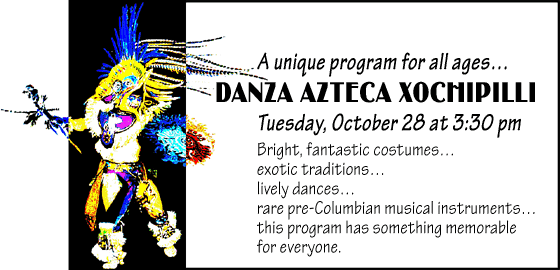 Don't forget
AMERICAN ORIGINALS:
TREASURES FROM THE NATIONAL ARCHIVES
An exhibition of 25 extraordinary documents that had a major impact on US history runs thru January 2004 at the Central Library

The Friends of the Platt Library Newsletter is produced and maintained by Hearn/Perrell Art Associates. Editor: Therese Hearn
Artwork, photos and information are copyrighted by their respective Authors, the Friends of the Platt Library, and/or Hearn/Perrell Art Associates and may not be reprinted without permission.
Problems? Comments? Suggestions? Please tell the Webmaster.