A Season of Changes
Change may be the only constant in the overall scheme of things. Over the last 3 years, however, Platt Branch has had more than its share.
On top of its swift growth from a fledgling branch to one of the busiest citywide, Platt absorbed a sudden surge of patrons from branches closed for remodeling. It met a burgeoned need for more materials and new programs. It adjusted to a constant, confusing swirl of temporarily transferred librarians and clerical staff. Fortunately, Friends of the Platt Library could help weather the downside of much needed LAPL expansion. Still, chaos would have prevailed without the unique talents of Jan Metzler, Platt's Senior Librarian for the 8½ years of its existence, who turned all these erratic currents to the benefit of library patrons. And if you infer from this portentous lead-in that, brace yourself, changes are still a'coming—you got it.
A Major Staff Departure
If we were trying to sell newsletters, this article's headline would have read "Platt Branch Loses Founding Librarian to Van Nuys." Although partisan, that states the latest news. In mid-August, shortly after Woodland Hills Branch reopened and Platt could settle back into a more placid routine, Jan was transferred to Van Nuys Branch Library, with a brief hiatus at Sherman Oaks Branch while Van Nuys is being retrofitted. As soon as they learned of this impending change, Friends Board members expressed their shock and dismay to library officials (see President's Message—The Letter).
But dwelling on the negative won't end the City's hiring freeze or solve the fact Van Nuys Branch needs a librarian with Jan Metzler's experience and community outreach skills. Nor does it promote the level of support Jan's replacement will need to cope with Platt's readjustment to less stress and the ongoing security problems Jan was grappling with while juggling the rest.
A Major Staff Arrival
Our new Senior Librarian, Lynn Light, a +33-year LAPL veteran, comes to Platt from West Valley Branch, where she was Adult Librarian.
Hailing from Kansas City, Missouri, Lynn earned a BA in history from Central Missouri State University and her Masters in Library Science from the University of Oklahoma. She and her husband of 28 years, Steve, now live in Chatsworth, from whence they pursue a mutual love of traveling and (what better hobby for a librarian?) collecting genealogical data for their family tree. (This year they trekked to eastern Tennessee for a Light family reunion.)
In the course of her long career in Los Angeles, our incoming SL has served patrons at every branch in the West Valley. She also worked in the Business and Economics Department at the Central Library downtown. We'd be hard pressed to find a senior librarian better qualified to field the day-to-day administrative headaches that face all branches during the current economic downturn.
Meeting the Changeover
While Jan's gamin charm and boundless enthusiasm will be sorely missed, it's her ability to interface with a large, active support group that's outside the experience of many LAPL librarians. But given Platt's dedicated group of Friends volunteers, maintaining the effective, positive relationship she built shouldn't be a problem. Lynn Light inherits the same challenges. With energetic new faces on the Friends Board, a willingness to seek new solutions, and the same spirit of adventure, we'll surf this transition as we did the rest: confident that this, too, shall improve Platt Branch's service and standing in the community. That's the only end Jan Metzler would applaud.

Here's most of the 2003–04 Friends Board together to help you keep the changes straight: (from left) Newsletter Editor Therese Hearn, Senior Librarian Lynn Light, Historian & Past President Harriet Strauss, Program Chair Frona DeCovnick, Membership VP & Past President Millie Berger, Treasurer Stan DeCovnick, Volunteer Coordinator Elaine Corman, President Terry Haney, Hospitality Chair Ellie Haney, Fundraising VP Lyall Thompson, Bookstore Manager Shel Schuster, Recording Secretary Eileen O'Neill, Civic Affairs Chair Annie Haas, Corresponding Secretary Paula Russo, Publicity Chair Charlene Montante, and Webmaster David Perrell (Mailing Chair Joan Wagner not shown)
Farewell from Jan

Shortly after the August newsletter went to the printer, I accepted a transfer to the Van Nuys Branch in the East Valley Area. My successor, Lynn Light, has excellent experience, so I know Platt Branch will be in good hands. She and I worked together at Encino-Tarzana and West Valley branches. Lynn has a great deal of book knowledge and will bring her own talents to serving the community. Her commitment to Platt's patrons makes my leaving a little less difficult.
In November 1994 when Branch Library Services offered me the Senior Librarian position at Platt Branch, I was excited at the prospect of developing a collection "from the ground up" for the newest branch of LAPL. With the assistance of Friends volunteers and a staff selected almost entirely by myself, Platt Branch soon became an integral center for the families of Woodland Hills, West Hills, and those nearby in Bell Canyon, Hidden Hills, and Calabasas. Our collection of resources became one of the most utilized by area residents. The Friends also bloomed as the community responded to the services for which they had waited 30 years. Now, under 9 years later, the Friends of the Platt Library has a huge membership, with a dedicated and articulate core of volunteers who advocate for the staff and community.
My years at Platt Branch have been extremely enjoyable. Now a new career challenge awaits me. Van Nuys is uniquely different from Platt, being a community branch without a real neighborhood community. Located in the Civic Center, its users are also distinctly different from those of Platt: young people who come to the library without being driven, individuals from the court system who "walk across" the mall pavement, and a large Spanish-speaking population. In contrast to my initial role at the Platt Branch, my new responsibility will be to "unbuild" parts of a collection no longer needed because of resources now available on the computer. I am being asked, in addition, to bring my leadership, energy, and enthusiasm for public service to a staff and branch without the benefit of strong volunteer help. 2004 should be an interesting year.
One thing for certain, in the months of transition ahead, I will reflect with pride at the programs introduced, the projects accomplished, and the friendships made during my tenure as Platt Branch's very first Senior Librarian. Thank you, Friends, one and all, for the time we had together.
Jan Metzler
Iran from the Inside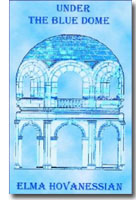 Our November 13 General Meeting speaker, Elma Hovanessian, wrote the book critics have called essential to understanding the current political climate in Iran.
Under the Blue Dome is a novel based upon Ms. Hovanessian's own experiences during Iran's major upheaval in the late seventies. It presents the fall of the Shah and rise of Ayatollah Khomeini from the viewpoints of three women—the American wife of an Iranian surgeon, her daughter, and their illiterate maid—and illustrates the systematic destruction of Iranian social and political structures that is still making headlines today.
A contributor to newspapers and magazines as well as a novelist, Ms. Hovanessian will discuss life under the Shah and the correspondences between her own life and her book. This is the program for you if you are at all interested in events in the Middle East.
Come help us celebrate National Book Month with the author of an important book. The presentation will begin at 7:30 pm in the Multipurpose Room, with discussion and refreshments following.
Frona DeCovnick, Program Chair
'TIS THE SEASON AGAIN…
and again the Friends are bringing joy and stress relief. Check out Fundraising News for details about the 4th Annual Children's Holiday Boutique and the money-saving 2004 Entertainment Book.

The Friends of the Platt Library Newsletter is produced and maintained by Hearn/Perrell Art Associates. Editor: Therese Hearn
Artwork, photos and information are copyrighted by their respective Authors, the Friends of the Platt Library, and/or Hearn/Perrell Art Associates and may not be reprinted without permission.
Problems? Comments? Suggestions? Please tell the Webmaster.