Fundraising News
Once again, the Friends are preparing for holiday events.
I especially need imaginative, creative crafts people to help make this year's Children's Boutique the best ever. This is a wonderful opportunity to not only help the library, but to provide a special service to our youngsters. Where else can they find unique gifts for all their family members, friends, teachers, etc. for between 25¢ and $3.00?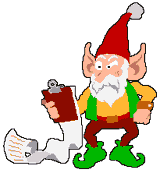 Boutique Project Planning Meeting:
Wednesday, October 29
from 6:30–8 pm ~ Library Multipurpose Room
Bring your ideas (and perhaps samples) to this preliminary planning session. Give me a call for more information.
Elves' Boutique Gift-Creation Workshops:
Monday, November 10 & Thursday, November 20 from 6–8 pm ~ Library Multipurpose Room
Many hands are needed to assemble craft gifts. No previous experience is required. Everyone is invited to come and pitch in.
And make sure to mark your calendars for Saturday, December 6 for the 4th Annual Children's Holiday Boutique from 12 noon to 4 pm.
Lyall Thompson, Fundraising VP
"Entertain" This Thought
A $160 return on a $20 investment? Can't happen?
Yes it can. You'll benefit far more than that when you purchase an Entertainment book and use its coupons for phenomenal savings.
The 2004 Entertainment book contains monthly coupons for Ralph's and Bristol Farms markets and Long's Drug stores worth $180. That's just the beginning. There are hundreds of pages of coupons for restaurants, movies, sports, and other attractions. You save on car rentals, repairs, and washes. Reach for coupons for sport shoes, cleaners, or items for your home. And yes, there are even coupons when you want to satisfy that craving for Krispy Kreme donuts.
So hurry in and pick up your book now at the Friends Bookstore. While you are there, you might want to pick up a couple of extras. They make great gifts for the holidays. Books will be sold from now through the month of December. San Fernando Valley books are priced at $20 and Los Angeles books are $30. You can also special order books for other areas.
Best of all, at the same time you are saving money you are helping Platt Branch. For each book purchased, $3.00 comes back to the Friends to use for library needs. Questions or special orders? Just call.
Ethel Margolin, (818) 340-2000
Special Thanks to Recent Donors
| | | |
| --- | --- | --- |
| From | To | For |
| Board Members | Honor of Ruth Bromund | Book Purchase |
| Board Members | Honor of Mary Ann Ostrom | Book Purchase |
| Board Members | Honor of Hermalee Schmidt | Book Purchase |
| Countrywide Home Loans, Inc. matching gift (Margaret Young) | General Funds | Book Purchases |
| Carole & Richard Leff | Honor of Sidney Bella Fitzgerald's birth | Children's Books |
| Mr. & Mrs. Charles Engberg | General Funds | History Book |
| Ron & Diana Palmer | General Funds | Book Purchases |
| Vivendi/Universal Entertainment matching gift (Charlene Montante) | General Funds | Book Purchases |

The Friends of the Platt Library Newsletter is produced and maintained by Hearn/Perrell Art Associates. Editor: Therese Hearn
Artwork, photos and information are copyrighted by their respective Authors, the Friends of the Platt Library, and/or Hearn/Perrell Art Associates and may not be reprinted without permission.
Problems? Comments? Suggestions? Please tell the Webmaster.