The Volunteer Connection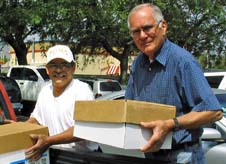 Warren Bromund (right) helps Jerry Queza load another shipment of donated books bound for the Philippines.
Well-Traveled Donations
Harriet Strauss: In our last Newsletter, Shel Schuster wrote about where some of our donated books go. For the past few years, islands in the Philippines have been major recipients of many of the books you have donated to Platt Branch.
Jerry Queza, often accompanied by his wife, Lydia, has taken boxes full of a variety of subjects. To date, he has supplied ten elementary schools, two high schools, one junior college, and two public libraries. These many cartons are bound for Putatol, Apayao, after their travels by cargo ship.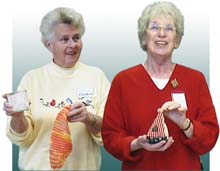 Eileen Bernfeld and Lin Schonberger helped stock the '07 Children's Boutique with their unique and useful creations.
Boutique Project Head Start
Preparations for the 2008 Annual Children's Boutique will begin in July. If you'd like to be a part of one of the Friends most popular events, see Fundraising News and give Millie Berger a call today.
They Also Serve Who Sit & Stuff Envelopes
Ruth Bromund: Not all volunteer activities are creative or exciting, but they're always convivial. For our nearly 1000-piece new member solicitation in April, Millie Berger's daughter, Annette Berger, persuaded Equity Title Company to donate the labels. Eileen Bernfeld, Muriel Eiduson, Sue Haddox, Freya Maneki, Lin Schonberger, and Harriet Strauss collated, stuffed, and sealed envelopes. Joan Wagner labeled and got it all to the post office. Great crew! Couldn't have done it without you!
It's true: Friends volunteers have a lot of fun doing many necessary tasks. If you would like to join us selling books in the Bookstore, assisting with special projects, or serving on the Friends Board standing committees, just give us a call.
Elaine Corman
Harriet Strauss
Bookstore Volunteer Co-Coordinators
VOLUNTEER OPPORTUNITIES
Friends Program to Assist Homebound Patrons
needs volunteers. (Details here.) Email Sharon Schuster.
---
Adult Literacy Tutors Needed
To volunteer as a tutor, you have to
1) be able to make a 6-month commitment to tutor 2-3 hours a week,
2) make an appointment to be interviewed by an area coordinator, and
3) complete a Tutor Training course.
There is now a Literacy Center in Platt Branch. To make an appointment, call Susan Casmier, Literacy Center Coordinator, at (213) 623-4078, extension 16590.
---
Readers Needed
Our GAB program needs a few more voices to read to children 2 hours a week (or every other week). Contact Children's Librarian Barbara Mattison at (818) 340-9386.

The Friends of the Platt Library Newsletter is produced and maintained by Hearn/Perrell Art Associates. Editor: Therese Hearn
Artwork, photos and information are copyrighted by their respective Authors, the Friends of the Platt Library, and/or Hearn/Perrell Art Associates and may not be reprinted without permission.
Problems? Comments? Suggestions? Please tell the Webmaster.