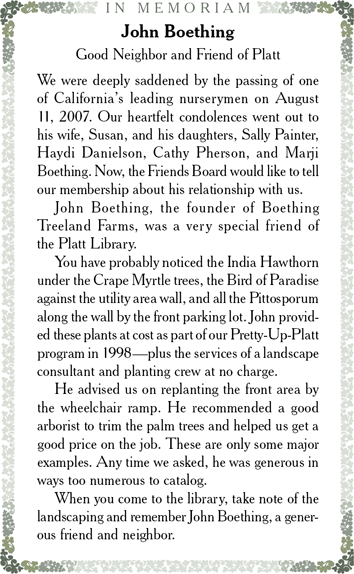 Membership News
The Numbers
Our membership, defined as the number of addresses to which the newsletter is sent, currently tops 400. The actual number of people who see each issue is probably almost twice that.
Among our membership, we have 16 Business or School partners, whose ads appear in the print issue as well as in this on-line version. (Be sure to take a look at them below.)
We also have 91 Life Members and 23 Sustaining Members (see below for the listing). The librarians are making good progress in choosing books to honor these members. This year I will not wait until all the 114 books have arrived to send letters notifying you of which book has your plate in it. I'll send the letters as I receive the titles from the librarians. The first batch will go out in the next few weeks. 
New Members
The Walnut Acres Neighborhood Association just joined our Business Friends. Please welcome our new partner by checking what W.A.N.A. has to offer.
We also extend a warm welcome to the following, who joined after the last newsletter was published:
Gloria Burney
Paula Hill

Jill & Richard Levin
Joellen Ryan

Shirley Wu
And welcome back to Victoria Ozuma who rejoined after a hiatus.
Be a Friend!
Memberships in the Friends of the Platt Library are win-win relationships. Besides providing additional funding for our library, they also give opportunities for new friendships, socializing, and volunteering—as well as community recognition for your support of a worthy cause. If that's not enough incentive, you also get a printed copy of this newsletter in the mail…what an excellent investment!
To become a member, give a membership as a gift, or renew your existing membership, just fill out the form below and click the 'PRINT' button. Write a check payable to Friends of the Platt Library and send it along with the printed form to:
Friends of the Platt Library
23600 Victory Boulevard
Woodland Hills, CA 91367
...or bring them to the library in person. Thank you!
FRIENDS OF THE PLATT LIBRARY MEMBERSHIP
In Appreciation of Our Life & Sustaining Members

HONORARY LIFE MEMBERS

Gerald & Joy Picus · Sam & Jackie Steg

LIFE MEMBERS

Audrey & Malcolm Abracen · Lorraine Anderson · Wally & Lila Aurich · Amnon Band · Morris & Parvin Benoun · Edward & Mildred Berger · Mr. & Mrs. Shelley Berman · Philip & Myrna Binderman · George & Flora Buchler · Nancy Jo & Steve Bush and Derek · Janet Change · Sue Cook · Kathy & Rob Cromar · Joseph Dautremont, DDS · Boyd & Kate Davis and Bryan & Darren · Arthur & Doris Dell · Diana Deutsch and Jan Wittenberg · Bob & Nancy Eisenhart · Virgene & Charles Engberg · Linda & Russell England · Rodney & Sharon Farris · Aileen & Bob Feinstein · Eileen Florman · Leanne & Eric Foxman and Adam & Emily · Nick T. & Janice C. Garris · Ravindra & Rohini Ghate · Michael & Ginny Gibbs · Dorothy & Harold Gillmann · Thomas H. & Louise Golberg · Charles & Karen Gold · E. J. Gold · Jesse & Margaret Goldbaum · Mark & Suzy Greenberg · Mr. & Mrs. Marvin Greene · Barbara M. Gruber · Ellie & Terry Haney · Norma Herbert · Herson Family Foundation (Ron & Pat Herson) · Lawrence & Barbara Hoke · Rhoda Howard · Joseph & Joy Huang · Kathy Igo and Peter & Teddy Tinker · Leatha King · Willa & Lou Kurtz · Barbara & Tom Littlefield · Dale E. Litzsinger · William & Lana Lomax · Yvonne & Stuart Lorch & Family · Freya Maneki · Rita & Marvin March · Sarah & Ronald McKay · Jo Merryfield · Charlene Montante · Tom Morehouse · Erroll E. Murphy · Jack & Bernice O'Connell · Dorothy & Gilbert Omens · Patricia Peterson · Milton H. Rieders · Tami & Mike Rittberg and Eden Rittberg · Burton & Margy Rockoff and Arleen · Liz Rogers · Margaret P. Romano · Paul Rosenbaum and Rocio Villasenor · Jill and Richard Rubenstein · Carol Rupnik · Dr. Janice A. Schilling Stone · Richard & Hermalee Schmidt · Sue & Don Schuster and Michael & Samantha · Harriet Segurson · F. P. & Joanna Skocilich · Irene Sloan · Catherine & Timothy Smirnoff · Steven C. Sperber · Soni & Mel Stahler · Harriet Strauss · Sue & John Strickland · Bill & Linda Terry · Virginia Teslik and Alex & Nicholas · Mary K. & Adrian Vandenberg · Eric Villette · Joan A. Wagner · Marcia & Robert Weingarten and Jason & David · Harold West · Wilfred · Nina Wilson · Family of Raymund Wood · Margaret & Cayan Young · Martha & George Zoloth

SUSTAINING MEMBERS

Bob & Mar Adler · Jim & Joan Ayres · Chris & Kim Beresford and Dax · Pamela & Jay Bieber · Lance Childs and Mary McIntyre · Stanley & Frona DeCovnick · Lynn & Dan Durbin · Mercedes Eiser · Dianne P. & Joseph Eubanks · Ted & Annie Haas · Terry & Laurie MacAdam · Lisa Marmon · Roberta & Paul Mehegan · Judy & Robert Munro · Mary Ann & Sherm Ostrom · Ron & Diana Palmer · Kathleen J. Parkinson · Burton & Sheri Rosenberg · Lucina & Ali Safai · Lin Schonberger · Sharon & Shel Schuster · Robin Snagg · Sharon & Andrea Suarez

"Thank you for your continued support" doesn't begin to express our deep appreciation for the moral, financial, and (in so many cases) hands-on assistance these individuals have lavished on Platt Library and Friends of The Platt Library over the years.

Friends of The Platt Library Board
Business Members
Click on a business card to open a member's website.

The Friends of the Platt Library Newsletter is produced and maintained by Hearn/Perrell Art Associates. Editor: Therese Hearn
Artwork, photos and information are copyrighted by their respective Authors, the Friends of the Platt Library, and/or Hearn/Perrell Art Associates and may not be reprinted without permission.
Problems? Comments? Suggestions? Please tell the Webmaster.