Friends Launch "Books For Babies" in West Hills
Friends of the Platt Library, in conjunction with LAPL, is sponsoring a Books for Babies program developed by FOLUSA (Friends of Libraries USA), the national association for library support groups. This literacy program acquaints parents of newborns with the important part they play in the development of their children.
In affiliation with West Hills Hospital, we launched our pilot project in February for a six-month trial period. During this period, each baby born at West Hills will receive a kit purchased from FOLUSA. In addition to the board book, bib, and reading-guide materials FOLUSA provides, this kit contains a welcome note from Platt Branch and a bookmark listing the Library, Bookstore, GAB reading program, and Preschool Storytime hours. Everyone involved is very enthusiastic about this additional opportunity to serve the community.
Carolyn See Coming To Platt in May!
Author Carolyn See will speak at the Friends General Meeting on Monday, May 21 at 7:00 pm. Be sure to save the date and plan to arrive early.
A celebrated literary figure as well as a popular novelist, Ms See received the Robert Kirsch Body of Work Award from The Los Angeles Times in 1993 and the PEN Center USA West Lifetime Achievement Award in 1998. We will have her latest novel, the acclaimed There Will Never Be Another You, and her most current non-fiction book, Making A Literary Life: Advice for Writers and Other Dreamers, on hand for purchase and signing after the program.
A native Californian who comes from a family of writers, Ms See received her Ph.D. in American Literature from UCLA, where she is an adjunct professor of English. She has been a book reviewer for The Washington Post since 1993. In addition to her seven works of fiction and five non-fiction books, she co-authored three novels with her daughter, novelist Lisa See, and John Espy under the pseudonym of Monica Highland.
Don't miss this opportunity to meet with Carolyn See on May 21. I guarantee it will be a stimulating and—most likely—a humor filled evening!
November Ballot Review Drew Full House!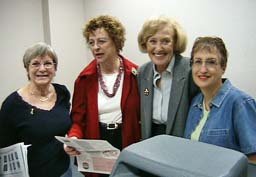 From left, Sue Strickland, Sharon Schuster, Ellen Pangarliotas, and Carol Roseman.
Over 100 interested voters crowded into the Multipurpose Room last October to hear Ellen Pangarliotas analyze the complicated initiatives on the November 2006 ballot. Ellen, Chair of the Los Angeles League of Women Voters Speakers Bureau, is no stranger to Platt Library audiences. She has reviewed ballot measures for every major election since November 2002—always to substantial crowds.
Each person attending received the League handout, "2006 General Election Info", which allowed the audience to follow along as the discussion progressed. Ellen's presentation was concise but not without humor. Her explanation of the differences between an "Initiative Statute" and an "Initiative Constitutional Amendment" helped clarify the proposals. She responded insightfully to the audience's probing questions. (When I was walking with her to her car, Ellen remarked that she loved coming to Platt because our audience was always so interested and asked intelligent questions!)
My thanks to Shel Schuster for helping set up the room and to Carol Roseman for her unfaltering efforts in publicizing the event.
This issue introduces a new feature: Book Chats with Shel Schuster. Our Bookstore Manager is a good person to ask about current Friends Bookstore offerings, locating out-of-print titles, and other topics of interest to collectors and book lovers in general. But first you have to catch him. So we're bringing Shel's used-book savvy to members at large.

The Friends of the Platt Library Newsletter is produced and maintained by Hearn/Perrell Art Associates. Editor: Therese Hearn
Artwork, photos and information are copyrighted by their respective Authors, the Friends of the Platt Library, and/or Hearn/Perrell Art Associates and may not be reprinted without permission.
Problems? Comments? Suggestions? Please tell the Webmaster.