Book Chats
with Shel Schuster
Our Bookstore Manager is a good person to ask about current Friends Bookstore offerings, locating out-of-print titles, and other topics of interest to collectors and book lovers in general. But first you have to catch him as he shuttles between book sorting and stocking the Bookstore. So we're bringing Shel's used-book savvy to members at large. Got a question or comment for Shel? Just click on his photo at left.
Of course, the most frequently asked question is "Are the Friends still accepting book donations?" To which everyone answers, "Certainly. Donated books are the lifeblood of the Bookstore, FOPL's major fundraising source. They also provide our library with titles that would otherwise have to be purchased and help stock other libraries' book sales." For his maiden column, Shel selected a related concern that used to be a major topic at our one-day Super Sales.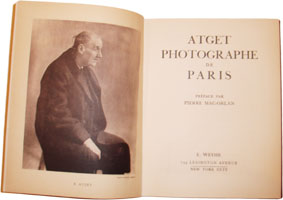 Are old books valuable?
Beyond their value to Platt Branch—yes, they can be. Over the 11 years the Bookstore has been open, we have received a fair number of donations that turned out to be quite valuable. Just last year, we got a 1920's book of photographs of Paris by Eugene Atget. It's now in the Rare Book section of the main library. Currently there are three copies for sale on the Internet, all for over $1000.
So what makes a book valuable?
Several factors determine value. The most important is whether anyone is interested. No buyer, no value. No matter how rare or how well preserved a book may be, if no one wants it, it isn't worth much. Assuming there is interest in the book, however, the two most important factors are rarity and condition.
Rarity is a function of age, number of copies printed, and how many survived the ravages of time. Although after 100 years or so, later editions can become sought after, especially if the early printing isn't available, first editions are the most valuable to collectors. But beware: determining the edition of old books can be a challenge. Also, sometimes even relatively recent soft cover books are surprisingly valuable. For instance, a copy of the Jargon Soc first edition of the 1986 White Trash Cooking may be worth over $100, even though the later Ten Speed editions sell for about $10. One thing's certain, though: The original dust jacket can double or even triple a rare hard cover's value.
 Along with rarity, condition is all-important. Loose pages, damaged covers, handwritten or paste-on entries on the front pages all detract from the worth of a book. Mold and water-damage are deadly. Similarly, tears or price-clipped dust jackets reduce the value. However, the older the book, the more damage may be acceptable.
How can you tell what a book is worth?
Research. When we get a donation that looks interesting we use the American Book Exchange Internet site to see what used-book dealers are asking for comparable books. The Friends Bookstore has a selection of older books, some dating in the 1800's, priced at about 1/4 to 1/3 of the dealer costs. Come in and browse. The range of titles is a good read in itself, and if you're just getting started, the section will give you a feel for the kinds of books that are worth investigating.
Shel Schuster, Bookstore Manager

The Friends of the Platt Library Newsletter is produced and maintained by Hearn/Perrell Art Associates. Editor: Therese Hearn
Artwork, photos and information are copyrighted by their respective Authors, the Friends of the Platt Library, and/or Hearn/Perrell Art Associates and may not be reprinted without permission.
Problems? Comments? Suggestions? Please tell the Webmaster.