ON-GOING

Mon–Sat

2–4, 3–5, 4–6, and/or 5–7 pm

GAB* – Grandparents and Books. Grandmas & grandpas read to children.

*Please call to confirm hours: (818) 340-9386.

Sat

10:30–12:30 am

GAB – Grandparents and Books. Grandmas & grandpas read to children.

Mon

10:30–11 am

GAB with Preschool Storytime & Grandma Judie's fun and games

FEBRUARY

Mon
Sat

Feb 12 thru
Mar 3

Library hours

Reserved for LA Municipal Touch Screen Voting in Multipurpose Room Preschool Storytime will be held in the Children's Section. Ages 2–5

Sat

Feb 24

1:00 pm

Jazz Concert with Howie Segurson & Friends in Young Adult Section

Wed

Feb 28

No Book Discussion Group meeting due to Touch Screen Voting

MARCH

Mon

EVERY

10:30 am

Preschool Storytime – Fun activities every week except as noted. Ages 2–5

Mon

Mar 5

7:00 pm

Friends Board Meeting

Tue

Mar 6

7 am–8 pm

LA Municipal Election – Vote at polls in your precinct

Thu

Mar 15

4:00 pm

CeCe Antoinette: Storyteller – Celebrate Women in History Month with fun stories and hilarious improvisations. Children of all ages

Sat

Mar 17

2:00 pm

Special St. Paddy's Day program – Music! Crafts! Refreshments! All ages

Mon

Mar 19

6:30 pm

An Inconvenient Truth: Global Warming issues & solutions presented by TV & Radio host Todd Newton. Adults

Wed

Mar 28

6:15–7:45 pm

Book Discussion Group – Mockingbird: A Portrait of Harper Lee by Charles Shields and To Kill a Mockingbird by Harper Lee. Adults

APRIL

Mon

EVERY

10:30 am

Preschool Storytime – Fun activities every week except as noted. Ages 2–5

Mon

Apr 9

7:00 pm

Friends Board Meeting

Wed

Apr 18

6:15–7:45 pm

Book Discussion Group – Water for Elephants by Sara Gruen. Adults

Thu

Apr 19

4:00 pm

Margo's Artwork: "I Spy a Duck in My Doodle" – Come doodle to music and learn to find the shapes in scribbles. Age 4 and up

Mon  Sat

Apr 23 thru May 12

Library hours

Reserved for LA Municipal Touch Screen Voting in Multipurpose Room Preschool Storytime will be held in the Children's Section.

MAY

Mon

EVERY

10:30 am

Preschool Storytime – In Children's Section on May 7. Ages 2–5

Mon

May 7

7:00 pm

Friends Board Meeting – Held off-site due to Touch Screen Voting

Tue

May 15

7 am–8 pm

LA Municipal Election – Vote at polls in your precinct

Sat

May 19

10 am–5 pm

Adult Literacy Tutor Training Workshop

Mon 

May 21

6:45 pm

Friends General Membership Meeting with speaker below

Mon

May 21

7:00 pm

An evening with Carolyn See – Don't miss the chance to experience this author's acclaimed wit and insights firsthand. Adults

Wed

May 23

6:15–7:45 pm

Book Discussion Group – Title to be announced. Adults

Thu

May 24

4:00 pm

One World Rhythm–Come have fun playing and learning about drums and other percussion instruments. Children of all ages

Mon

May 28

Library Closed for Memorial Day. No Preschool Storytime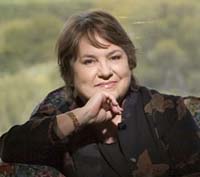 Monday, May 21, at 7:00 pm
An Evening with
Carolyn See
Award-winning author and literary critic Carolyn See receives accolades every time she publishes a new book. Her latest novel has been hailed by reviewers from coast to coast as the definitive vision of life in a post-9/11 America. Don't miss one of LA's truly luminous literary figures.
Refreshments and book signing following the program. Copies of Ms See's There Will Never Be Another You: A Novel and Making A Literary Life: Advice for Writers and Other Dreamers will be available for purchase.
Read more about Ms See in Friends News.
Love to Discuss What You've Read?
Prefer to Read What You Like to Discuss?
You belong in the Platt Branch Book Club.
Join in the book selections and discussions, and meet Adult Librarian Sherry Brent, who leads the group.
For more information, visit Sherry at the Reference Desk or call her at (818) 340-9386.