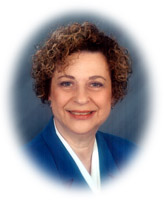 President's Message
Vision for the Year:
It has been my observation that there are two types of library users: browsers and orderers. Browsers visit the library and walk up and down the stacks to see if anything catches their fancy. Orderers know exactly what they want; if it is not on the shelf, they will order it from someplace else in the system. Of course, any one person may be a browser one day and an orderer another.
Before computerized cataloging, if you wanted a specific book that was not available in the library you were visiting, ordering it required much effort and, therefore, wasn't done very frequently. With the system-wide catalog available not just in the library but from any computer, ordering a book is simple as pie. We now have almost instant access to millions of books.
This change has made a difference in the branch library collections. Since they can be ordered, it is no longer necessary to have on hand books that are infrequently used. For a system the size of Los Angeles with 71 branch libraries, the system-wide savings are enormous.
But what about the browsers—those who want to look at a book before committing to it? Ah—there's the rub! Somehow, browsing a computer is not nearly as satisfying as having that book in hand. 
The Library Department is constantly seeking that balance between meeting patrons' needs and being efficient and cost effective. If the types of books you want to browse are not available, inform the staff. If you don't tell them what you need, they won't know. They will probably suggest ordering the books. If that is not satisfactory, let them know you are a browser and want the books available locally. 
No guarantees! But I urge you to be part of the process of finding the right balance between browsing and ordering.
Which brings me to a general principle that warrants repeating…
If you don't find what you want, ASK FOR IT!
Too often, disappointed patrons just walk out without telling anyone.
Yet neither Platt Branch's staff nor Friends volunteers can improve services unless we know what you hope to find in the library.
Whether it is a particular interest area of books to browse in…a CD or video tape…a reference source…please tell a staff member and/or fill out a comment/suggestion form at the checkout counter or in the Friends Bookstore. This applies, as well, to special interest programs, workshops, local authors you'd like to meet—or perhaps a service available at another branch that you wish we had here.
The "How to Be Heard" box in Library News provides a catalog of current communication routes. Print it and resolve that 2007 is your year to speak up. There may be alternative sources for what you want, or the Friends may be able to provide it.
Again, we don't guarantee we can meet every request—but we certainly can't if you don't ask for it. Please ask!
And now, some richly deserved "Thank You" notes:
Congratulations to Program Chair Sue Strickland for orchestrating a wonderful Mozart concert by the Bright Light Chamber Players. Thanks to Publicity Chair Carol Roseman for publicizing the event everywhere so that over 80 people attended. We're sorry that ensemble director Whitney Griggs Raleigh's injury prevented continuing the series, but look forward to many more special events in the future. Sue and Carol also deserve our gratitude for bringing patrons an excellent Ballot Issues review, which will be reported in the next issue.

Many thanks to Ruth & Warren Bromund for organizing Platt Branch's booth at the West Hills Fall Fest—a last-minute coup de main!

Special thanks to Senior Librarian Lynn Light for arranging for Sheila Weisberg, spokesperson for Adult Literacy Services (at right between Terry Haney and me), to brief the Platt Friends Board on the program. Thanks to Sheila for an enlightening presentation. We're also delighted Susan Casmier, Literacy Center director, could open the center in October and join us at the Fall Fest. LAPL's Literacy Program offers great opportunities for library Friends to help expand and enrich lives. I hope many of our members will join the Board in helping Susan recruit both tutors and students.
Sharon Schuster, President

The Friends of the Platt Library Newsletter is produced and maintained by Hearn/Perrell Art Associates. Editor: Therese Hearn
Artwork, photos and information are copyrighted by their respective Authors, the Friends of the Platt Library, and/or Hearn/Perrell Art Associates and may not be reprinted without permission.
Problems? Comments? Suggestions? Please tell the Webmaster.