Light Notes
So much news has occurred at Platt Branch these past three months that I can only hit the highest points.
The Adult Literacy Center is here already! Susan Casmier, our new Adult Literacy Coordinator, began community outreach even before her phone was connected. (Her new number should be 1-213-623-4078 ext. 16590 by the time you receive this issue.)

Platt Branch has a new Young Adult Librarian! We were very happy to welcome Ben Lea on October 2. Ben's been a librarian for several years, but just joined the LAPL system. Please say hello to him at the Reference Desk.

The September Mozart Chamber Concert was amazing! I deeply appreciate Friends Program Chair Sue Strickland's efforts in bringing this first-ever classical enrichment to Platt. We all wish an unfortunate accident hadn't prevented us from enjoying two more concerts.

Adult Librarian Dara Eklund has retired! Her farewell party reflected the affection she has generated over the years, and Dara was very glad Friends who have worked with her could join her many well wishers.
Lynn Light, Senior Librarian
Adult Literacy Center Has Arrived!
The anticipated Adult Literacy Center at Platt Branch Library opened October 16. The sixteenth in LAPL's citywide literacy development program, this literacy center will coordinate efforts at Canoga Park, Chatsworth, and Woodland Hills branches as well.
Located in the former "computer/Xerox" room, the Center houses a complete Adult Literacy Collection, which will be available to Literacy students during regular library hours. It's also staffed four days a week by an LAPL educational specialist who, in addition to assisting the tutorial programs, is responsible for interviewing students and volunteer tutors, arranging for tutor training, and administrating the tutor/student teams.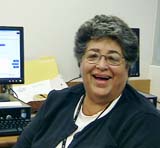 Our Adult Literacy Coordinator, Susan Casmier, brought a wealth of experience into the program when she joined Adult Literacy Services in May of this year. An educational therapist recently retired from private practice, she also taught English and Developmental Reading for 40 years at the community college level (including Ventura CC, Valley College, and College of the Canyons). She holds two Masters, English from USC and Educational Psychology from CSUN, and a Certificate in Educational Therapy from UCLA, where she also earned her Bachelors. She comes to the West Valley area from coordinating the Literacy program in the Hollywood/West LA area from the Literacy Center at Cahuenga Branch.
At this point, Susan's primary focus—and the one in which Friends Members can be of great assistance—is recruiting tutors and students to take advantage of the new facilities. Her hours are Mondays, Wednesdays, and Fridays from 10 am to 3 pm and Thursdays from 3 to 8 pm. Her phone number is (213) 623-4078 ext. 16590 (routed through the ALS system downtown). Be sure to stop by, welcome her to our branch, and learn more about this very valuable community service.
About the Programs
Adult Literacy Program—Volunteer tutors work one-on-one with adults who want to improve their basic English literacy skills. Tutor/student teams meet for 1 to 1˝ hours, twice a week, for a minimum of 6 months, at a branch library convenient to both. Tutors, following an initial assessment interview, receive 7 hours of instruction in tutoring techniques and are then paired with a student. (Tutor training workshops are held monthly on Saturdays from 10 am to 5 pm. The next workshops in the Valley will be November 18 and January 20.) Students must be 18 or older (or 16 /not in school) and speak English. In all cases, the first step is to schedule an interview with an Adult Literacy Coordinator.
Families for Literacy—Designed for parents and caregivers with children under 5, FFL helps adults already enrolled in the Literacy Program build reading skills through learning how to read to their children. Participants receive up to six free children's books.
Children's Programs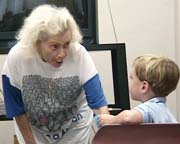 No one can say Platt Branch's programs for children aren't eclectic.
At the end of August, Friends volunteer Ethel Margolin taught kids—and their parents—how to select and care for pets. After watching Actors and Others for Animals' engaging film, "Paws, Claws, Feathers & Fins", the audience joined into a lively discussion of their own pets' needs.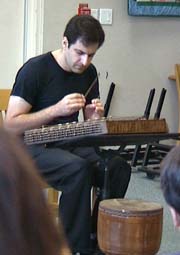 In September, internationally acclaimed santour player and composer Kourosh Zolani introduced a diverse audience to both traditional and modern Persian Music.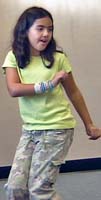 The kids were fascinated by the Chromatic Santour, which Kourosh invented, and loved the tombak drum. In a grand finale, Kourosh played tombak while the audience tried traditional Persian dancing, especially young Neda Fadaee, who showed us how it should be done.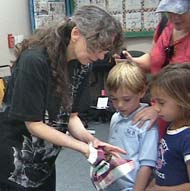 Then in October, biologist Diana Simons—The Bat Lady—presented slides and introduced children to one of her own furry flying companions. Wee "Large Brown" bat, Brando, certainly helped us all realize that bats are really shy, delicate mammals. (In So. California, they only eat bugs and seldom grow larger than 4" long.)
Upcoming Children's Events
Special Holiday Stories GAB Fest Join our GAB readers for favorite tales, fun, and holiday treats. Thursday, December 14 at 4 pm

Winter Stories & Crafts with the Children's Librarian Explore the wonder of snow and ice and wild North winds. Thursday, January 18 at 4 pm

African Heritage Program Celebrate African-American History Month with a special guest. Thursday, February 8at 4 pm
For further information, call Children's Librarian Barbara Mattison at (818) 340-9386.
NEW Adult Programs
Platt Branch has initiated arts and information afternoon programs especially for adult patrons. Usually starting at 3:00 pm in the Multipurpose Room, these 1 to 2-hour offerings will touch on a variety of current topics and give Platt's community a chance to enjoy local talents.
Beginning in September, Adult Librarian Sherry Brent scheduled an Elderhostel Travel program. Sherry reports that Peter Reinisch and his wife, Erica, provided a mostly senior audience with an overview of travel packages geared to retirees' needs and tastes. "Mr. Reinisch's lively presentation included a short video," Sherry said. "He shared copies of the foreign tours catalogs, and the Reinischs passed around albums containing photos and memorabilia from some of their trips." (Copies of Elderhostel's domestic & foreign tour catalogs are maintained at our Reference Desk for the convenience of Platt patrons.)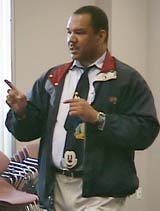 Adult Librarian Elliott Gordon arranged two presentations of immediate interest. Of the September Identity Fraud program, Elliot told us, "Detective Ed White of the LAPD gave a spirited and extremely informative talk on the perils and pitfalls of revealing information through use of credit cards and social security numbers. He explained the various methods used to obtain personal data surreptitiously and gave us valuable tips on safeguarding bank and credit accounts." The October Alzheimer's program, presented by the Alzheimer's Association of Los Angeles, provided facts everyone needs to know about this disease.
The informal nature of the Adult Programs series makes it difficult to get advance notice in the bi-monthly LAPL  Events booklet or our quarterly calendar. Watch for announcements posted in the library or contact Sherry Brent and Elliott Gordon (340-9386) for up-coming offerings.
If there's a topic that particularly interests you or an art form you really enjoy, please ask Sherry and Elliott to bring it to Platt Branch!
Displaying Staff Excellence
Do stop and admire Circulation Clerk Patty O'Bryan's handcrafts display. Seen at left setting up the display with Adult Librarian Dara Eklund (who has just retired her own extensive talents), Patty has been creating professional-quality pottery and beaded jewelry for decades. A strict "hobbyist", she honed her craft skills through local community college extension courses. Thanks for sharing, Patty. Patrons are certainly enjoying these examples of your avocation.
If you have a non-commercial collection or craft you'd like to share with fellow library patrons, contact Senior Librarian Lynn Light at (818) 340-9386 or click here to send an email.
How to Be Heard at Platt Library
1. Speak up!
Tell someone about your suggestions, concerns, and library wish lists. If you don't, we won't know.
Senior Librarian Lynn Light (818-340-9386) and the librarians at the Reference Desk are interested in all thoughts on Platt's collection and services.

Friends Bookstore volunteers are all ears for anything regarding our used book selections.

Friends Board members list phone numbers in the printed newsletter because they want to hear from the general membership.
2. Write it down!
Comment/Request cards and boxes sit at the Checkout Counter and in the Friends Bookstore.

The Senior Librarian and all Board members can be e-mailed through www.plattlibrary.org/contact.
3. Provide as much pertinent data as possible.
For instance, specific book requests are more easily processed if you give author, title, publisher, and publication date. It helps to provide a contact name and number with specific program requests.
That's it…simple as 1 – 2 – 3
and helpful to improving our library!
---
GAB Interactive Children's Reading Program needs volunteers for Thursday afternoon and Saturday any time. 6-month commitment required. Free training provided. Contact Children's Librarian Barbara Mattison at (818) 340-9386
---

The Friends of the Platt Library Newsletter is produced and maintained by Hearn/Perrell Art Associates. Editor: Therese Hearn
Artwork, photos and information are copyrighted by their respective Authors, the Friends of the Platt Library, and/or Hearn/Perrell Art Associates and may not be reprinted without permission.
Problems? Comments? Suggestions? Please tell the Webmaster.