Light Notes
My sincerest congratulations to Frona DeCovnick, Shel Schuster, Millie and Ed Berger, Warren Bromund, Elaine Corman, Harriet Strauss, and all the other Friends volunteers who managed to clear out one storage shed, set up sorting shelves, sort, and re-stock and staff the Bookstore. (Due to Shel's foresight during the parking lot addition, the shed does have electricity, so the sorters will be able to add a light to see what they're sorting.) Platt's patrons certainly are pleased to have the Bookstore re-opened.
Some New Touches
The Branch also has been brightened by several new flower arrangements that Betsey Hoage, Assistant Director of Branches, made for us while we were feeling rather glum.Patrons have appreciated them, and like the stuffed animals that Betsey gave us as well. These are gently used, but they have brightened up the Children's Area none the less. (I'm told the kids invite the puppies to reading parties.)
Some Other Points of Interest
 We have a new power supply backup system that will hopefully keep us humming along even in power outages and surges. However, if the city electrical system goes down, then we would too.
 Platt Branch will be retiring the U. S. flag that Sue Strickland purchased for us, but I already have a new one for Platt to fly.
 Patrons seem to like being able to find their own Holds. We've shown several patrons how to use the self-checkout machine, which they didn't know we had. They were happy to check themselves out because they didn't have to wait in line at the circulation desk.
 And not least—more staff changes. Luckily, Elliott Gordon will fill our Adult Librarian vacancy. At this time, however, we haven't found a new Young Adult Librarian. And so it goes.
Lynn Light, Senior Librarian
Children's Programs
In January and February, Platt Branch hosted its first DiverseCity programs. These are programs by local artists that celebrate Los Angeles's many cultures. This year, instead of presenting a cross-section of LA's international diversity in a single Kid's Read festival downtown, LAPL  (with the sponsorship of La Opinion, Northrop Grumman, and Union Bank of California) has made LA's rich heritage available to families at their local branches throughout the year.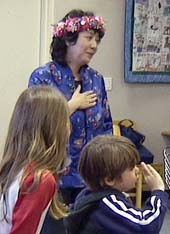 Barbara Wong's tales of The Magic Pot (a cautionary tale), The Stone of Judgment (a head-scratching riddle), and The Silk Lady (a lyrical love tale) all represented the ancient wisdom and subtle wit of Chinese culture. Barbara sneaked in an edge-of-your-seat Hawaiian adventure because she's a Hawaii-born Chinese-American and a consummate storyteller who knows just when her audience could use a change of pace. The Shark Kii Ali Ali pulled both parents and children back from pondering a stone's detective powers. Barbara's classic presentation was thoroughly enjoyed by all.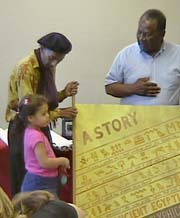 Representing LA's varied African-American cultures, Clabe Hangan and Ray De La Paz, Music Americana's strumming duo, came equipped with great Egyptian scrolls to remind their audience that the natives of Ethiopia had once ruled the lower Nile from cities whose majesty and culture rivaled Thebes and Alexandria. In a toe-tappingly tuneful and highly interactive history lesson, they then traced African cultures down through the ages and across the Atlantic into the eras that gave birth to Harriet Tubman, Rosa Parks, and Coretta Scott King. (Of course, with its rhythmic clapping and exotic instruments, the African Calling Song was the kids' favorite.)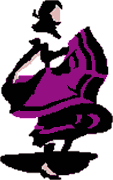 Upcoming Children's Events
Mexican Stories and Dance with Elizabeth Rodriguez-Craig will bring Latino culture to families in our community. Thursday, May 25 at 4 pm
Children's Summer Reading Club materials will be available in the Reference Area beginning Monday, June 26. And a really fun "Surprise Guest" will kick off the program on Thursday, June 29 at 4 pm.
For further information, call Children's Librarian Barbara Mattison at (818) 340-9386.
Meet the Staff
By now many of you have already met Platt's charming new Circulation Clerks. Esther * and Krys (pronounced Kris) Morales joined us in January. Both came to Platt from private firms and bring valuable clerical and customer service experience into our branch.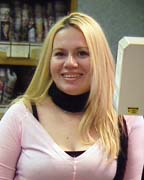 Krys is also in her second year at the University of Phoenix for Business Management, and she's an avid crafts person, self-taught from—what else?—books. The opening at Platt attracted her by its proximity to a large supply. Originally from San Antonio, Texas, she and her husband, Wesley, have four children, Krysta, Moyzes, Trinitty, and Leah…and a cat named Seven because he's the seventh member of the family. Krys also has some experience with volunteering. While still in San Antonio, she and her grandmother helped out at a hospital. (Friends Volunteer Coordinators, take note!)
Esther finds Platt Branch refreshingly quiet after working at an audio company and rehearsal studio in North Hollywood. She doesn't miss rubbing elbows with recording artists at all. She gets her thrills dirt biking on the weekends. (Really,) A Valley girl, she also enjoys gardening and pampering pets. (Currently a chow chow and three goldfish, but until recently she had Stinky & Noodles, two ferrets, and remains a staunch ferret fancier.) Although none of this seems at all "bookish", Esther's other hobby is building her book collection. Which, she says, her Platt experience will help organize via the Dewey decimal system.
When time allows, do stop and chat with these two very interesting ladies.
* 10/24/2007—Esther requested removal of her surname and photo from this article
Photography On Display
Adult Librarian Dara Eklund has turned the display cabinet into a mini-gallery for the late Dan Strauss's art photography. Among his many volunteering contributions, Dan photographed events for the Friends Newsletter and scrapbook.
If you have a non-commercial collection you'd like to share with fellow patrons, don't hesitate to contact Senior Librarian Lynn Light at (818) 340-9386 or click here to send an email.
---
Our GAB program needs a few more voices to read to children 2 hours a week (or every other week), especially on Saturdays. Contact Children's Librarian Barbara Mattison @ (818) 340-9386
---

The Friends of the Platt Library Newsletter is produced and maintained by Hearn/Perrell Art Associates. Editor: Therese Hearn
Artwork, photos and information are copyrighted by their respective Authors, the Friends of the Platt Library, and/or Hearn/Perrell Art Associates and may not be reprinted without permission.
Problems? Comments? Suggestions? Please tell the Webmaster.