You Have Been Appreciated!!!
With the end of our Super Big Book Sales, we'd like to thank all the volunteers who have contributed so many hours and have shown how much you cared about the Platt Library. You were responsible for raising truly significant funds in support of the library since its opening.
Thanks, as well, to those who contributed to our final sale in January: Barbara Abromovitch, Pat Backes, Geoffrey Ball, Howard Benjamin, Millie & Ed Berger, Pam Bieber, Phil Binderman, Warren Bromund, Elaine Corman, Frona & Stan DeCovnick, Lynn Durbin, Judy Eichenbaum, Sid Eiduson, Vivian Estabrook, Faye Faraldo, Chris Frear, Jesse Goldbaum, Sharon Gugler, Ellie & Terry Haney, Shirley Hirschfeld, Therese Hearn, Darlene Jackson, Leatha King, Willa Kurtz, Richard Lee, Ethel Margolin, Ruth Mehlworm, CeCe Mestman, Charlene Montante, Eileen O'Neill, Mary Ann Ostrom, Pat Peterson, David Perrell, Sterling Rachootin, Nancy & John Reeve, Darris Reilly, Peggy Richman, Carol Roseman, Paula Russo, Don  & Sharon & Shel Schuster, Harriet Strauss, Sue & John Strickland, Joan Wagner, Michelle Watts, Glenn Yamada, Margaret Young, and Jackie & Mark Zev. Point of information: Volunteer hours on Friday and Saturday were close to 200 hours. How many libraries can match that?
The Friends have been so fortunate to have tireless people who sorted, priced the books stocked in the bookstore, and supervised the 5 big sales a year. It was a labor of love for Shel Schuster, Millie Berger, Warren Bromund, and Frona DeCovnick, who will continue to make sure that the Friends Bookstore serves Platt Branch and the community. On the bright side…Hope to see all of you in the Bookstore.
Should you be interested in volunteering there, we would be happy to have you. At present, regular hours are filled, but we are always in need of subs. So please contact us ASAP.
Elaine Corman & Harriet Strauss
Co-Bookstore Volunteer Coordinators
GAB's Special Grandparents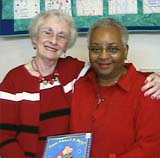 Grandma Judie Mount, seen here with Children's Librarian Barbara Mattison, has just entered her 6th year with Platt's GAB reading program. Judie not only shares books with our youngest patrons, she plans and conducts Platt's Monday morning Pre-School Storytime. In the five years she's been with us, her story selections, songs, games, flannelboards, and finger-puppet plays have attracted a large weekly following.
All GAB reading sessions are rewarding, though, whether in groups or one-on-one. Platt has a particularly charming young clientele. If you can volunteer at least 2 hours every other week and can make a commitment for 6 months, you should consider joining our program. Platt currently needs readers on Thursdays and Saturdays. For more information, call Barbara Mattison at (818) 340-9386.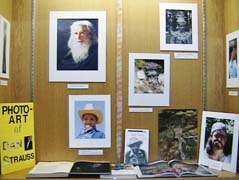 Danny's Special Showing
Be sure to stop at the display cabinet soon, if you haven't already admired the current display. Adult Librarian Dara Eklund has turned the cabinet into a mini-gallery for Dan Strauss's art photography. And this is special for many of our patrons because Danny was a familiar figure at Platt for many years, advancing Friends fundraising efforts with his Magic performances, photographing events, and helping in so many ways. Thanks, as well, are due his wife, Harriet, for making this retrospective possible.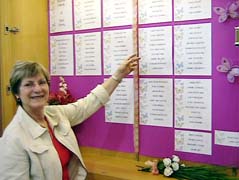 They also serve who donate their time to special projects, assist the library staff, compile data, arrange for programs, provide hospitality, and accomplish all the many tasks a Friends organization must attend to. General Support Board Member Sue Strickland (right) keeps track of all those hours, updates the library's volunteer plaque, and created this year's display honoring all Platt Branch's many volunteers.
VOLUNTEER OPPORTUNITIES
Readers Needed
Our GAB program needs a few more voices to read to children 2 hours a week (or every other week), especially on Saturdays. Contact Children's Librarian Barbara Mattison at (818) 340-9386.

The Friends of the Platt Library Newsletter is produced and maintained by Hearn/Perrell Art Associates. Editor: Therese Hearn
Artwork, photos and information are copyrighted by their respective Authors, the Friends of the Platt Library, and/or Hearn/Perrell Art Associates and may not be reprinted without permission.
Problems? Comments? Suggestions? Please tell the Webmaster.