Witty and energetic,
Gil Garcetti brought the
lives and contributions of
ironworkers into focus.
After the program,
Gil Garcetti signs
a copy of his first
book, Iron, for
Friends Member
Joan Vos as
Frona DeCovnick
(Friends President
Elect) looks on.
Meanwhile, from left, Mailing Chair Joan Wagner, Hospitality Chair Ellie Haney, President Terry Haney, Senior Librarian Lynn Light, and Publicity Chair Charlene Montante sample the toothsome morsels provided by Ellie's hospitality committee.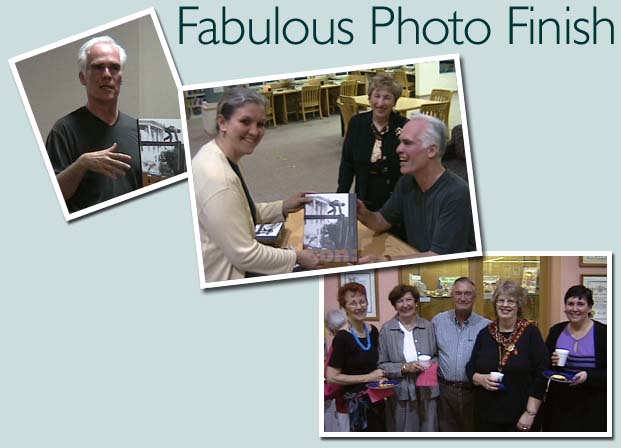 Gil Garcetti has done what few of us have attempted. He changed careers after 32 years as a practicing attorney to follow his dream—that of being an art photographer. How? "I do what I enjoy…all the while hoping that I, in turn, will be helping others," he told a capacity audience in his opening statement as guest speaker at the Friends May General Meeting.
In an engaging presentation, Mr. Garcetti illustrated this point with his tenacious efforts to gain entrance onto the Disney Concert Hall construction site to film the 14,000 pieces of iron required for its design and the men that put them together. Once accepted by the ironworkers, he was encouraged to create a book with their stories and his photographs. Iron not only gave credence to the craftsmen behind the scene and established his new career, all his proceeds from the book go to the ironworkers' scholarship fund.
An accomplished speaker, Mr. Garcetti detailed the danger these elite construction workers face daily…the steps needed to become an ironworker…the pride of artisanship they gain from meeting challenges like the Disney Concert Hall…while he showed slides from Iron and it's sequel, Frozen Music. "What I do is beautiful," one of the men had told him, and the photos showed us why.
Mr. Garcetti also answered many technical questions on filming this and other current projects. In closing, he gave this advice: "Grab opportunities when they come your way. You never know where they will lead you." Thank you, Gil Garcetti, for a very informative, uplifting program.
Frona DeCovnick, Program Chair
Board Election Results
At our May General Meeting, Friends of the Platt Library members elected the following officers for the upcoming 2004–2005 term:
| | | |
| --- | --- | --- |
| President | – | Frona DeCovnick |
| 1st Vice President (Fundraising) | – | Mary Ann Ostrom |
| 2nd Vice President (Membership) | – | Mildred Berger |
| Recording Secretary | – | Kathy Cromar |
| Corresponding Secretary | – | Eileen O'Neill |
| Treasurer | – | Annie Haas |
Terry Haney will, of course, continue to serve on the Board as Past President.
Most of the new officers are familiar through past service in Standing Committees or previous Board terms, but Kathy Cromar is a new face. As you meet them, please congratulate these dedicated individuals and assure them of your support throughout the coming year.
Harriet Strauss, Nominating Committee & Historian

The Friends of the Platt Library Newsletter is produced and maintained by Hearn/Perrell Art Associates. Editor: Therese Hearn
Artwork, photos and information are copyrighted by their respective Authors, the Friends of the Platt Library, and/or Hearn/Perrell Art Associates and may not be reprinted without permission.
Problems? Comments? Suggestions? Please tell the Webmaster.