Light Notes
As promised, here are just a few quick words on current topics:
One Book/One City LA
Again this year, LAPL is participating in the Mayor's reading initiative, with Seabiscuit as the 2004 selection. The program, which encourages all Angelenos to read Laura Hillenbrand's best-seller, began April 1 and will conclude April 25. Platt Branch has extra circulation copies of the book, the film on DVD, and the screenplay. Check our bulletin board for tie-in events scheduled after press time. For more information and citywide events, visit www.lapl.org/onebook.
Artful Touches
We've all been enjoying Helene Jukoff's and her students' latest paintings, which are on display in the Magazine Section. Thanks, Helene, for brightening Platt Branch with the loan of these original works.
A Little Reorganization
As you may be aware, some of our most-used library materials have been relocated.
Project Bestseller books are now on the first shelves you see as you enter. (These current best sellers are available on a special 15¢ per day rental basis.)
CD's and DVD's are behind the Best Sellers.
Audiotapes occupy the next bank of shelves—fiction on both sides, with nonfiction onthe next facing row.
New books, fiction & nonfiction, are on the last row facing the stacks.
Videotapes still fill the wall next to the Magazine Section, but with fiction grouped on the left and nonfiction on the right.
All Language books, tapes, etc. are grouped on the wall adjacent to the staff area.
Large Type books are now at the counter-end of that same wall, across the aisle from where they used to be.
Let me know how this arrangement works for you, by e-mail (click here or click on "Tell the Librarian" at www.plattlibrary.org) or by snail-mail or at the Reference Desk.
And Thanks
My first 7 months have been hectic, but not as enervating as they could have been without a great team of volunteers. I really appreciate the Friends Board and members' cooperation and support. Thanks to you all for carrying on so well.
Lynn Light, Senior Librarian
Children's Programs
In February and March, Platt Branch got back into the swing of fun programs for our youngest patrons.
Vickie and Judie with Milo Bougetz-Aulbach
Once again, Grandma Judie Mount (the Grandparents and Books volunteer who regularly conducts our Monday morning Preschool Storytime) and I paired up for a President's Day program. The audience got to watch a light-hearted "So You Want to be a President" video based on Judith St. George & David Small's Caldecott Award-winning book. The kids had plenty to share on what they knew about Presidents George Washington and Abraham Lincoln. Judie and I did a puppet play commemorating these two presidents and their achievements. And then the kids had a grand time making Valentine crafts for their special someone.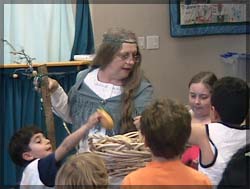 At our St. Paddy's Day program, your Newsletter Editor, Grandma Therese Hearn (also a GAB volunteer), joined me for lots of lively music and tall, tall tales. The audience learned about St. Patrick, the significance of shamrocks, and what to do when you catch a leprechaun. Therese entertained everyone with her special costume and storytelling. Not to be outdone, the kids were quick to learn an Irish folk song as they rattled along with gourds and rainsticks. Irish for the day, we all even stood up for Ireland's national anthem. As a finale, everyone enjoyed their fresh green lemonade and homemade oatmeal cookies while creating shamrock wreaths.
Upcoming Events: Sign-up for the bus that leaves Platt Branch on June 5 to take families downtown to the Central Library for the "LA Kids Read Festival". Help us kick-off the annual citywide summer reading program. The event's free children's programs and activities will make this a fun-filled trip for all! For more information, please contact me at (818) 340-9386.
This year's summer reading program theme is "Reel Books to Movies". Watch the events calendar for special theme programs, beginning with children's author Anne Ingram's "Hollywood and the Stars" on June 10 and Tony Daniels's The Reel Books & Reel Movies Magic Show on June 17.
Vicki Magaw, Children's Librarian
Young Adult Programs
Introductory Baby-sitting Workshop:
At 3:30 pm on Tuesday, April 20, Platt Branch will offer a class designed to introduce young adults to the responsibilities involved in baby-sitting children. Topics to be covered include how to prevent home accidents, dealing with emergencies, and how to make the experience fun for both the sitter and the child. The class will be taught by Eileen Landacre, a volunteer with LAFD's Fire and Safety Education Unit. Participants will receive certificates indicating that they took this introductory class.
Teen Job Workshop:
At 3:30 on Wednesday, April 28, Michael Golldthreat, a youth specialist from the CA-EDD, will offer tips on summer jobs.
Jack Zafran, Young Adult Librarian
Display Case
| | |
| --- | --- |
| | Platt would not be such a gem of a library without the efforts of dedicated volunteers who give many hours of their time with no expectation of any reward. Membership VP Millie Berger created the January display to honor these Beautiful People. |
| | |
| --- | --- |
| As a tie-in with our Women in Aviation program and for Women in History Month, 99s Member Susan Theurkauf mounted this informative February–March display. | |

The Friends of the Platt Library Newsletter is produced and maintained by Hearn/Perrell Art Associates. Editor: Therese Hearn
Artwork, photos and information are copyrighted by their respective Authors, the Friends of the Platt Library, and/or Hearn/Perrell Art Associates and may not be reprinted without permission.
Problems? Comments? Suggestions? Please tell the Webmaster.