Rotunda Repaired
Many thanks to the Traffic Directors who helped guide library patrons in and out the Multipurpose Room doors while our rotunda was being redone. It was a weeklong project, May 23rd through May 30th. The cement work is now level and has no hazards. Those helping in 2-hour shifts were Millie Berger, Eileen Bernfeld, Elaine Corman, Stan DeCovnick, Sid & Muriel Eiduson, Faye Faraldo, Terry Haney, Therese Hearn, Willa Kurtz, Eileen O'Neill, Mary Ann Ostrom, David Perrell, Paula Russo, Sharon Schuster, and Harriet Strauss.
Harriet Strauss, Historian
Children's Programs
LAPL's Summer Reading Program has kept Platt Branch hopping. Throughout June and July, we hosted a series of children's performers who celebrated the Summer Reading Club theme "American Originals".
The first of the patriotic programs was Children's Songwriter Dave Kinnoin singing about Helen Keller and Johnny Appleseed. Then Author/Illustrator Karen Winnick read her book Abraham Lincoln's Whiskers, a true story about the girl who convinced Lincoln to grow a beard. We celebrated July 4th with storyteller Janeece Flint recreating legends of Los Angeles with characters as diverse as a California Indian, Biddy Mason, William Mulholland, and a modern movie agent. Also receiving high praise was "A Visit from Lincoln" by Impersonator John Kendall. The series ends August 13 with the Gypsy Folk Ensemble's American Hawaiian Lu'au.
Book Club for Boys — In July, Platt introduced a program designed for second and third graders. The boys' response to "books about boy things" has been good, with the segregation strictly enforced. (Not easy. Try telling girls they aren't interested in things like Dinosaurs Before Dark by Mary Pope Osborne, the final August 18 selection.)
Preschool Storytime Special Guest — Anticipating July 4th's fireworks, we invited LAFD volunteer Eileen LaDacre to talk about fire safety. Her presentation engaged both children and parents. One boy from the audience was suited up with a firefighter outfit while the children got to practice how to "stop, drop, and roll."
Danza Azteca Xochipilli — The whole family can enjoy this unique program of authentic Aztec dance and music, coming to Platt October 28. Kids can relate to the bright, fantastic costumes and lively steps as their elders examine seldom seen pre-Columbian instruments and traditions. While Azteca Xochipilli isn't standard Halloween fare, it's very much in keeping with the traditions underlying All Hallows Eve. And cross-cultural pollination is one of this troupe's main objectives.
Vicki Migliori, Children's Librarian
Young Adult Programs
Keep an eye on the bulletin board for more details on an exciting program coming in October. "Changing Perceptions" Theater by the Blind & Physically Disabled will perform "Our Stories II", an original play with music, on Thursday, October 16 at 2:00 pm in the Multipurpose Room.
Tracking the Racers
As a fun aside to the summer Teen Reading Program, Young Adult Librarian Dan Cormier (at left in photo) encouraged participants to follow the progress of the American Solar Challenge entries as they sped across the country in their futuristic, solar-powered cars. Ali Azemoor (to the right of Dan), Leihu Dobson, Rizen Appling, and Riana Appling won prizes for the most accurate forecasts.
45 Bottles and Bears on the Wall
Through the courtesy of Stan DeCovnick (and help from Frona DeCovnick), milk bottles were "delivered" to Platt Branch in June. An amazing array of bottle sizes and shapes graced the display cabinet, along with other milk-related memorabilia sure to jog childhood memories. Many thanks, Stan, for helping us to remember the "good old days" before non-fat, soy, or lactose were considerations and cartons were standard market fare.
Hopefully everyone was inspired by the July cabinet display to set aside a day to savor a summer picnic. Our thanks to Mary Shepherd for allowing some of her vast collection of teddy bears to have their picnic on our shelves. Who can resist stopping to look at a teddy bear? After long gazes, a number of children (and yes, some of you adults as well!) were heard singing those well known lines as they left the Library: "If you go out in the woods today..."
 A reminder to all avid collectors: We are always looking for volunteers who are willing to loan us some of their favorites so that they can be appreciated by library patrons. Displays are for a period of one month.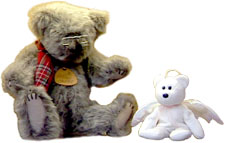 Items are kept locked in the display cabinet, and thus are safe. However, we discourage displaying extremely rare and valuable pieces since we are not insured for that type of item. If you're interested, please call Millie Berger at (818) 347-1240.
Millie Berger, Past President

The Friends of the Platt Library Newsletter is produced and maintained by Hearn/Perrell Art Associates. Editor: Therese Hearn
Artwork, photos and information are copyrighted by their respective Authors, the Friends of the Platt Library, and/or Hearn/Perrell Art Associates and may not be reprinted without permission.
Problems? Comments? Suggestions? Please tell the Webmaster.