Notes from Jan
There's an adage that says "familiarity breeds contempt." Well, it certainly wasn't substantiated by the turnout for our 8th birthday celebration. The Woodland Hills/West Hills community showed up en masse for Platt's traditional April event.
As usual, it was a grand day from the morning Used Book Sale to the afternoon Irish Stepdancers and crafts. There are countless individuals to thank for their hard work, but a special Thank You goes to Birthday Committee Chair Millie Berger. Planning an event of this caliber involves many volunteer hours to coordinate assignments, design craft activities, and follow up on everything. It's wonderful that Millie actually enjoys her hours "on the road" tracking down supplies and bargains!
The genuine bargain, however, comes from all Platt Friends who help each year with this colossal undertaking. These dedicated persons, even more than the local businesses, make Platt's birthday parties the neighborhood event of April.
We're already looking ahead to #9—why not join us in the planning stages for next year!
Branch Renovation Update
Plans for the grand re-opening of our sister branch, Woodland Hills, have moved an incremental step forward… finally! Recently Nancy Brennan, Woodland Hills Children's Librarian, received word to report back to her new branch on June 2.
While no official opening date has been established, it does appear that there will be another Woodland Hills party sometime this summer.
More Farewells
Speaking of parties, they seem to go in flurries. In addition to a farewell for Nancy, several of our Messenger Clerk staff have either left or are scheduled to leave this summer for challenging new jobs and graduate degrees.
With the City's hiring freeze still very much in effect, you may see your favorite librarian shelving books in between fielding reference queries.
Jan Metzler, Senior Librarian
Children's Programs
It's been a busy spring in the Children's Section. Franklin Haynes's Springtime Marionette Puppet Parade, sponsored by the Friends of Platt Library, was a special treat. The audience loved his colorful marionettes, especially Carmen Miranduck (the singing and dancing duck with fruits on her head) and the circus bunny that could juggle and do trapeze acts. We were also fascinated by his demonstration of how he makes puppets out of things around the house.
Kids' Book Club
Platt's own pint-sized book discussion programcontinues to expand, both in attendance and in concept. Retired teacher-volunteer Irwin Isaacman and I have tried involving teens in the presentation, as well as discussion—and it works. One of the participating Hale Middle School students researched our April selection, Holes by Louis Sachar, and presented the author's biography. Younger members really sat up and paid attention to a very credible job by a "big kid." May 28th's book, Thief Lord by Cornelia Funke, concludes this series, but we'll be back exploring our own picks after the citywide Summer Reading Program.
Preschool Storytime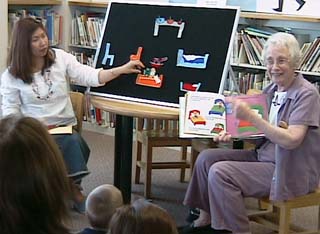 Due to popular demand, Platt Branch now offers a preschool story time every Monday morning at 10:30. "Grandparents and Books" volunteer Judie Mount teams up with me for a half-hour program that features books, flannelboard stories, finger plays, songs, and movement. This program is designed to help children with their listening skills, social interaction, and reading appreciation. Preschoolers (and their parents) have flocked to these sessions since we inaugurated them in 2001.
Summer Reading Program
June 9 is the start-up date for LAPL's annual all-branch Summer Reading Club. Sign-up materials will be prominently available in the Reference Area. Participants will receive free reading incentives throughout the summer, and Platt Branch will provide a certificate of completion to their local school in September. In addition, we've scheduled children's programs that highlight this year's theme—"American Original: Freedom to Read 'Em." Check the box below for dates and times.
Vicki Migliori, Children's Librarian
freedom to read 'em summer programs
Wednesday, June 18 at 4:00 pm
Sing Out About America and Its Heroes – Original songs by Muppet and Disney songwriter Dave Kinnoin (all ages)

Wednesday, June 25 at 4:00 pm
Author/Illustrator Karen Winnick – Meet the author of unique picture books that spotlight events in history (age 5 & up)

Wednesday, July 2 at 4:00 pm
Storyteller Janeece Fleet, Legends of Los Angeles – Take a theatrical journey from prehistoric LA into the 21st Century (age 5 & up)

Wednesday, July 16 at 4:00 pm
A Visit with Mr. Lincoln as portrayed by John Kendall – Meet one of the greatest men in history! (age 5 & up)

Wednesday, August 13 at 4:00 pm
Gypsy Folk Ensemble, American Hawaiian Lu'au – Come celebrate our 50th State in song and dance! (all ages)
Free Bus to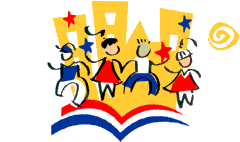 the Central Library
Saturday, June 7 at 10:45 am, a bus will take you from Platt Branch to the annual L. A. Kids Read Festival at the Central Library downtown. This free event starts at 12:00 noon and lasts until 4:00 pm.
In celebration of this summer's reading program, special Americana-themed programs will feature Ringling Bros. and Barnum & Bailey clowns, cowboy stuntmen and rope tricks, storytelling, gospel and bluegrass music, Native American face painting, and a pioneer village. So bring the whole family and enjoy Los Angeles Public Library in action.
Make reservations in person at the Reference Desk. Everyone under 18 must be accompanied by an adult. For more information, please give Vicki Migliori a call at (818) 340-9386.
One Book, One City—at Platt
Joining into the spirit of L A's community outreach program, members of our adult book club met last April to discuss The House on Mango Street by Sandra Cisneros. One Book, One City LA encourages everyone in Los Angeles to read the same book in an effort to foster discussion among the city's diverse communities. During each selection period, various civic organizations host title-related community and celebrity events. For more information on the program, visit www.lapl.org/onebook.
Platt Branch Book Club, led by Adult Librarian Sherry Brent, meets the fourth Wednesday of each month, 7:15 to 9:15 pm, in the Multipurpose Room. Our feisty and rather diverse group is always looking for more points of view. If you're interested, visit Sherry B at the Reference Desk or call her at (818) 340-9386.
These Chippers are Gems!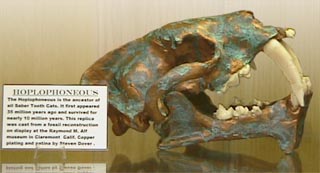 The March display cabinet held some wonderful eye candy. Library patrons were able to see just how beautiful rocks and minerals can be, both in their natural state and when used as art. Specimens included cross sections showing rock structure and formation, polished stones, lovely jewelry, and an exquisite stone sculpture.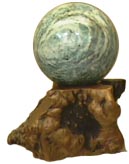 All pieces came from the Woodland Hills Rock Chippers, a local group affiliated with both the California and American Federations of Mineralogical Societies. Special thanks go to David Dills and Thalia Goldsworthy for selecting and displaying such intriguing specimens.
The April display cabinet was decorated with balloons, presents, and a cake to honor the 8th Birthday of Platt Branch. See photos of the event day elsewhere in this newsletter.
Millie Berger, Past President
NOTICE TO GAB GRANDMAS AND GRANDPAS:
Due to a continuing illness, Platt's GAB program has blank Saturdays. If you have time to fill them (in the morning or at noon or in the afternoon), let Vicki Migliori know ASAP.

The Friends of the Platt Library Newsletter is produced and maintained by Hearn/Perrell Art Associates. Editor: Therese Hearn
Artwork, photos and information are copyrighted by their respective Authors, the Friends of the Platt Library, and/or Hearn/Perrell Art Associates and may not be reprinted without permission.
Problems? Comments? Suggestions? Please tell the Webmaster.