Whew! What a party! What a book sale!
What a wonderful cooperative effort of book donors, buyers, and Friends volunteers for our big anniversary party on April 19 and 20! Thanks to all of you.
 Giving generously of their time were Barbara Abromovitz, Pat Backes, Annette Berger, Ed & Millie Berger, Eileen Bernfeld, Pam Bieber, Julie Booth, Ruth & Warren Bromund, Elaine Corman, Sandi Corman, Frona & Stan DeCovnick, Dan & Lynn Durbin, Muriel & Sid Eiduson, Nancy Eisenhart, Vivian Estabrook, Ken Fermoyle, Annie & Ted Haas, Ellie & Terry Haney, Therese Hearn, Rich Imbro, Pearl Kalechstein, Paul Kennedy, Leatha King, Jeff Koetje, Willa Kurtz, Ethel Margolin, Ellen Marshall, Cece Mestman, Charlene Montante, Eileen O'Neill, Mary Ann Ostrom, David Perrell, John & Nancy Reeve, Peggy Richman, Paula Russo, Don Schuster, Sharon & Shel Schuster, Cari Spalinger, Harriet Strauss, Nina Wilson, and Margaret Young. We had additional help from student volunteers: Becky & Jenny Booth, Sarah Carreras, Marc Druez, Anya & Rose Finklestein, Michael Schuster, Ben Strom, Marina Uchenik, and Megan Whitaker.
Thanks also to our bookstore volunteers who contribute every day and make our bookstore so popular in the community. What a job it is to sort out the piles of books that pour in daily; additional thanks go to Shel Schuster, John Reeve, Warren Bromund, and Millie Berger who do such a Herculean job in accomplishing that task.
We'd love to have more old and new Friends members join us in the bookstore or at book sales. If you are interested, please contact me.
Elaine Corman, Volunteer Coordinator
Farewell, Grandma Gail!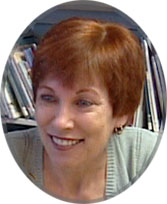 After 7 years of outstanding service reading to children, Gail Hancock said good-bye May 8. Gail, an original GAB volunteer (see newsletter vol.7#1), is relocating but plans to continue reading at her local library in Redlands, California.
Gail's contribution was immense! Her enthusiasm and ability to bring a story to life fulfilled the Grandparents and Books program's goal of instilling the love of books in children. Her near-perfect attendance, volunteering two nights a week despite working full-time, made her stand out. Always keeping herself busy, she also shelved books and straightened up the Children's area when, on rare occasions, no children were around.
Parents expressed their gratitude for her help in improving their children's reading skills. Many youngsters are now joyfully reading on their own because of her efforts. The children and staff will certainly miss her!
Vicki Migliori, Children's Librarian

The Friends of the Platt Library Newsletter is produced and maintained by Hearn/Perrell Art Associates. Editor: Therese Hearn
Artwork, photos and information are copyrighted by their respective Authors, the Friends of the Platt Library, and/or Hearn/Perrell Art Associates and may not be reprinted without permission.
Problems? Comments? Suggestions? Please tell the Webmaster.