On a clear day...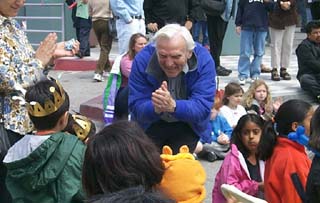 The rain stopped, clouds blew away and great weather emerged for Platt Branch's Sixth Birthday. It was a not-to-be-missed event filled with something for all ages and interests. As a result, the celebration drew one of the largest community crowds ever.
The morning kicked off with Anne Ingram, the gracious author, who not only introduced children to her book,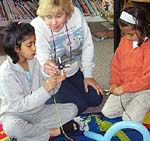 but taught them a traditional God's Eye craft as well. Then the El Camino Jazz Band had the audience happily toe-tapping to their syncopated rhythms. A high energy performance followed from the Conejo Valley Cloggers, who also taught willing volunteers (even a visiting fireman!) how to clog dance. For the finale, ever-popular Tony Daniels presented his Harry Potter II magic show to the delight of both children and adults.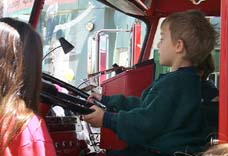 A fire truck, patrol car, and street sweeper were available for excited youngsters to climb upon and imagine themselves as future adults. Special body tattooing further enhanced the party, compliments of Don and Michael Schuster and Don's magic air brush. Smiling faces bore creative face painting done by the able members of the El Camino High Key Club. The popular balloon man's eagerly sought creations and an array of crafts (taught to over 100 children by Friends volunteers) capped off these hands-on happenings.
Plus the QUILT: No Platt Birthday Festival is ever complete without the presentation of the traditional quilt to the library. This year the theme was Favorite Books. The Third Grade classes of Mrs. Perry and Mrs. Shiva of Welby Way Magnet School decorated the beautiful quilt blocks. Whereupon, our ever-handy Event Chairman, Sue Schuster, did a superb job of assembling and finishing the quilt (now on display in the library).
Both food and books were bountiful throughout the day. Delicious cakes, brownies, and drinks filled tummies; while the fantastic used book selection (thanks, Shel Schuster) provided manna for the mind.
And so the day ended with many weary, but pleased, volunteers grateful for the opportunity to show the entire community their thanks for its continued support of our wonderful library.
What a Success!

The Sixth Annual Birthday Party book sale was a smashing success in every way. Huge numbers of people attended not only on the day of the Birthday Festival, but at the pre-sale on Friday night as well. This time, there were many more books available, and Shel Schuster priced them most attractively. Thanks to all of the eager buyers, the Friends treasury was increased by $2900.00, making this the second largest revenue-producing sale ever held.
As usual, our wonderful volunteers were there to ensure the Sixth Birthday Celebration was one of the best. Many thanks to Barbara Abromovitch, Pat Backes, Millie & Ed Berger, Pam Bieber, Julie Booth, Ruth & Warren Bromund, Elaine & Sandi Corman, Patricia Dant, Frona & Stan DeCovnick, Dan & Lynn Durbin, Muriel & Sid Eiduson, Nancy Eisenhart, Vivian Estabrook, Ken Fermoyle, Jesse Goldbaum, Annie & Ted Haas, Ellie & Terry Haney, Marianne Hilliard, Jo Ann Hilston, Pearl Kalechstein, Paul Kennedy, Jeff Koetje, Martha Lane, Barbara Littlefield, Ethel Margolin, Ellen Marshall, Ruth Mehlworm, CeCe Mestman, MaryAnn Ostrom, Nancy Reeve, Peggy Richman, Paula Russo, Sue & Don Schuster, Kathy Van Olinda, Joan & Ray Wagner, and Margaret Young. Also contributing their time and effort to help man the craft booths were Hale Junior High students Rio Barrow, Michael Bernstein, and Tommy Booth.
Special thanks to Sue Schuster, who does such a great job coordinating Platt's Birthday Celebrations, and to Shel Schuster, who is the heart of the bookstore and book sales.
Our last book sale of the current membership year will be held on June 16. Pre-sale is Friday evening, June 15. Any Friends who would like to join in helping with the book sale or in the bookstore, please contact Elaine Corman at (818) 347-5602 or volunteer@plattlibrary.org.
Elaine Corman,
Volunteer Coordinator
Many Thanks to our Birthday Donors!
A great big THANK YOU to all the people who volunteered at Platt Branch's Sixth Birthday Festival. Without them and the generous donations of local businesses, it could not have been successful.
Listed below are the companies that were so kind in making donations. You can show your appreciation also by supporting them in their business.
Sue Schuster, Birthday Party Coordinator
| | | |
| --- | --- | --- |
| COMPANY | PHONE | SPECIALTY |
| Albertson's (Victory Bl., Woodland Hills) | 883-6565 | Groceries |
| Boeing Rocketdyne (West Hills) | — | Aerospace |
| Carl's Jr. (Platt Ave., Woodland Hills) | 884-0783 | Fast Food |
| Drinking Water Depot (Saticoy St., Winnetka) | 993-9461 | Drinking Water |
| Orchard Supply (Victory Bl., West Hills) | 883-6788 | Hardware |
| McDonald's (Platt Ave., West Hills) | 883-2301 | Fast Food |
| Pavilions (Platt Ave., West Hills) | 999-5939 | Groceries |
| Plusko's (Sherman Way, Canoga Park) | 348-2880 | Bakery |
| Rosie's Barbecue (Platt Ave., West Hills) | 346-4091 | Restaurant |
| Shell Gasoline (Platt/Victory, Woodland Hills) | 340-0700 | Gasoline |
| Starbucks (Platt Ave., West Hills) | 346-3085 | Coffee |
| Starbucks (Victory Bl., West Hills) | 883-0567 | Coffee |
| Target (Fallbrook Mall) | 999-2390 | Gen'l Merchandise |
| Vons (Mulholland Bl., Woodland Hills) | 223-3221 | Groceries |
| Wendy's (Platt Ave., West Hills) | 887-7526 | Fast Food |
| West End Gallery (Sherman Way, Canoga Park) | 704-0835 | Framing |
| Westfield Corp. (Topanga Plaza) | — | Shopping Mall |
| Conejo Valley Cloggers | (805) 497-2119 | Clog Dance |
| Tony Daniels | 988-9052 | Magician |
| Russell Lund | 888-9642 | Balloon Artist |
| El Camino High Jazz Band | — | Music Dept. |
| Anne Ingram | — | Children's Author |
| Los Angeles Fire Department, Station 105 | | |
| Los Angeles Police Department, West Valley Division | | |
| City of Los Angeles Street Cleaning Division | | |

Birthday event photography by Jesse Goldbaum

The Friends of the Platt Library Newsletter is produced and maintained by Hearn/Perrell Art Associates. Editor: Therese Hearn
Artwork, photos and information are copyrighted by their respective Authors, the Friends of the Platt Library, and/or Hearn/Perrell Art Associates and may not be reprinted without permission.
Problems? Comments? Suggestions? Please tell the Webmaster.