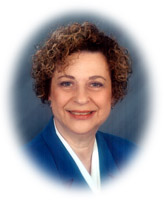 President's Message
It was a very good year!
The leaders of the Friends of the Platt Library, the Executive Board, set three goals for the 2007–08 year. So many good things have happened, I can only touch on this year's new programs. At the same time, the volunteers continued all the programs you have come to expect of the Friends. We take great pride in fulfilling our promise to you: to enhance the services of the Platt Branch Library.
The goals and recent accomplishments were:
To increase the number and variety of library services
Invested $3000 in the Hot Off The Press program to triple the number of books available.

Contributed $23,000 to supplement the books and other materials purchased.

Provided a $2600 program budget for children's, young adult, and adult programs planned by Platt staff.
To increase outreach to the community
Instituted the SOLL (Senior Outreach Lending Library) service to bring a rotating library of books from our used bookstore to senior homes.

Initiated monthly LA Opera Talk programs for music loving patrons.

Offered one-on-one services to homebound patrons or others needing specialized help.

Provided a tour conducted by staff to familiarize patrons with all aspects of the library.
To improve the administration of the Friends
Instituted a contact list to provide information of special happenings via e-mail.

Organized paperwork at board meetings to expedite the meetings.

Applied for three possible awards from the Friends of Libraries USA for our outstanding newsletter, website, Books For Babies program, and Children's Holiday Boutique.

Encouraged volunteers to learn about the Friends by participating in the Board without specific commitments.
Yes, it was a very good year—following 12 previous ones. My thanks to all who contributed in so many ways, large and small, to making our successes possible. And a personal thank you for the opportunity to serve, once again, as President of the Friends with such a great crew!
Board Elections
Election of officers will be held at the June 12 General Meeting. I hope you'll come to support our hard-working Board as much as to enjoy the evening's speaker, James Domine.

The Friends of the Platt Library Newsletter is produced and maintained by Hearn/Perrell Art Associates. Editor: Therese Hearn
Artwork, photos and information are copyrighted by their respective Authors, the Friends of the Platt Library, and/or Hearn/Perrell Art Associates and may not be reprinted without permission.
Problems? Comments? Suggestions? Please tell the Webmaster.