Light Notes
Although the current L. A. City budget crisis has LAPL searching for ways to reduce costs citywide, Platt Branch actually increased patron services over the last quarter.
Computer Training Is Back
Reference librarians Susan Bougetz, Sherry Brent, Elliott Gordon, and Ben Lea each conducted one of our new basic computer classes in April and May. All had very positive experiences. Some patrons inquired about further advanced training, which we'll try to arrange—schedule permitting.
Library Orientation Tour
To familiarize patrons with changes at Platt Branch and with LAPL resources in general, the Friends organized a comprehensive tour, guided by Susan Bougetz. Participants also appreciated the information packet Millie Berger's team assembled.
More New Program Offerings
Thanks to Friends sponsorship, many children enjoyed our fairy visitors (an LAPL first), and a unique drum circle brought record attendance for an African American History Month program. The Adult Celtic Music concert appealed to all ages, including Susan Bougetz's 8-year-old son, Milo. Platt's first Adult Storytelling evening met with an enthusiastic group, as well.
Y. A. Windfall
Teen-age boys have been seen actually examining the comic book exhibit on a daily basis. They and all "graphic lit" fans will be particularly interested in a surprise addition to our collection—see Ben Lea's article on page 5.
Materials Support
Thanks also to the Friends, we purchased more plastic book jackets and locking CD cases to protect additions to our collection.
Obviously, whatever cost-cutting, revenue-enhancing measures are enacted on July 1, our Friends ability to underwrite such basic necessities will become even more important. As will donated books and volunteers' very valuable time. Platt Branch is very fortunate to have such a concerned and committed support group. Thank you all.
Lynn Light, Senior Librarian
New Basic Computer Classes
As of April, Platt Branch has reinstated free Introductory Internet classes, conducted by our reference librarians from 10:30 to 11:30 am on the 2nd and 4th Tuesdays of each month.
Of necessity, class size is very limited: a maximum of six people. Advance registration is required. (Since the library isn't open to the public on Tuesday mornings, only registered students can enter the building.) Those interested can sign up at the Reference Desk.
Topics currently scheduled for June, July, and August are
| | | |
| --- | --- | --- |
| June 10 | – | Beginning E-mail |
| June 24 | – | Learning the LAPL Catalog |
| July 8 | – | Internet: surfing travel & geography sites |
| July 22 | – | Databases: using the LAPL NoveList (cont.) |
| August 12 | – | E-mail Techniques |
| August 25 | – | Learning the LAPL Catalog |
If you have a specific area of interest you would like to see addressed, please contact a reference librarian at (818) 340-9386. Now is the time to help fine-tune this service to the needs of Platt's patrons.
Adult Literacy Center
Coordinator Susan Casmier's office hours are:
Mondays & Wednesdays: 10–3, Tuesdays: 12–5, Thursdays: 3–8
She can be reached any time at (213) 623-4078, ext 16590
The Literacy Center and materials are available during all library hours.
Regular English Conversation Groups meet weekly,
Monday 11 am–12 n and Thursday 6:30–7:30 pm.
Upcoming Tutor Training Workshops:
| | |
| --- | --- |
| Sat., June 14, 10 am–5 pm | Venice – Abbot Kinney Mem. Br. |
| Sat., July 12, 10 am–5 pm | Lincoln Heights Branch |
| Sat., Aug. 9, 10 am–5 pm | Baldwin Hills Branch |
| Sat., Sept. 13, 10 am–5 pm | Mid-Valley Regional Branch |
Those wanting to become an Adult Literacy tutor must sign up before attending a training workshop (before Sept. 1 for Mid-Valley).
If your friends have businesses that employ people who lack literacy in English, please tell them about our free Adult Literacy program. It will benefit the employee and the business, too. A win-win proposition!
Children's Programs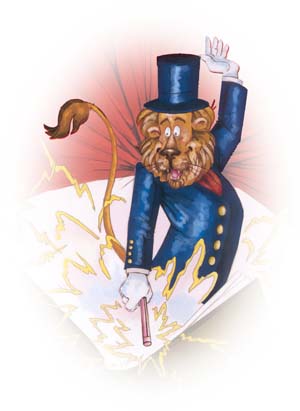 Children's Summer Reading Club coming up June 23–July 31
"Reading Magic" materials will be available across from the Reference Desk Monday, June 23. And don't miss these mesmerizing tie-in events:
Thursday, June 26 at 4:00 pm
Kick-Off: Georgette Baker's "Magical South American Jungle" transports us to a land of fabulous creatures on the wings of story and song.
Thursday, July 31 at 4:00 pm
Grand Finale: Wonderworld Walking Puppet Theatre's "Silly Spy Magic Guy"!
Discover the magic in marvelous books. Help "The Great Sardini", Ric Morton, amaze you with funny magic tricks. Receive your summer reading awards and prizes, too!
Plus a magical special science program on
Thursday, August 21 at 4:00 pm
Bubble Mania returns with Bubbles! Bubbles! And More Bubbles!
Have fun with all sizes, shapes, and colors as you learn what makes the magic possible. Plus—view the world from inside a truly magical giant bubble!
For further information call Children's Librarian Barbara Mattison at (818) 340-9386.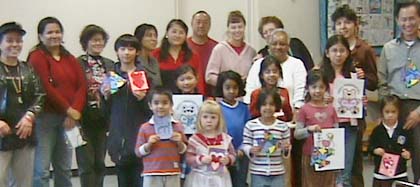 We've been having a grand time since the last issue!
On Valentine's Day, our newest GAB volunteer, Grace Schellert, helped Miss Barbara guide a large flock of young artists through one or more of three craft projects. As you can see, many valentines resulted.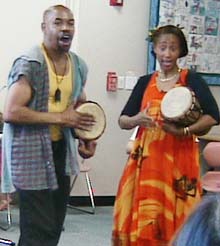 In March, Ina Buckner-Barnette's Friends-sponsored Talking Drum Circle gave us an African-American Heritage celebration to talk about for years to come. Between them, she and percussionist Chazz Ross got over forty parents and kids drumming and tapping and singing folk tales from Africa (and China). What's more, it sounded GREAT! These two certainly put the shine in Sunshine Storytelling.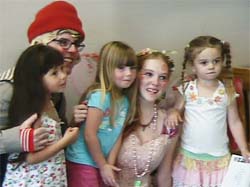 And in April, the songs, games, stories, and jokes in the Faery Hunt delighted some 85 sprites-for-a-day. Ileana the Flower Fairy (Heather Zavola) and Troll Darrig (Ronnie Sperling) created such magical vibes that no one could doubt the existence of Fairie Fun. The brainchild of Producer Debbie Rothstein, this professional troupe even provided each child with a personalized Certificate of Assistance to remember them by. Thank you, Friends, for sponsoring this great program!
Barbara Mattison, Children's Librarian
Young Adult Programs
April's StudentSmart Workshop: "Common College Admission Myths" was conducted by Debbie Kagy, a high school tutor for The Princeton Review. Participants received a very comprehensive admissions game plan as she addressed a long list of misperceptions, offered concrete advice on how to decide which colleges actually fit their goals, and outlined the steps that really boost qualifications. Since time allowed, Ms Kagy also showed those interested how to approach the SAT's "tricky" questions.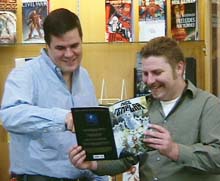 From left, Chris Riester and Chris Lake mount a display highlighting the annual National Comic Book Give-away Day.
Graphic Novels & Manga Took Spotlight in April & May
During the month of April, graphic novels and comic books grabbed center stage when Flying Dog Comics sponsored a display of collector-edition comics. In addition, the shop donated a large number of graphic novels, which are working their way onto the shelves in the Young Adult area. Thanks so much to Flying Dog Comics owner Chris Riester for his generosity.
Meanwhile, the publisher TokyoPop has made a substantial donation of manga to LAPL. Plat Branch received several cartons full to distribute during this year's Teen Summer Reading Club.
Teen Summer Reading Club
The budget crisis slowed planning a bit, but there will be a citywide "Passport to Reading" themed Teen Summer Reading program with several intriguing features. Look for sign-ups and materials in July.
For our kick-off program, a presentation on new and exciting comic book & graphic novel titles worldwide!
Also, I'm working on an all-time favorite event for the grand finale. Keep your eye on the bulletin board or check with me at the Reference Desk after June 1.
Ben Lea, Young Adult Librarian (818) 340-9386
Adult Programs
Both sponsored by the Friends, our most recent programs drew an enthusiastic response.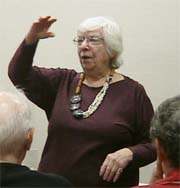 March's Adult Storytelling Evening, scheduled by Adult Librarian Sherry Brent, introduced Platt patrons to the grown-up version of this ancient art form, which encompasses a range of styles from dramatic monologues through tall tales spun around a campfire. Storyteller Bobbie Japka's specialty is personal experience spun into true tales with a twist. Our audience leaned toward homespun memories, such as a young Jewish mother's adjustment to life in a small Midwest town. But they were thoroughly amused by a janitor's solution to a messy mirror and really got into a plucky little old grandma's assault on Mount Whitney.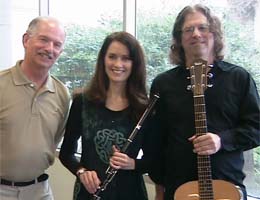 The Celtic Music Concert, also in March, was enjoyed by well over 50 people, plus staff and regular patrons. Susan Craig Winsberg (on flute and tin whistle) and Sam Hill (on guitar) gave rousing renditions of traditional Irish ditties and Scottish reels, but they also slipped in quiet ballads and lilting, less-familiar airs. As they went, they explained the background for their songs—including a beautiful Scot melody from Newfoundland, where many loyalists to the King of England migrated after the American Revolution. Equally interesting was Susan Winsberg's account of her acquisition of the four instruments she played at the concert.
Elliott Gordon, Adult Librarian

Upcoming Events
Saturday Afternoon Recorder Concert: "Sumer is Icumen In!" June 21 @ 3 pm. Celebrate the Summer Solstice with Recorder Players West, under the direction of Inga Funck. Sherry Brent has secured a fittingly ald world program, which includes the title tune, "Summer is A-Comin' In"—the first round sung in English, c. 1240.
Let your program preferences be known by calling Adult Librarians Sherry Brent and Elliott Gordon at (818) 340-9386 or dropping by the Reference Desk.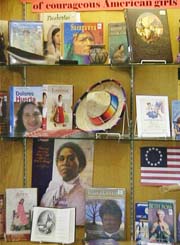 Women in History on Display
March was Women's History Month, and Platt celebrated with a display of courageous American girls and women. American Girl generously donated a Felicity doll and books on the adventures of five girls in the series. Books from our collection rounded out the exhibit.
April's display featured action figures and vintage comic books loaned by Flying Dog Comics + Cards and Platt's own circulation clerk, Chris Lake. (See photo in Young Adult Programs.) Thanks Chris!
Our display cabinet showcases non-commercial personal or group collections of interest to our patrons. If you have one you'd like to share, contact me at (818) 340-9386.
Susan Bougetz, Adult Librarian
---
VOLUNTEER OPPORTUNITIES
New Friends program needs volunteers to assist Platt's homebound patrons
(details in Volume 13, Number 1).
Call Sharon Schuster at (818) 888-1376.
GAB Interactive Children's Reading Program always needs volunteers. 6-month commitment required. Free training provided. Contact Children's Librarian Barbara Mattison at (818) 340-9386
---

The Friends of the Platt Library Newsletter is produced and maintained by Hearn/Perrell Art Associates. Editor: Therese Hearn
Artwork, photos and information are copyrighted by their respective Authors, the Friends of the Platt Library, and/or Hearn/Perrell Art Associates and may not be reprinted without permission.
Problems? Comments? Suggestions? Please tell the Webmaster.