Thursday, June 12 @ 7pm
Meet The Maestro

Maestro James Domine will be the featured speaker at our June General Meeting.
Domine is the popular Music Director of the San Fernando Valley Symphony orchestra in addition to being a gifted composer and musician, author, professor at Pierce College, and an involved member of the Valley community. A product of Valley schools, he received his BA from UCLA, Masters from USC, and is currently working on his PhD through Boston University.
"The Trend in the Development of Popular Music" will be the Maestro's topic. (The breadth and depth of Domine's knowledge made it difficult to narrow down his presentation to a specific subject. Those who attend his classes and lectures through the Encore program at Pierce College are very familiar with his penchant for diversion!)
This presentation is a unique opportunity to hear from another of our treasured Valley resources. Plan on attending!
June 17 Bonus:
Live LA Opera Recital!
Platt Branch has been selected for our area's live LA Opera performance. This bonus program will feature Company artists (from top right) Craig Colclough (baritone), Karen Vuong (soprano), and Paul Floyd (piano). They will be performing some of opera's greatest hits and highlights from the '08/'09 LA Opera season on Tuesday, June 17 at 7 pm.
Platt's '07/'08 Opera Talk series has been extremely successful. Don't miss out on the finale of a wonderfully executed great idea!
And do stay tuned for our new Opera Talk season—with an exciting lineup of new works and world favorites—probably beginning in September. 
FOR SURE!
Examine the propositions on the November ballot.
Tuesday, October 14
Ballot Issues Review
with a representative of The League of Women Voters.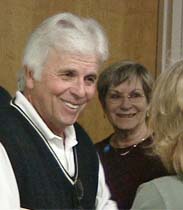 Dennis McCarthy and Sue Strickland chat with the audience after the program.
An Outstanding Evening
At our March General Meeting, Daily News columnist Dennis McCarthy delivered stories of exceptional local achievements, as promised. He also took a near capacity audience inside the world of journalism with personal anecdotes and tips for aspiring writers. In all, ten tales in 45 minutes were universally enjoyed—proof being as much in the deep laughter and nods of assent as in the applause. No one was left wondering why he wins awards for local news coverage.
Several people in the audience had been the subject of his columns; others wanted to be included in the future. All contributed to an extended discussion that our speaker's warmth and charm kept fanning. (Thankfully, Lynn Durbin's hospitality crew didn't mind getting out a bit late.)
Since Mr. McCarthy insisted his honorarium be used for Platt Branch instead, the Friends Board donated the funds to purchase books on journalism in his honor.
Special thanks are due to Program Chair Sue Strickland for diligently pursuing this guest, to Publicity Chair Carol Roseman for making sure the community knew he was coming, and to Stan DeCovnick and Phil Binderman for setting up the PA system so that everyone could catch every word.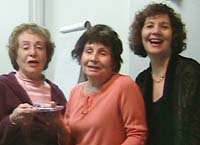 Susan Norman (r) watches raffle winner Eileen Florman (l) receive her Most Famous Opera Arias CD from Olga Sevilla.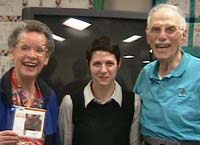 Lyla Forlani (center) with the evening's raffle winners, Jack & Annette Diamond.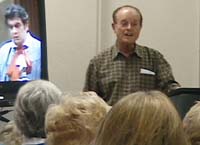 Jack Shine's choice of visuals greatly enhanced his talk on Tosca.
LAOpera Talks Continue to Excite
On the third Tuesday of every month, patrons descend upon the Platt Library to experience an evening of information and opera appreciation.
In February, LA Opera Speakers Bureau's Susan Greenberg Norman provided an intriguingly different view of the opera based on Shakespeare's Othello. A professional musician currently playing in the Company orchestra, Ms Norman focused on Verdi's choice of instruments and the importance of orchestral passages in his operas. Woodwinds being especially important in Otello, she personally demonstrated various passages played in different tempos and on different types of wind instruments. You have to hear it to believe how perky Desdemona's death scene becomes when played on a piccolo.
For our March session Lyla Forlani, chief LA Opera Production Stage Manager, took us behind the scenes and recreated the process of putting on an opera. Using film clips from Hansel and Gretel, a particularly challenging production, Ms Forlani demonstrated how the stage manager actually conducts from backstage, as well as being the eyes and ears of all teams and the entire rehearsal process.
L. A. arts benefactor Jack Shine, our April speaker, enlightened us on the life of Puccini and on Tosca, one of the world's most popular operas. Mr. Shine's lecture—interwoven with humor and bolstered by clever character diagrams, video clips of each scene (with a younger Plácido Domingo singing Mario Cavaradossi), and superb music selections—made for a most informative and entertaining evening.
Our concluding Opera Talk on Puccini's La Rondine, May 20th, missed our print deadline. But I hope you were able to enjoy it and are planning to attend the bonus live recital on June 17th.
Frona DeCovnick, Program Coordinator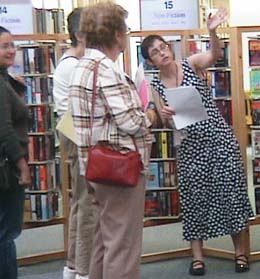 Susan Bougetz explains Platt's Non-Fiction Section to attentive patrons, thanks to members of the Friends tour committee: Millie Berger, Freya Maneki, Sue Strickland, and (for Hospitality too) Lynn Durbin.
Spring Library Tour
Help us perfect Library Literacy Tours.
Email Millie and tell her
Your preference between Tuesday/Thursday or Saturday morning.
How to contact you when a tour has been scheduled.
Kudos to our May library tour guide: Adult Librarian Susan Bougetz! Susan treated tour guests to an amazing amount of information as she led them through Platt's every cranny and, among many tidbits, explained the book filing systems. (An info packet helped remember it all.) Over refreshments, Susan finished with a presentation on LAPL databases. Throughout, all appreciated her gracious and complete answers to myriad questions.
Far surpassing expectations, our trial tour taught even long-time patrons something new!
Millie Berger, Library Tour Chair
Breaking News
As we were going to press, our Books For Babies Program Chair, Frona DeCovnick, received notification from the national Friends of Libraries USA that Friends of the Platt Library's efforts had been awarded a $500 Nordstrom Matching Grant. The Books For Babies awards, given through FOLUSA, help support early introduction to books and a love of reading. Way to go, Frona!
The Senior Outreach Lending Library Service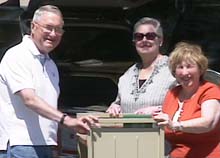 is picking up steam. At right, from left, SOLL team members Terry & (not shown) Ellie Haney, Freya Maneki, and Frona DeCovnick load a consignment of books bound for Hallmark Retirement Center. The local assisted-living facility is one of several to which the Friends now deliver and periodically replace a selection of used books from our Bookstore. SOLL Chair Freya Maneki is still looking for more seniors to serve. If you know of a retirement center that might be interested, please email Freya.
Friends Urgent Action Item:
The State of the City Budget
Due to the economic downturn, the City of Los Angeles is experiencing a severe revenue loss. There is $406 million less revenue to fund city services in 2008-09. City priorities are increasing the police and fire departments personnel, fighting the gang problem, maintaining sanitation services, and paving 60 miles of streets. This will necessitate cutbacks in other city departments, including the Library Department.
You can find out more about the city budget from the City of Los Angeles website (www.ci.la.ca.us) or by calling your Council Member Dennis Zine (818-756-8848) or Greig Smith (818-701-5253).
Among the cutbacks that are proposed for the Library Department is a 22% cut in the books and materials funds on top of the 33% cut from last year. We will have gone from $11.4 million for new materials down to $7.7 million for next year. Fontayne Holmes, City Librarian, will ask the City Council to restore this severe cut. Your support is needed to tell our representative how much the libraries mean to us. The city budget will be adopted and signed by June 13 so act as soon as possible!

The Friends of the Platt Library Newsletter is produced and maintained by Hearn/Perrell Art Associates. Editor: Therese Hearn
Artwork, photos and information are copyrighted by their respective Authors, the Friends of the Platt Library, and/or Hearn/Perrell Art Associates and may not be reprinted without permission.
Problems? Comments? Suggestions? Please tell the Webmaster.