Light Notes
The past three months, Platt's patrons have had a particularly large selection of events to enjoy. Some were cultural, some educational, some were great fun, some managed to be all of the above, and all met a high standard of excellence. Since good programs take a lot of thought and effort, this is an apt time to acknowledge the individual librarians and Friends who have brought so many to Platt.
Adult Librarians Sherry Brent and Elliott Gordon are responsible for our Adult Programs. With Friends sponsorship, they have been able to expand offerings into unique realms, such as Sherry's cooking program with Zel & Reuben Allen. They've also broadened the range of popular music events, as with Elliott's recent Bluegrass concert.

Children's Librarian Barbara Mattison just planned a new preschool reading preparedness program, which runs through December. This is in addition to monthly events such as the Halloween Family Funfest and Brian Brightcloud's celebration of Native American History month.

Friends Program Chair Sue Strickland just coordinated an outstanding exploration of Upton Sinclair's life and works by Anthony Arthur, a Platt patron who's also a highly respected (and hugely entertaining) biographer, historian, and professor.

Friends Past-President Frona DeCovnick worked overtime to bring L. A. Opera's well-conceived and thoroughly enjoyable Opera Talks to Platt Branch this season.

And for the last three months, Friends Fundraising VP Millie Berger has had "elves" busily crafting all manner of gift items for the upcoming return of the Children's Holiday Boutique—a Friends event patrons have very much missed.
That's just recent program events. No thank-you list would be complete without noting Elaine Corman's on-going coordination of our monthly Book Discussion Group, in addition to coordinating Friends Bookstore volunteers.
I'm sure I speak for many patrons, as well, when I say these efforts may occasionally be taken for granted, but they are greatly appreciated.
Lynn Light, Senior Librarian
ALP Tutor Training at Platt May 17
If you've been planning to volunteer for our Adult Literacy Program, now is the best of all possible times. A full-day Tutor Training Workshop will be held at Platt Branch on Saturday, May 17.
To volunteer, you only have to 1) be able to make a 6-month commitment to tutor 2–3 hours a week, 2) schedule an interview with ALC Coordinator Susan Casmier, and 3) complete a Tutor Training Workshop. Call today! These workshops fill up fast.
Adult Literacy Center
Coordinator Susan Casmier's office hours are:
Mondays & Wednesdays: 10–3, Tuesdays: 12–5, Thursdays: 3–8
She can be reached any time at (213) 623-4078, ext 16590
The Literacy Center and materials are available during all library hours.
Regular English Conversation Groups meet weekly, Monday 11 am–12 n and Thursday 6:30–7:30 pm.
Upcoming Tutor Training Workshops:
| | |
| --- | --- |
| Sat., Mar. 15, 10am–5pm | Harbor City Branch |
| Tu. & Th., Apr. 15 & 17, 1–4:30pm | Will & Ariel Durant Branch |
| Sat., May 17, 10am–5pm | Platt Branch |
If you know someone who needs help improving their English reading and writing skills, please give them Susan's number and encourage them to contact her. The basic Adult Literacy Program is available to anyone reasonably fluent in English; tutoring is one-on-one at a time convenient to the student. Families for Literacy helps parents enrolled in the Literacy program work with their children while they are learning themselves.
In addition, the Center now offers a one-on-one Limited English Program and English Conversation Group sessions.
Children's Programs
It's been an exciting holiday season! In addition to the Friends' much-loved, labor-intensive Boutique, our young patrons enjoyed a trio of favorites.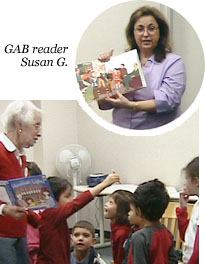 In November, with the aid of Friends sponsorship, Chiricahua Apache storyteller Bryan Brightcloud shared lore, tales of life on the "Rez", and many Indian artifacts—especially hides, some of which he tanned himself. Arriving in full ceremonial dress, Bryan also taught the kids basic sign language.
Then Platt's volunteer GAB Readers Judy Boylan, Susan Guttman, Terry Haney, Therese Hearn, Marti MacIver, Jo Merryfield, and Judie Mount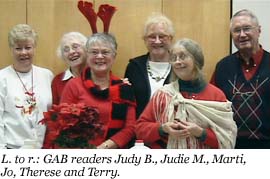 presented another story-filled Holiday GABfest in December…with cookies baked by our GABers. They're getting really good at this! In addition to hearing jolly and inspirational tales, kids got to be Hanukkah candles (at right), and the entire (large) audience dramatized the Legend of the Poinsettia (with Jillian Sato [in circle at left] starring as Lucida).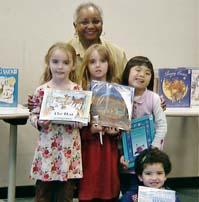 Platt has 2-hour, one-on-one GAB reading sessions Monday through Saturday. See the Calendar of Events for times.
And in January, Miss Barbara reprised her popular Winter Wonders program, with a whole new set of fun facts, interactive stories, and crafts. With her here, showing off their winter book selections are (at right, from left) Sophia & Alex Wessels, Lucienne Reyes, and PJ Hagos.
Upcoming Children's Programs
| | |
| --- | --- |
| | Ina Buckner-Barnette, the Sunshine Storyteller, will present Animal Crackers—an interactive collection of animal stories, sound & movement games, and songs from around the world—Thursday, March 27 at 4 pm. |
| | Faery Hunt—While playing fairy characters that show you how they live and what their special secrets are, a troupe of professional performers will reveal fairy lore from around the world on Thursday, April 24 at 4 pm. |
| | The Award Winning Magic of Stoil Stoilov—Witness amazing magic with live bunnies and doves, and learn a trick or two yourselves on Thursday, May 29 at 4 pm. |
For further information, call Children's Librarian Barbara Mattison at (818) 340-9386.
Young Adult Programs
Platt Branch has two teen information programs scheduled for April:
Common College Admission Myths Student­Smart Workshop, Tuesday, April 8 @ 4pm
Presented as part of StudentSmart's highly successful series throughout LAPL, this workshop gives high school students and their parents the chance to demythologize the college application process. Bring questions, such as:
Do I need perfect standardized test scores to get into the UC system?

Do colleges prefer the ACT or the SAT? Which one's more likely to get me better scores?

What kind of extracurricular activities look best on an application?

How much does the essay really matter?
Advance signups are free, but required.
Intro to Teen Line, Tuesday, April 22 @ 4pm
Founded in 1980 to help adolescents address their problems through a confidential peer hotline, online chat, and community outreach program, today the Teen Line volunteer workforce answers over 10,000 callers annually from their offices in the LA area. Working with the Mayor's office, LAPL is piloting a program to acquaint more teens with the services Teen Line provides and to recruit volunteers. At press time, our April 22 date is dependent on results in the first target area. Watch for updates or call me for further information.
Ben Lea, Young Adult Librarian, (818) 340-9386
Adult Programs
November's Saturday Afternoon Concert was an unqualified success. Some 60 people sat, listened, clapped, and totally enjoyed the hour of bluegrass music provided by Sometimes In Tune—the husband and wife team, Joel and Laura Garfield. From soulful ballads to knee-slappin', stompin' sing alongs, everyone was sorry to see it end. However, Joel and Laura had to get to Moorpark to provide accompaniment for Hart High School's "The Robber Bridegroom" later that afternoon. These artists really get around!
Elliott Gordon, Adult Librarian
Platt patrons and recorder music aficionados were very sorry the West Hills Recorder Consort had to cancel their holiday concerts due to the illness of the group's founder and only percussionist, Kathryn Charon. Stay tuned on this. Adult Librarian Sherry Brent is hoping they'll be able to bring us Summer Solstice tunes in June.
Upcoming Events

Tuesday, March 4 from 7–8 pm, Sherry has a delightful Adult Storytelling Evening planned. Storyteller Bobbie Japka is known for picking a subject after she's met her audience and then spinning tales that fit their interests. A veteran of festivals, story swaps, and the arts café & book scenes, Bobbie recently appeared at the Taste of Encino Festival. Plan ahead to be intrigued, amused, and inspired by this lively activist grandma.

Saturday Afternoon Celtic Music Concert March 29 @ 2 pm. Don't miss this year's Céilidh. Elliott has arranged for the very popular Sam Hill and Susan Craig Winsberg to demonstrate the art—live—in the Young Adult Section. All ages are welcome. Toe tapping is permitted, and we may even have some space for a bit of audience-provided step dancing.
Be sure to express your program preferences by calling Adult Librarians Sherry Brent and Elliott Gordon at (818) 340-9386 or dropping by the Reference Desk.
Displaying Good Reads & Good Friends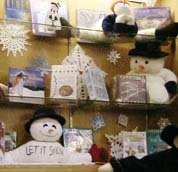 December's main cabinet display reminded us to get cozy with some good books during the holidays. Scarpetta's Winter Table, Winter Solstice, and Hard Winter at Broken Arrow Crossing were just some of the winter-themed books recommended to while away the short, cold nights of the season.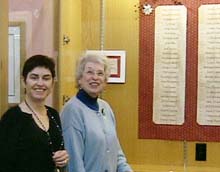 Susan Bougetz (l.) & Lin Schonberger.
January featured the annual Volunteer Thank You display: Platt's opportunity to publicly acknowledge the wonderful and committed volunteers who support us in so many capacities year round. Many thanks to Friends volunteer Lin Schonberger for creating such a classy tribute!
In February, we mounted another informative exhibit on rocks and minerals by Maxine and Robert Dearborn of the Del Air Rockhounds. If you stop for a moment right now, you may still be able to catch their surprising and superbly presented local finds.
Our display cabinet showcases non-commercial personal or group collections of interest to our patrons. If you have one you'd like to share, contact me at (818) 340-9386.
Susan Bougetz, Adult Librarian
---
VOLUNTEER OPPORTUNITIES
New Friends program needs volunteers to assist Platt's homebound patrons
(details in Volume 13, Number 1).
Call Sharon Schuster at (818) 888-1376.
GAB Interactive Children's Reading Program always needs volunteers. 6-month commitment required. Free training provided. Contact Children's Librarian Barbara Mattison at (818) 340-9386
---

The Friends of the Platt Library Newsletter is produced and maintained by Hearn/Perrell Art Associates. Editor: Therese Hearn
Artwork, photos and information are copyrighted by their respective Authors, the Friends of the Platt Library, and/or Hearn/Perrell Art Associates and may not be reprinted without permission.
Problems? Comments? Suggestions? Please tell the Webmaster.