Light Notes
The past three months, Platt's patrons have had a particularly large selection of events to enjoy. Some were cultural, some educational, some were great fun, some managed to be all of the above, and all met a high standard of excellence. Since good programs take a lot of thought and effort, this is an apt time to acknowledge the individual librarians and Friends who have brought so many to Platt.
Adult Librarians Sherry Brent and Elliott Gordon are responsible for our Adult Programs. With Friends sponsorship, they have been able to expand offerings into unique realms, such as Sherry's cooking program with Zel & Reuben Allen. They've also broadened the range of popular music events, as with Elliott's recent Bluegrass concert.

Children's Librarian Barbara Mattison just planned a new preschool reading preparedness program, which runs through December. This is in addition to monthly events such as the Halloween Family Funfest and Brian Brightcloud's celebration of Native American History month.

Friends Program Chair Sue Strickland just coordinated an outstanding exploration of Upton Sinclair's life and works by Anthony Arthur, a Platt patron who's also a highly respected (and hugely entertaining) biographer, historian, and professor.

Friends Past-President Frona DeCovnick worked overtime to bring L. A. Opera's well-conceived and thoroughly enjoyable Opera Talks to Platt Branch this season.

And for the last three months, Friends Fundraising VP Millie Berger has had "elves" busily crafting all manner of gift items for the upcoming return of the Children's Holiday Boutique—a Friends event patrons have very much missed.
That's just recent program events. No thank-you list would be complete without noting Elaine Corman's on-going coordination of our monthly Book Discussion Group, in addition to coordinating Friends Bookstore volunteers.
I'm sure I speak for many patrons, as well, when I say these efforts may occasionally be taken for granted, but they are greatly appreciated.
Lynn Light, Senior Librarian
Adult Literacy Center
Coordinator Susan Casmier's office hours are:
Mondays & Wednesdays: 10–3, Tuesdays: 12–5, Thursdays: 3–8
She can be reached any time at (213) 623-4078, ext 16590
The Literacy Center and materials are available during all library hours.
Upcoming Tutor Training Workshops:
| | |
| --- | --- |
| Sat., Dec. 15, 10am–5pm | Lincoln Heights Branch |
| Sat., Jan. 12, 10am–5pm | Pacoima Branch |
| Sat., Feb. 9, 10am–5pm | Cahuenga Branch |
Due to an increasingly enthusiastic tutor response, Susan now needs students as much as she does volunteers to work with them! If you know someone who needs help improving their English reading and writing skills, please give them Susan's number and encourage them to contact her. The Adult Literacy Program is available to anyone reasonably fluent in English; tutoring is one-on-one at a time convenient to the student. Families for Literacy helps parents enrolled in the Literacy program work with their children while they are learning themselves.
In addition, the Center now offers a one-on-one Limited English Program and English Conversation Group sessions. These are proving quite popular with foreign-born students.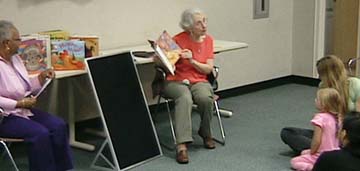 Children's Programs
Platt's Read to Me L.A. preschool reading preparedness program is well underway. At the September kick-off session, GAB's Grandma Judie Mount and Children's Librarian Barbara Mattison discussed the six skills a child needs to learn to read—skills parents and other caretakers can inculcate from birth. Illustrating each point with on-the-farm-themed stories, they covered building vocabulary, phonological awareness, narrative skills, and letter knowledge. By doing so with books, they demonstrated how to translate verbal skills into awareness of printed words and how to develop enjoyment of books.
The following sessions, held during Platt's regular Monday morning Preschool Storytime, explore techniques to enhance each basic skill. Those attending the storytimes also receive free books and age-appropriate book lists so they can continue building their children's skills daily. The final two sessions are on November 19 and December 10 from 10:30 to 11:30 am.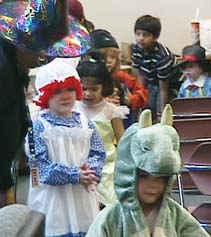 Halloween Funfest
The biggest surprise at our Special Spooky Halloween Surprise was the number of spooky sprites that turned up. Counting their parents, around 90 floated in. Miss Barbara had her hands full guiding the hoard into fun games and crafts. But she managed.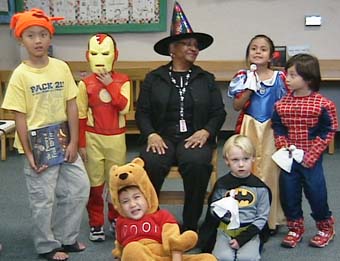 At the end of a lively funfest, from left, Nicholas Ta, Jordan Ta, Anthony Ta, Miss Barbara, Tyler Knight, Alyssa Rodriguez, and Bryan Brown show off their costumes.
A high point, her flannelboard tale of the five little ghosts snooping in the fridge kept the sprites still as church mice. They had to hear her every word so they could shout out the ghostlings progressive woes.
The musical procession was trickier. Miss Barbara had to collect the instruments from the vanguard so she could pass them on to the kids farther back in the line. Meanwhile, GAB Grandma Therese was wishing we had a real magus to multiply the Friends-supplied cookies. But all's well that ends well. Making lollipop ghosts stanched the wee one's taste for sweets a bit. We had just enough of everything for everyone. Whew!
Upcoming Children's Programs

Tales from the Spirit Lodge ~ Bryan Brightcloud, a full blood Chiricahua Apache storyteller, celebrates Native American History Month with his people's lore and an exhibition of animal hides, artifacts, and native sign language. Thursday, November 29 at 4 pm.

Holiday GABFest ~ Once again, GAB Grandmas and Grandpas assemble to bring you their favorite holiday stories and jolly treats to eat. Thursday, December 20 at 4 pm.

Winter Wonders with the Children's Librarian ~ What will Miss Barbara come up with for this snow season? Fun stories, games, and crafts. Thursday, January 31 at 4 pm.

Special Valentine Program ~ Join our surprise guest for a unique celebration of happy hearts. Thursday, February 14 at 4 pm.
For further information, call Children's Librarian Barbara Mattison at (818) 340-9386.
Adult Programs
Platt's adult-oriented programs are picking up steam. Attendance has grown as more patrons become aware of the arts and information offerings available, and now that the Friends can underwrite some events, a more eclectic mix can be enjoyed. Our recent culinary arts afternoon is a case in point.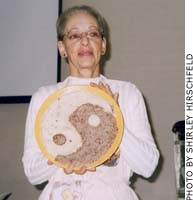 Cooking Light a Delight!
For Platt's October Saturday Afternoon program, Adult Librarian Sherry Brent brought us Zel Allen, author of The Nut Gourmet cookbook, and Zel's "sous chef", Reuben Allen.
The presentation was titled Cooking Light & Easy. And indeed it was. In less than the allotted 1˝ hours, four low fat, high fiber dishes were prepared and served to the appreciative audience. First came a delicious Yam and Nut Butter Soup (no butter!). Next we were impressed by a Yin-Yang Nutty Bean Spread (seen held by Zel at left). Then we sampled a tangy Spanish Tapenade, and for dessert—Cherry Almond Mousse.
Zel and Reuben very graciously answered questions from the audience about the cuisine, foods, shopping for certain items, and their own experiences while reaching their current choice of foods. (They have a vegetarian Internet magazine called "Vegetarians in Paradise" at www.vegparadise.com.)
The Friends of the Platt Library was delighted to sponsor such a rewarding program.
Shirley Hirschfeld, Reporter at Large
(Note: Elliott Gordon's Bluegrass Concert occurred after publication and will be reported in the next issue.)
Coming up in 2008:
Sherry has a delightful Adult Storytelling evening planned for Tuesday, March 4 from 7–8 pm. We'd tell you the title, but the storyteller—Bobbie Japka—is known for picking a subject after she's met her audience. A veteran of festivals, story swaps, and the arts café & book scenes, Bobbie most recently appeared at the Taste of Encino Festival. Plan ahead to be intrigued, amused, and inspired by this lively activist grandma.
Be sure to express your program preferences by calling Adult Librarians Sherry Brent and Elliott Gordon at (818) 340-9386 or dropping by the Reference Desk.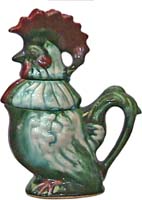 Teapots & Tutors & Grinch-busters on View
Hope you've been checking the display cabinet. We've had a trio of unique, informative presentations.
September was tea time. Barbara White brought in teapots from her mother's extensive teapot collection. Virginia Robinson has been collecting teapots since 1941. Her eclectic assortment includes teapots old and new, expensive and inexpensive (plus teapot-themed items). One teapot displayed was even fired in dung! The favorite, however, was The Rooster.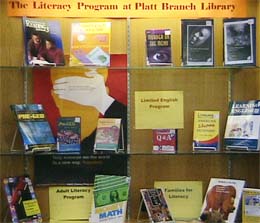 Then in October, Literary Center Coordinator Susan Casmier presented Platt's Adult Literacy Programs (seen below, left). DVD's, CD's, and books—both instructional and fictional—for adults and their children were just some of the materials she displayed to show what the Center can offer anyone who needs help improving their English reading and writing skills.
You may still have time to catch FOPL's Grinch-be-gone assemblage. To remind patrons of the famous and upcoming Children's Holiday Boutique (December 1 from noon to 2:30), Friends Fundraising VP Millie Berger displayed the brightly-wrapped packages that will contain holiday gifts lovingly handmade by Friends volunteers. Thanks, Millie. They make a great holiday display!
Platt's main display cabinet brings interesting non-commercial personal or group collections to our patrons. If you have one you'd like to share, please contact me at (818) 340-9386.
Susan Bougetz, Adult Librarian
---
GAB Interactive Children's Reading Program always needs volunteers. 6-month commitment required. Free training provided. Contact Children's Librarian Barbara Mattison at (818) 340-9386
---

The Friends of the Platt Library Newsletter is produced and maintained by Hearn/Perrell Art Associates. Editor: Therese Hearn
Artwork, photos and information are copyrighted by their respective Authors, the Friends of the Platt Library, and/or Hearn/Perrell Art Associates and may not be reprinted without permission.
Problems? Comments? Suggestions? Please tell the Webmaster.