Fundraising News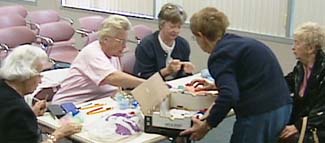 The elves are here! They have been working in full force to make this year's Children's Holiday Boutique a very special occasion, as you can tell by the industrious activity at our recent crafting session.
Be sure to bring the little, and not so little, kids on Saturday afternoon, December 1, from 12 noon to 2:30 pm. Whether children are buying for Christmas or Hanukah, we promise to have lots of goodies for members of their family, as well as for friends and teachers. Prices are reasonable, in keeping with little people budgets—from 10¢ to $3.00.
Friends elves will be there to help children buy so that parents can be comfortable knowing kiddies won't get confused or spend over their budgets. In addition, all gifts will be wrapped free of charge so they can be kept secret until the recipient opens them.
We haven't forgotten parents. Adults can relax and enjoy a special holiday concert presented by the West Hills Recorder Consort in the Young Adult section of the library. And, of course, our Used Bookstore will be open for browsing. It's a good place to find gift books for both adults and children at fantastic prices.
We're looking forward to seeing you.
Our Special Thanks to Recent Donors
| | | |
| --- | --- | --- |
| From | To | For |
| Friends of Platt Library | Memory of John Boething | Horticulture Books |
| Ted & Annie Haas | Honor of Sandy & Bernie Levin | Children's Books |
| Ellie & Terry Haney | Memory of John Boething | Horticulture Books |
| Barbara Healy | General Funds | Book purchases |
| Tom & Barbara Littlefield | Memory of David Paul Jackson | Children's Books |
| Tom Morehouse | General Funds | History Books |
| Julie Sands | General Funds | Book purchases |
| Sue & John Strickland | Honor of David Robert Bickel's birth | Children's Books |
| Yvonne Zellmer | General Funds | Book Purchases |
A donation makes a wonderful gift
You can experience the pleasure of helping your library by making a donation. Funds can be contributed for general library use, or you can specify that your gift be used for purchasing any quantity of one or more of the items listed below. A gift can also be made in honor of a special occasion such as a birthday or anniversary, or in memory of someone. (Click for more…)

The Friends of the Platt Library Newsletter is produced and maintained by Hearn/Perrell Art Associates. Editor: Therese Hearn
Artwork, photos and information are copyrighted by their respective Authors, the Friends of the Platt Library, and/or Hearn/Perrell Art Associates and may not be reprinted without permission.
Problems? Comments? Suggestions? Please tell the Webmaster.