Light Notes
At the top of my news: An exciting program is coming to Platt Branch. Bob Shrum, a witty, entertaining political analyst, will be speaking here on Tuesday, June 26 at 7:00 pm. This is a pilot program sponsored by the Library Foundation. Platt and the Friends were invited to co-host it to test the feasibility of bringing some of Central Library's literature, art, and idea offerings to various areas of the city. What a great idea!
Kudos for Recent Programs
Our own Platt Friends-sponsored programs in February and May both exceeded already high expectations. Platt patrons really enjoyed Ellen Demsky's Digital Photography presentation, and the staff and community, alike, deeply appreciated the delightful evening with Carolyn See. Thanks from all of us to Friends Program Chair Sue Strickland for arranging these fine events.
Our Saturday afternoon Jazz concert was also very well received. Adult Librarian Elliott Gordon deserves a hand for bringing us Howie Segurson & Friends' farewell engagement at Platt. (Long-time in-house volunteer Harriet Segurson and her husband just moved to San Diego. SDPL's gain, our loss.)
Congratulations to LAPL's Own
We are so happy for LAPL Children's Services Librarian and Children's author Susan Patron. She just won the 2007 Newbery Award for her sixth book, The Higher Power of Lucky. We'll miss her expertise in Children's literature, however. Susan has retired so that, when she returns from her book tour, she can write full-time.
Staff Update
We have another new clerk. Chris Lake joined Platt's staff in early April. Please welcome him at the Circulation desk. For a few brief weeks, we had every staff position filled. However… Now we are sad that Ross Bacat transferred to Granada Hills Branch.
New Adult Literacy Materials
Our Literacy Center has received many new books. These are available for any patron to check out. If you need this material, ask the Reference Desk staff to help you browse in the Literacy Center room. When we receive a new bookshelf, many of these items will be shelved in the Reading Area so they will be more visible and accessible to everyone.
Lynn Light, Senior Librarian
Meet the Staff
Adult Librarian Susan Bougetz Joins Platt's Staff Half-time!
Platt patrons hardly need an introduction to Susan Bougetz. While acquiring her MLIS from San Jose State, she subbed as an LAPL clerk-typist, often filling-in at Platt. And while she was here, she sometimes helped GAB Grandma Judie Mount conduct our Monday morning Preschool Storytime and assisted our former Children's Librarian, Vicki Magaw, once helping Vicki save a Halloween event at the eleventh hour.
Originally pursuing a career in theater, Susan earned a Bachelors in Theater Arts from UCLA and a Masters in Dramaturgy from Columbia University. From there, she became Literary Manager for The Women's Project & Productions in New York City. Then, finding the New York stage scene wasn't really for her, she returned to Los Angeles and joined Streetlights (a non-profit organization that connects at-risk youths with entry-level positions in film and TV productions), where she met her husband, Brian. Susan became a full-time mother upon the birth of their son, Milo—but listened to her mother, long-time Woodland Hills Adult Librarian Marie Bougetz, who recommended LAPL for a young mother who wanted to work part-time.
Accordingly, Susan, who grew up in the Valley, went for the MLIS, interned at the Children's Literature Department downtown, and here she is. When not focused on books and parenting, she entertains thoughts of someday founding a children's theater in the West Valley. If you haven't already, do stop at the Reference Desk and greet a very interesting addition to our staff.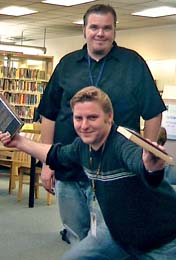 Our new Circulation clerk, David Alexander (left, standing), brings us plenty of clerical experience and attention to detail. Before joining LAPL, he was a dispatcher for the Auto Club and for two banks. He also studied Pre-law and Accounting at Truckee Meadows College. Ultimately, he plans to earn a degree in Accounting and become an accountant for the city. Born in Grass Valley (up in the Sierra Nevada gold country), David is an avid skier, loves animals, and plays a mean game of golf.
For Chris Lake (left, crouching dynamically), our newest Circulation clerk, Platt Branch represents a new direction. He previously worked in security at Kaiser Permanante and spent 5 years in the Marine Corps. Now he's attending ITT Tech, heading for a computer electronics and engineering degree. Also a native Californian, Chris grew up in Sunland/Tujunga, but he's lived in Idaho and was stationed in Japan. He enjoys playing the guitar, running—and don't expect to beat him at Texas hold'em or chess.


Materials will be available across from the Reference Desk Monday, June 25. Especially fun folders filled with codes and quizzes! Plus, we've got these summer tie-in events coming up on Thursdays at 4:00 pm:
25/51/34/15 28 (JUNE 28)
Around the World with the Reptile Family – Live in our library, some of the earth's most misunderstood creatures will teach you about themselves if you let them. Come spy out the facts!
25/51/32/55 19 (JULY 19)
Children's Author & Illustrator Stephanie Gwyn Brown reads her popular Professor Aesop's the Crow & the Pitcher and helps kids discover the inspiration for stories and art.
11/51/22/51/44/45 9 (AUGUST 9)
"Scat Tracker" Nature Detective, Solving the Mysteries of the Animal Kingdom – Join us as we uncover signs and clues about critters in the wild. Meet live animals and earn special rewards.
For further information call Children's Librarian Barbara Mattison at (818) 340-9386.
Children's Programs
Thanks to the Friends of Platt Library's support, I was able to schedule a wide range of truly fine children's events over the last 3 months…four of them.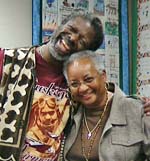 For February's Black History program, Storyteller Michael D. McCarty beguiled his audience with an African Folk tale and then educated them with the story of Eugene Jack Bullard, the WW1 flying ace who won 15 of France's highest honors. His finale, a father's view of his daughter's journey into adulthood, totally engaged the kids and their parents. Michael LOVES his job, and it shows.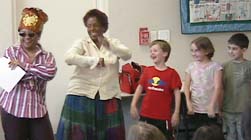 March's Women in History Story­teller, CeCe Antoinette, took improv impersonations beyond acting. The youngsters' jaws were dropping (and so was mine) as, one after the other, Sojourner Truth, Corretta Scott King, Vanessa Williams, Mai Jameson, and Queen Latifah appeared at our branch. I'm not making this up. Add a generous amount of audience participation…as you can see, Trevor Winnard, Ellie Christenson, and Kianoush Kermain had a high good time singing back-up for The Queen.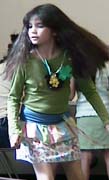 Brooke Kramer, step-dancing.
And then GAB Grandma Therese and I told tall tales, we all sang, and the most energetic danced on St. Patrick's Day. Regular attendees Daila Melendez and Michelle Chan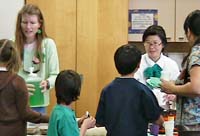 stepped in to serve the Friends-supplied green treats while the rest of us made shamrock wreaths.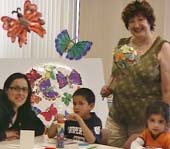 I was particularly tickled that some patrons left the Canoga Park parade to join our ad hoc festivities.
Our April doodles transmogrified into a host of Kaleidoscope Butterflies, but nobody cared. Like (from left) Galit, Segev, and Shay Cohen here, they were all having too much fun decorating discs and watching their creations fly in mirrored cards. Artist Margo Gravelle kept the kids engrossed and taught them a lot about illusion as well.
Barbara Mattison, Children's Librarian
Teen Reading Club 2007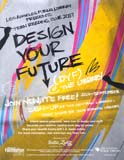 coming up July through September.
Club materials will be available across from the Reference desk by Monday, July 9. Be sure to pick yours up early. This year's theme—Design Your Future @ The Library—comes with a citywide contest attached. You'll receive a blank, backpacky sort of book bag (the kind you see Marines carrying). To enter the contest, you decorate the bag as you see fit and submit it by July 31. Branch winners will progress to the city finals. See me for details before deciding this isn't your bag. The concept actually looks more interesting than it sounds.
I'm also planning a radical new kick-off program I think you'll really appreciate. But this newsletter will be out before I can get it approved. Keep in touch.
Ben Lea, Young Adult Librarian (818) 340-9386
Adult Programs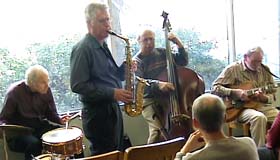 Jazz lovers flocked to the Friends-sponsored Saturday afternoon concert Adult Librarian Elliott Gordon arranged last February. Howie Segurson & Friends provided just the mellow sound they hoped to find. Howie, seen below playing alto sax, is best known generally for his big band arrangements and has published more than 100 original compositions. Platt audiences, however, know him and his friends (at this concert, Jerry Case/guitar, Richard Maloof/bass, and Howard Kurhan/drums) for the intimate jazz sessions they've brought us over the years. It was a very satisfying event—for the patrons and staff who got to listen from the stacks and work stations as well as for those who came specifically for the concert. Just one sad note: Howie has since moved to San Diego.
SCHEDULE CHANGE: The second Saturday afternoon jazz concert scheduled for June 2 has been postponed. Contact Elliot for details.
Watch for notices of future Adult programs or contact Sherry Brent and Elliott at (818) 340-9386.
Adult Literacy Center
Coordinator Susan Casmier's office hours are:
Mondays & Wednesdays: 10–3, Tuesdays: 12–5, Thursdays: 3–8
She can be reached any time at (213) 623-4078, ext 16590
Upcoming Tutor Training Workshops:
| | | |
| --- | --- | --- |
| Sat., June 16, 10am–5pm | | Jefferson Branch |
| Sat., July 21, 10am–5pm | | Venice Branch |
| Sat., August 18, 10am–5pm | | Baldwin Hills Branch |
| Sat., Sept. 15, 10am–5pm | | Mid-Valley Regional Branch |
Be sure to contact Susan now for an interview if you are interested in becoming a volunteer Adult Literacy Tutor. She'd also like to hear from you if you know someone who would like to improve his or her reading and writing in English.
Historic Displays & Natural History
Our Display cabinet was especially eye-catching in March and April. Dan Brin and the President of the Thomas Paine Society, Alaine Lowell, mounted a striking presentation of Thomas Paine publications and memorabilia. Platt patrons certainly appreciated the loan of the Society's interesting, informative materials. Thanks, Dan, for making them available to us all.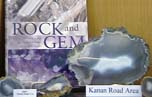 In May, Maxine and Robert Dearborn, members of the Del Air Rockhounds, brought us another selection of local rocks, gems, minerals, and fossils to examine.

Be sure to check the cabinet soon. It's amazing to see pieces of our everyday life singled out, placed in a scientific context, and lovingly presented. And that tar pit tiger is quite a find! Maxine and Robert's efforts are always very intriguing.
Platt's main display cabinet showcases non-commercial personal or group collections of interest to our patrons. If you have one you'd like to share, contact Adult Librarian Susan Bougetz at (818) 340-9386.
---
GAB Interactive Children's Reading Program always needs volunteers. 6-month commitment required. Free training provided. Contact Children's Librarian Barbara Mattison at (818) 340-9386
---

The Friends of the Platt Library Newsletter is produced and maintained by Hearn/Perrell Art Associates. Editor: Therese Hearn
Artwork, photos and information are copyrighted by their respective Authors, the Friends of the Platt Library, and/or Hearn/Perrell Art Associates and may not be reprinted without permission.
Problems? Comments? Suggestions? Please tell the Webmaster.