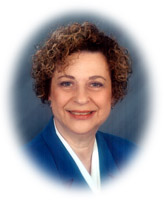 President's Message
When should a child develop a love of books and learning? How about starting at birth and going on from there?
The Books for Babies program does just that. Parents are used to receiving baby formula and baby powder in their new baby gift basket at the hospital. Now, the parents of new babies at West Hills Hospital will receive a new essential—a book for their baby and helpful hints on how to encourage a love of learning.
The Friends Board and the Los Angeles Public Library arepleased to be able to start the babies on the path to loving books. (See article on page 1.)We feel there could be no better gift. Thank you for your membership, contributions, and bookstore purchases, which make it all possible.
Special thanks to:
Shirley Hirschfeld for assuming the duties of Recording Secretary for the Platt Friends Board. 

Eileen O'Neill for filling the Recording Secretary responsibilities for the first part of the year.

Millie Berger for the beautiful volunteer recognition display in the library case and for handling the volunteer recognition for 2006.

Sue Strickland, Program Chair, for the interesting and worthwhile February General Meeting program by Ellen Demsky on digital photography.
Good time to try Touch Screen Voting
Touch screen voting will be available at the Platt Library in the Multipurpose Room before the City of Los Angeles March 6 primary and May 15 run-off elections. The period is from Monday, February 12 through Saturday, March 3 and Monday, April 23 through Saturday, May 12.
This will give you an opportunity to test out the electronic system to see how it works. Also, anyone who lives in the City of Los Angeles and is registered to vote can vote at Platt.  You do not have to live in the area.
In March in our area, we will be voting on LAUSD and Community College elections, as well as two measures—one relating to the school board and the other about police and fire pensions. Others will be voting on City Council seats.
Sharon Schuster, President

The Friends of the Platt Library Newsletter is produced and maintained by Hearn/Perrell Art Associates. Editor: Therese Hearn
Artwork, photos and information are copyrighted by their respective Authors, the Friends of the Platt Library, and/or Hearn/Perrell Art Associates and may not be reprinted without permission.
Problems? Comments? Suggestions? Please tell the Webmaster.