Light Notes
At the top of the news: Patrons love Hot Off The Press books! According to Assistant City Librarian Pat Kiefer, Platt is one of the heaviest users of this new service. As the staff continues to get the word out to patrons that the most current must-reads are available for short-term check out, demand is sure to keep climbing.
More Magazines
All the new magazine titles have arrived. The magazine shelving has been expanded on the adult side, and the holder the Friends purchased for the Children's Area now displays all nine of the new children's magazine titles we ordered last year. Take a look the next time you're in the library.
More Staff
Give a cheer! Patty O'Bryan, our senior clerk-typist, has returned from hip replacement surgery.

Platt Branch is also pleased to welcome Susan Bougetz as our new half-time librarian. Many of you may already know Susan. As a volunteer, she has worked with Grandma Judie in the Preschool Storytime program and helped our former Children's Librarian, Vicki Magaw, with special children's events.

Also, clerk-typist David Alexander joined us in December. You'll meet him at the circulation desk, where he's quickly learning the system.
Expanded Literacy Training
The Adult Literacy Program is building in tutors and students. Platt Branch will be the site for tutor training in May. (Be sure to speak to Susan Casmier if you're interested in becoming a tutor.)
This year has gotten off to a good start, and we have a host of special events to look forward to—not least of which is Carolyn See's presentation at the next Friends General Meeting in May. Also, I hope this issue reaches you in time for you to enjoy the February 24 Jazz Concert.
Lynn Light, Senior Librarian
Adult Illiteracy Defined
Several Friends members have asked, "What constitutes illiteracy for the Adult Literacy Services division of the Los Angeles Public Library? And does it exist here in the West Valley, an affluent area where all have an opportunity for education?"
Very few of our students are entirely illiterate. Of the native English speakers, most know their letters, and many have some knowledge of the correlating sounds. Nevertheless, we have learners (yes, living in Woodland Hills, West Hills, Calabasas, Chatsworth, and Canoga Park) who can't read whole sentences, some who can't even read their prescription bottles. They might have been ill as children and not been able to attend school regularly, like Paula*. Or, like Martha, their mothers may have deemed them "dumb" and kept them home from school to watch the babies while mother worked. Louise was in a severe car accident when she was 14 and couldn't finish high school. Her brain forgot a lot of what she had learned. A single working mother who needs to earn more money, she uses our program to read and write in a more sophisticated manner than she could in 7th grade. Richard, who has worked as a skilled laborer his whole life, couldn't make out his own bills for his business. He might have a learning disability. (Learning disabilities aren't limited to poor people.) Some of our students are like Martin, who earns a great deal of money in show business, but can't read his contracts. He drives his BMW to the library to work with his tutor to learn to read.
A growing population using our literacy services is made up of foreign-born people who have enough English to want to improve their reading and writing skills in English. Some of these, being university graduates, are highly literate in their own languages; however, some are not literate in any language, which makes their journey more difficult. One man from Cambodia told me that there was no schooling available when he was growing up because of the wars that ravaged his country.
So we can say that the background of our learners is varied. They all come to us because they want to improve their reading and writing—many for economic reasons, to work more effectively. Many need to be able to communicate better with their children's schools. Some aspire to be more effective citizens, and some make the effort because they want to continue to learn and reading makes that possible.
Susan Casmier, Literacy Center Coordinator
*All names in this article are fictitious to protect the anonymity of our learners.
Susan Casmier's new office hours are
| | |
| --- | --- |
| Mondays and Wednesdays: | 10–3 |
| Tuesdays: | 12–5 |
| Thursdays: | 3–8 |
She can be reached any time at (213) 623-4078, extension 16590
Upcoming Tutor Training Workshops
| | |
| --- | --- |
| Saturday, March 17, 10 am–5 pm | Pio Pico – Koreatown Branch |
| Mon. & Wed., April 16 & 18, 1–4:30 pm | Will & Ariel Durant Branch |
| Saturday, May 19, 10 am–5 pm | here at Platt Branch |
Be sure to contact Susan now for an interview if you are interested in becoming a volunteer Adult Literacy Tutor. She'd also like to hear from you if you know someone who would like to improve his or her reading and writing in English.
Children's Programs
Fun and education both were happening in the Children's section over the holidays.
November's DiverseCity program brought us children's author Caroline Hatton, who gave her young audience a view of how real life experiences can be translated into stories. Her multicultural chapter book, Véro and Philippe,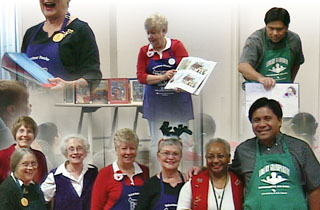 is closely based on her life as a child of Vietnamese parents living in France, but with "dramatic enhancements", which Caroline pointed out and explained.
Then in December, GAB readers Judy Boylan, Therese Hearn, James Lamog, Marti MacIver, and Judie Mount had at least as grand a time reading their favorite holiday stories as the kids did listening and singing a favorite holiday song.
And Winter Tales & Crafts with the Children's Librarian (Barbara Mattison)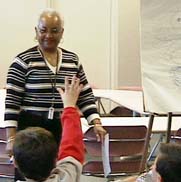 in January was a blast. Everyone had so much fun! The kids kept Barbara adding and adding to her pictograph tale. But they still had plenty of time to cover the Multipurpose Room with snowflakes and make a crowd of snowmen.
Upcoming Children's Events

Thursday, March 15 at 4 pm
Storyteller and comedienne CeCe Antoinette celebrates Women in History Month with a series of hilarious impersonations.

Saturday, March 17 from 2–3 pm
St. Patrick's Day Céilidh & Crafts returns with more Irish music, dancing, stories, and refreshments.

Thursday, April 19 at 4 pm
Margo's Artwork "I Spy a Duck in My Doodle!" brings out the art in kid's doodles…a unique hands-on drawing class.

Thursday, May 24 at 4 pm
One World Rhythm brings high energy and lots of audience interaction with percussion instruments.
For further information, call Children's Librarian Barbara Mattison at (818) 340-9386.
Adult Programs
Last December, Platt Branch patrons and the library staff enjoyed the wide range of Holiday Favorites in a lovely Saturday afternoon concert performed by The West Hills Recorder Consort.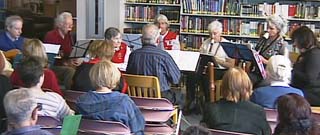 The group played thirty selections—still, the concert ended with calls of "Encore!" from the sizable audience assembled in the Young Adult section. Adult Librarian Sherry Brent, who arranged for the program, was much heartened by the event's obvious success…thanks to the artistry of Randy Spiwak: guitar, Ad Lockwood: recorder, Iris Edinger: recorder, Irene Kaufman: director/recorder, Robin Gilbert: recorder, Georgene Gregorian: recorder, Kathryn Charon: founder/percussionist, and Bob Federgreen: conductor/recorder.
NEXT: Adult Librarian Elliott Gordon has scheduled a Jazz Concert Saturday afternoon, February 24 at 1 pm in the Young Adult Section. Don't miss Howie Segurson & Friends. They are terrific!
And on Monday evening, March 19 at 6:30 pm, Sherry has scheduled An Inconvenient Truth: Global Warming issues and solutions presented by TV & Radio personality Todd Newton.
Keep an eye out for notice of future programs, or check with Sherry and Elliott at (818) 340-9386.
Meet the Staff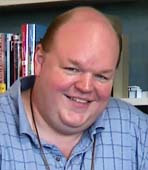 Young Adult Librarian Ben Lea brings Platt's patrons a valuable background in academic research. Before joining us, Ben spent 8½ years as a librarian at the University of Missouri at Rolla. Teen patrons will also find him especially sensitive to their needs. "Although the age group and academic level are somewhat different," Ben says, "the emphasis on researching papers and projects is basically identical. The main difference is in the library collection, and the main hurdle is my need to adjust to patrons with a wider range of preferences. UMR students are predominately male techies." He's particularly keen on assembling a diverse Young Adult Council that can advise him on building Platt's YA fiction collection. "For instance," he says, "I don't know manga, and I need to learn before expanding that category. I don't have a feel for the genre fiction our young women want on the shelves."
Originally intending to teach physics, Ben switched to history while attending Pfeiffer College in Misenheimer, NC. He became interested in Library Sciences while combing Pfeiffer's archive on political campaign materials for a project. In his spare time, he volunteered at the Reference Desk, found he loved answering reference questions, and heeded the library staff's recommendation that he make a career of it. Consequently, he earned his MLS from the University of North Carolina at Greensboro and was hired by UMR.
Although it doesn't show, Ben's a "rural North Carolina boy", born and bred. He didn't leave the state until his 28th year. He attributes the lack of accent to his studying NBC Commentator John Chancellor's delivery relative to another passion: For 14 years, from age 13, he was an American Legion Baseball High School and College All-Stars announcer. Oh, and Ben's about to be married. On March 31, he'll wed Stephanie Thurman, a 4th grade teacher at Herrick Ave. School in Sylmar, and acquire a 6-year-old stepson named Zachary, who is "positively adorable". Be sure to wish them all the best when you see Ben at the Reference Desk—and ask him to find something really difficult to help him feel at home.
Special Thanks from Platt's Librarians
Over the past year, some 1200 donated used books were added to Platt's collection. Our librarians greatly appreciate their donors' generosity and the efforts of the Friends book-sorting team, which give them first choice of needed titles.
For instance, choice copies of John Sandford's Dead Watch and Nancy Taylor Rosenberg's Sullivan's Evidence were very welcome. Adult Librarian Sherry Brent says these two books alone helped fulfill 121 holds. Adult Librarian Elliott Gordon and Young Adult Librarian Ben Lea were pleasantly surprised by the donation of 20 volumes in a series of history books called Time-Frame. "These books will be invaluable for high school and middle school students' history assignments," Elliott enthused, "in addition to our adult browsers and history lovers of all ages." Look for them throughout the history section (909–940). Children's Librarian Barbara Mattison just placed Australian author Jamie Shaw's Iso and the Bushfire in our good-reads-for-kids GAB section because: "It's very relevant for children living here in Southern California, but it's not available in the US." Gems like these enhance Platt's collection and the LAPL system in general.
Volunteers on Display
Each year, Friends create a display honoring all of Platt Library's volunteers—those who work directly with the staff in-house, members of Platt's GAB read-to-children program, and Friends members who process donated books and staff the Bookstore, maintain the library grounds, fill Board positions, and assist in our many special events and programs. The 2006 Volunteer Thanks display was the product of all-round-volunteer Millie Berger's creativity. Many thanks to Millie and also to her granddaughter, Erin Schaeffer, for mounting such a beautiful tribute to the people who give so much time and effort to Platt Branch.
The display cabinet also showcases non-commercial personal or group collections of interest to our patrons. If you have one you'd like to share, contact Senior Librarian Lynn Light at (818) 340-9386.
---
GAB Interactive Children's Reading Program always needs volunteers. 6-month commitment required. Free training provided. Contact Children's Librarian Barbara Mattison at (818) 340-9386
---

The Friends of the Platt Library Newsletter is produced and maintained by Hearn/Perrell Art Associates. Editor: Therese Hearn
Artwork, photos and information are copyrighted by their respective Authors, the Friends of the Platt Library, and/or Hearn/Perrell Art Associates and may not be reprinted without permission.
Problems? Comments? Suggestions? Please tell the Webmaster.