The Volunteer Connection
What Would the Friends Do Without You?
As usual, our dependable volunteers have been on hand whenever needed. In August, helping Ruth Bromund get the new membership mailing out were Millie Berger, Elaine Corman, Frona DeCovnick, Lynn Durbin, Annie Haas, Sue Haddox, Therese Hearn, Sally Holtz, Trudy Jolicoeur, Leatha King, Darris Reilly, Paula Russo, Lin Schonberger, Sue Scheiner, and Harriet Strauss.
Our Back-In-School book sale on September 16 was a rousing success. Volunteers who happily helped dispense over 5,000 books to make youngsters happy included Pat Backes, Millie & Ed Berger, Warren Bromund, Elaine Corman, Frona & Stan DeCovnick, Muriel & Sid Eiduson, Jesse Goldbaum, Annie & Ted Haas, Therese Hearn, Pearl Kalechstein, Leatha King, Ethel Margolin, Eileen O'Neill, Sharon & Shel Schuster, and Harriet Strauss.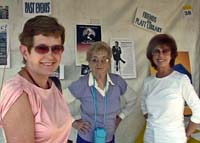 Plus, Muriel & Sid, Stan, Jesse, Carol Roseman, and John Strickland helped Sue Strickland manage the crowd at our September 30 Mozart Chamber Concert (see article in Friends News).
In October, Pam Bieber, Ruth & Warren Bromund, Elaine Corman, Annie Haas, Sharon & Shel Schuster, and Harriet Strauss staffed Platt Library's booth at the West Hills Fall Fest outside Field's Market (see article in Friends News).
Not to be forgotten are Therese Hearn and David Perrell, who are responsible for the great pictures in the newsletter as well as spending many hours producing such a great newsletter and website.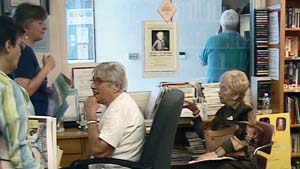 Meanwhile, back in the Bookstore…
Harriet Strauss has gotten to know Donna and David Vasquez, who patronize our Bookstore nearly every Saturday and have found ways to extend the value of their purchases.
"Donna works in the office of a neighboring elementary school," Harriet reports, "And when she and her mother have finished reading her selections, Donna takes them to her school's Teachers Room. The teachers now have a circulating library of recreational reading just for the staff.
"David teaches 5th grade at Hamlin St. Elementary. Each day, he enriches the children's literary horizons by reading aloud from an award-winning book. His selections become a part of his class library. His students regularly choose one of our books to take home to enjoy and then write a book report. David also buys a number of our informational selections, which he donates to his school's library."
Bookstore volunteers consider it very gratifying to know how near or far Friends Bookstore books travel. If you are utilizing your selections in a special way, please tell a volunteer about it when you're in the Bookstore. Or drop a note in the Bookstore comments & suggestions box. Or send us a message via the Friends Website so that we can share your ingenuity with all our Platt Friends.
And—of course—anyone wishing to volunteer in the Bookstore can contact us by email. We always need people who can substitute once in a while for our regular staff.
Elaine Corman
Harriet Strauss
Bookstore Volunteer Co-Coordinators
VOLUNTEER OPPORTUNITIES
Major Volunteer Opportunity
Adult Literacy Tutors Needed
To volunteer as a tutor, you have to
1) be able to make a 6-month commitment to tutor 2-3 hours a week,
2) make an appointment to be interviewed by an area coordinator, and
3) complete a Tutor Training course.
Currently, the closest Literacy Center is at
Mid-Valley Regional Branch
16244 Nordhoff Street, Van Nuys
To make an appointment, call
Mary Ann Arnsdorf, West Valley Coordinator,
at (818) 895-3663
The closest 2006 Tutor Training courses are on
September 16
at Venice – Abbot Kinney Memorial Branch
501 S. Venice Blvd. – (310) 821-1769 and
November 18
at Mid-Valley Regional Branch
When training is completed, volunteers can tutor at Platt Branch immediately. Once Platt's center is completed, 2007 training sessions will also be scheduled at Platt.
If you're interested in the program, come to the Friends September 11 Board Meeting (at 7 pm). Adult Literacy Services spokesperson Sheila Weisberg will be making a presentation and would be delighted to discuss your involvement with you in detail.
---
Readers Needed
Our GAB program needs a few more voices to read to children 2 hours a week (or every other week), especially on Saturdays. Contact Children's Librarian Barbara Mattison at (818) 340-9386.

The Friends of the Platt Library Newsletter is produced and maintained by Hearn/Perrell Art Associates. Editor: Therese Hearn
Artwork, photos and information are copyrighted by their respective Authors, the Friends of the Platt Library, and/or Hearn/Perrell Art Associates and may not be reprinted without permission.
Problems? Comments? Suggestions? Please tell the Webmaster.