Don't Miss the Friends
Digital Photography:
an Overview & Mini-lesson on
Tuesday, February 6 at 7:00 pm!

Circle the date! On February 6, 2007, professional photographer and instructor Ellen Demsky will explore digital photography possibilities and provide tips on achieving quality photographs. (You're invited to bring your digital camera and instruction manual to the presentation.)
Ellen's Creative Photography studio in Tarzana specializes in portraiture and event photography. Her travel photos have been exhibited at numerous galleries and also at the offices of former state assemblyman, Bob Hertzberg. Prior to becoming a professional photographer in 1970, the native of Manitoba, Canada, was a social worker. Now, in addition to operating a thriving business and teaching classes at Learning Tree and OASIS, Ellen is an accomplished athlete.
Come learn to improve your picture taking skills and be inspired by Ellen's athleticism as well! A short Friends General Meeting will begin at 6:45 pm.  Refreshments and socializing will follow the program.
Patrons Flock to Special Book Sale!
September's Special Back-In-School Used Book Sale exceeded all expectations. More serious book-buyers attended the Saturday-only one-day event than had come to the Friends last pre-sale and one-day sale combined. By the end of the day, the tables full of premium children's books were cleared. The young adult offerings were reduced by over half. Encyclopedias and reference works were whisked away. The Friends Bookstore also did a brisk business, with patrons enjoying a surprise 50% across-the-board discount. We didn't even have to worry about where to store the leftovers bound for other libraries and charitable organizations.
It was a good day for everyone. My sincere thanks to our great book donors, patrons, and volunteer book sales team who made it possible.
Shel Schuster, Book Sales Manager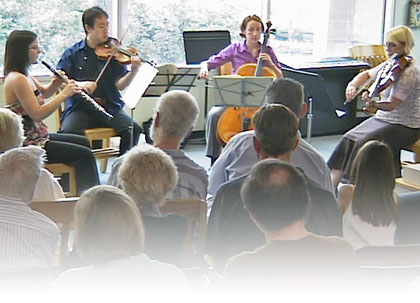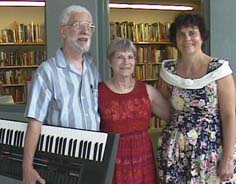 Sue Strickland (center) with guest artists Daniel Brodsley and Rosemarie Pfinder—
all smiles after a very successful concert.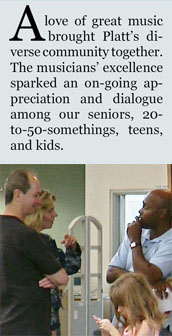 Initial Mozart Concert Simply Magical!
Mozart music lovers crowded into the Young Adult section on September 30 to celebrate the composer's 250th birthday by enjoying the artistry of the Bright Light Chamber Players under the direction of Whitney Griggs Raleigh. They kept Friends volunteers Muriel & Sid Eiduson, Stan DeCovnick, Jesse Goldbaum, Carol Roseman, and John Strickland busy setting up chairs, handing out programs—and recounting the house!
The concert opened with arias from The Marriage of Figaro performed by soprano Rosemarie Pfinder accompanied by pianist Daniel Brodsley. Oboist Kim Everett was featured in the Quartet for Oboe, Violin, Viola, and Cello in F Major. Horn player Teag Reeves joined the musicians for the Quintet for Violin, Two Violas, Horn, and Cello in E-flat Major, K. 407. The afternoon's final selection was the Quintet for Two Violins, Two Violas, and Cello in E-flat Major, K. 179. The Chamber Players were violinists Ina Veli and Josh Saito, viola artistes Natalie Brejcha and David Martinez, and cellist Dawn Seward Raleigh. Throughout, the audience was enthusiastic in its response, and positive comments abounded after the concert.
Sadly, the concerts on October 21 and November 4 had to be canceled due to an injury suffered by the ensemble's director.
Sue Strickland, Program Chair
New Additions
Have you noticed the newest additions to the Platt Library, thanks to the Friends? With an approximately $12,000 donation, the latest in stack-end signage has been installed throughout our branch to make clear what type of books reside in any particular stack.
Friends also contributed almost $1000 for additional magazines: 16 adult titles, 6 young adult 'zines, and 9 for children. Not all have arrived yet, but look for them soon. This will be an annual allocation to build Platt's periodical offerings. Since the new children's magazines needed display space, we also donated $200 for a separate magazine rack in the children's area. 
Be sure to take a minute to examine the most recent tangible results of your generous and continuing support for your library.
Sharon Schuster, President
Friends Staff Platt Library's Booth at October West Hills Fall Fest
As part of our outreach to the community, Platt Branch and Friends participated in the Canoga Park/West Hills Chamber of Commerce's third annual Fall Fest. The day was quite worth the effort. Our new Adult Literacy Center coordinator, Susan Casmier, and Friends volunteers talked to lots of people, displayed posters, and passed out flyers about Platt's programs and events. We also sold books that Shel Schuster brought from the Bookstore.
Senior Librarian Lynn Light, Carol Roseman, and David Perrell all helped gather the materials. Pam Bieber, Warren Bromund, Elaine Corman, Annie Haas, Sharon & Shel Schuster, Harriet Strauss, and I staffed the booth in shifts from 11:00am to 6:00pm. Many thanks to everyone.
Ruth Bromund, Membership VP

The Friends of the Platt Library Newsletter is produced and maintained by Hearn/Perrell Art Associates. Editor: Therese Hearn
Artwork, photos and information are copyrighted by their respective Authors, the Friends of the Platt Library, and/or Hearn/Perrell Art Associates and may not be reprinted without permission.
Problems? Comments? Suggestions? Please tell the Webmaster.