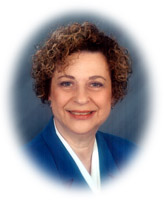 President's Message
Vision for the Year:
With the warning of the saying "If you don't know where you are going, any road will take you there," the Board of the Friends lined out our view of what we want to accomplish during 2006–7. The goals fell into three areas: library services, community outreach, and improved functioning.
Improving library services is key to the purpose of the Friends. For this year, we focused on increasing the number and variety of books available and on assuring that they reflect the diversity of our community. We targeted two key service areas—supporting Young Adult services and the soon to be open Literacy Center. And we pledged to make effective use of our resources—people and funds—to make all of this possible.
Improving the quality and quantity of community outreach is a priority for the Friends. We want the community to know of the services provided and will consider the feasibility of bringing back a birthday celebration book sale.
To improve the functioning of the Friends, we want to recruit volunteers from among the younger people in the area, and we want to work on improving our relationships with the downtown staff.
Next June, these goals will be the measure by which we assess our accomplishments. Join the Friends Board in making the vision come true. Volunteer for the Literacy Center—or for the Board. Suggest ways we can make the Platt Library better known in the community. Let us hear from you!
A Note of Appreciation
Special thanks to our wonderful volunteers who came to the July 27 reception—and especially to those who arranged the attractive and lavish spread: Frona DeCovnick, Ellie Haney, Harriet Strauss, and Sue Strickland. We try to say "thank you" but it is never enough for all you do!
Sharon Schuster, President

The Friends of the Platt Library Newsletter is produced and maintained by Hearn/Perrell Art Associates. Editor: Therese Hearn
Artwork, photos and information are copyrighted by their respective Authors, the Friends of the Platt Library, and/or Hearn/Perrell Art Associates and may not be reprinted without permission.
Problems? Comments? Suggestions? Please tell the Webmaster.