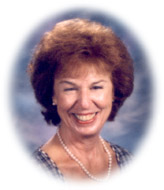 Fundraising News
Hi Friends! My name is Annie Haas, and I am 1st Vice President this year. I am very proud to be associated with such an outstanding group—people who value our community and give so much of their time and energy to our library. Many of us on the Board voted for the bond proposal to build the library many years ago; we looked at the empty lot for a long time and were so excited when the library finally got built.
Back then, I was a teacher in the Las Virgenes School District, where I enjoyed every day of the school week with the great kids I taught. Now I enjoy being a volunteer reading partner at our local Welby Way School. I am blessed with a beautiful family; our kids went to all the local schools. Now we are blessed with our grandchildren. Each and every one of us, grown ups and kids, love books and reading!
As the officer in charge of fundraising, I am extremely interested in any ideas you have. Perhaps you have had a successful fundraiser in the past and would like to share. In addition, I urge you all to attend our upcoming Special Teen and Children's Book Sale on September 16th.
It's Entertainment Books Time!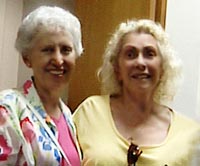 Friends volunteer Willa Kurtz (left) with your everlovin' Entertainment Bookseller, Ethel Margolin
Hi! It's that time of the year again! The Entertainment 2007 books (covering San Fernando Valley, Santa Clarita Valley, Los Angeles, and Santa Barbara) are in the Friends Bookstore now.
These books sell for $25 each. Besides the amount we get for selling each book, if we reach our 73-book quota, we will get an $80 bonus! Of course, Platt Library is the final beneficiary.
In the past, we have been able to sell close to 100 books. Let's see if we can top that goal! Let's make this a banner Entertainment Book year!
If there is another area anywhere in the United States that you'd like to order, I will be able to get them pronto. All you have to do is call me.
Ethel Margolin
(818) 340-2000
Our Special Thanks to Recent Donors
| | | |
| --- | --- | --- |
| From | To | For |
| Charles & Virgene Engberg | Memory of Larry Brenna | History Book |
| Barbara & Tom Littlefield | Memory of David Paul Jackson | Children's Book |
| Freya Maneki | General Funds | Mystery Books |
| Richard & Janis Mortillaro | Memory of Ryan Lee Crenshaw | Children's Book |
| Ron & Diana Palmer | General Funds | Mystery Books |
| Dick & Hermalee Schmidt | Honor of Barbara & Bob Scheibel's 80th birthdays | Y.A.& Autobiography |
| Mary Soukop | General Funds | Book Purchases |
A donation makes a wonderful gift
You can experience the pleasure of helping your library by making a donation. Funds can be contributed for general library use, or you can specify that your gift be used for purchasing any quantity of one or more of the items listed below. A gift can also be made in honor of a special occasion such as a birthday or anniversary, or in memory of someone. (Click for more…)

The Friends of the Platt Library Newsletter is produced and maintained by Hearn/Perrell Art Associates. Editor: Therese Hearn
Artwork, photos and information are copyrighted by their respective Authors, the Friends of the Platt Library, and/or Hearn/Perrell Art Associates and may not be reprinted without permission.
Problems? Comments? Suggestions? Please tell the Webmaster.