Book Donors Force Special One-Day Sale
As you know, we had to drop our one-day sales due to the loss of storage space. HOWEVER, over the summer, we received so many great children's and young adult books—high-end fiction and non-fiction in excellent condition—that we just couldn't resist the urge to put them all out for Platt's kids and parents and teachers.
Accordingly, Saturday, September 16 (10 am to 2 pm) the Friends will mount a special one-day Back-In-School used book sale devoted exclusively to books for the younger set. These books will still be priced at 25Ę each/5 for $1.00, with a few very special selections at slightly higher prices. We will also have dictionaries, thesauri, and other sets that come in before the sale. (Sorry, but no Friday nite Members Pre-sale or special teachers' discount during this event. Also, there is no 50% Members Only Discount Coupon for September/October/November.)
Hope to see you on the 16th.
Shel Schuster, Book Sales Manager
Don't Miss Our Marvelous Mozart 250th Birthday Concert Series!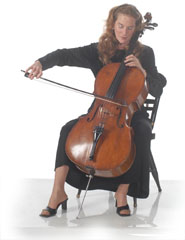 Coming to Platt from a highly praised run at Woodland Hills Branch, Whitney Griggs Raleigh and the Bright Light Chamber Players will perform three Saturday afternoon chamber concert programs: September 30, October 21, and November 4 at 2:30–4 pm in the Young Adult Section. Each concert's program selections and musicians vary; even if you attended the Woodland Hills series, you should plan on enjoying Platt's as well.
Organizer and musical director of the Bright Light Chamber Players, Whitney has performed many House Concerts with friends over the last 20 years. She holds a doctorate in music from the Cincinnati Conservatory of Music and has studied with the Emerson, the Cleveland, the La Salle, the Stradivarius, and the Manhattan String Quartets. Her friends are award-winning musicians from diverse musical backgrounds—all united by the powerful creativity and lyricism found especially in Mozart's chamber music.
Music lovers of all ages will find new meaning in these interpretations of Mozart's most enduring chamber pieces. We look forward to seeing you there.
Friends Board Honors Platt's Volunteers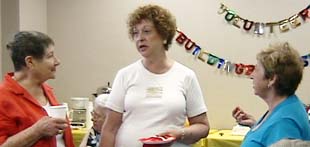 Friends volunteer Shirley Hirschfeld chats with incoming President Sharon Schuster and Past-President Frona DeCovnick. (That's in-house and Bookstore volunteer Michele Watts in the background.)
"Volunteers are the building blocks of the Platt Friends."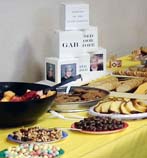 This theme was aptly and creatively displayed by Program Chair Sue Strickland as table decorations for the Volunteer Dessert Reception the Friends Board hosted on Thursday evening, July 27th, in the Multipurpose Room.
Platt Branch's many dedicated volunteers, including In-House assistants and GAB readers, were warmly received by Board Members and invited to partake in an array of home-baked goods, fruit, and cheese. In her welcoming statement, Past-President Frona DeCovnick also expressed the Board's deep appreciation for the many thousands of hours devoted to the library's maintenance, operations, special programs, and community outreach. In short, every effort was made to show our faithful volunteers how much the Friends look forward to their continued participation.
Harriet Strauss & Frona DeCovnick, Reception Committee
Friends Board Dinner
The Friends of the Platt Library Board of Directors brought the 2005–06 year to a close at a special dinner under the stars. Hosted by President Frona DeCovnick, the event provided an opportunity for her to thank each Board member for their service and to present members no longer serving on the Board with commemorative books that will be added to the library collection in their honor.
Sharon Schuster, President 2006–2007
Friends Board Officers & Chairpersons 2006–2007
Elected Members

President

Sharon Schuster

1st Vice President (Fundraising)

Annie Haas

2nd Vice President (Membership)

Ruth Bromund

Recording Secretary

Eileen O'Neill

Corresponding Secretary

Millie Berger

Treasurer

Terry Haney

Appointed Members

Past President

Frona DeCovnick

Newsletter Editor

Therese Hearn

Hospitality

Lynn Durbin

Programs/Special Events

Sue Strickland

Publicity

Carol Roseman

Mailing

Joan Wagner

Civic Affairs

Stanley DeCovnick

Bookstore Manager/Book Sales

Shel Schuster

Volunteer Coordinator

Elaine Corman

Volunteer Co-Chair

Harriet Strauss

Historian

Ellie Haney

Webmaster

David Perrell

General Support Member

SarŠe Shenkin

Senior Librarian

Lynn Light
Getting to know your Board
By way of introduction, we asked this year's Board to write one autobiographical sentence apiece. This is what they said:
Sharon Schuster—"Giving back to the community has been a vital part of my life since I was a teenager."(Sharon was an organizer and first President of the Friends of the Platt Library, served as Chief Deputy to Councilwoman Joy Picus, as President of the Civil Service Commission, and as a member of the Charter Reform Commission. She was president of the American Association of University Women and the AAUW Educational Foundation and has served with numerous local and national community organizations.)
Annie Haas—"I've always wanted to be a mom and a teacher and feel so lucky to have achieved these two major dreams." (A Friends volunteer since l999, Annie joined the Board as Publicity Chair in 2000 and was elected Treasurer in 2004.)
Ruth Bromund—"Impossible—no one's life will fit in one sentence!" (Ruth began volunteering at Platt Branch in April of 1995 and assisted in-house through 2003. She joined the Board as Mailing Chair in 1998, served a term as Corresponding Secretary, and then three as Membership VP.)
Eileen O'Neill—"I'm a mother of four and grandmother of nine, with 26 years and holding at Rocketdyne as a Project Staff Engineer." (Eileen joined the Board in 2001 and has served ever since, including two terms as Recording Secretary.)
Millie Berger—"A former teacher who has lived in the Valley over 50 years, I'm married with two daughters, four grandchildren, and one great grandchild." (AKA the Energizer Bunny, since joining the Friends in 1995, Millie has energetically executed many Board positions, including three terms as President.)
Terry Haney—"I was born and raised in Minnesota, joined the Air Force, worked 20 years for a non-profit in Santa Monica and 30 years as a management consultant, and am 50 years married, with four children." (A Friends volunteer since l996, Terry has been a Board stalwart—including two terms as President and three as Treasurer.)
Frona DeCovnick—"From speech therapist and teacher of the deaf to president and Honorary Life Member of the PTA, I'm an energetic individual with many interests and a long history of community involvement." (A Friends volunteer since 1998, Frona served three terms as Program Chair before being elected President in 2004.)
Therese Hearn—"An arts promotion specialist turned graphic designer, I've been co-owner and creative director of Hearn/Perrell Art Associates for over 30 years." (Therese has edited FOPL's Newsletter since June 2001.)
Lynn Durbin—"A third generation Californian, I moved to Los Angeles in 1965, taught K-5 and adult school in the LAUSD through 1990, and am now enjoying retirement." (Lynn helped open Platt Branch in l995 and has been a steady in-house, book sale, Bookstore, and special Friends projects volunteer ever since.)
Sue Strickland—"A former teacher and Girl Scout volunteer, I'm a married mother of two daughters, twice a grandparent, and a Sustaining Member of the Friends since it's inception; I also consider myself an e-mail activist for environmental, civil rights, and women's issues." (Sue began helping at book sales in 2004 and soon after joined the Board as a General Support Member, co-chairing Platt's 10th birthday celebration among other projects.)
Carol Roseman—"I'm a retired commercial mortgage loan consultant and a former educational aide who is currently an active volunteer in the community." (Carol joined the Bookstore team in 2003 and became a General Support Member in 2004, co-chaired the 10th birthday gala, and assumed the duties of Publicity Chair in 2005.)
Joan Wagner—"Oh heavens, one day at a time, one hour at a time—that about covers my life." (One year at a time: A Friends volunteer since 2000, Joan joined the Board as Mailing Chair in 2003.)
Stanley DeCovnick—"I've lived in Woodland Hills for over 40 years and participated in various volunteer programs, including Hale School Council, Soccer West Valley, Boy Scouts, and the Library." (Joining Friends volunteers in l998, Stan has served on the Board since 2002, both as Treasurer and Civic Affairs Chair.)
Shel Schuster—"From nuclear physics to running a bookstore, an interesting transition." (Shel was active in the first Platt Friends group that agitated for our branch, established in 1974, and continues to agitate for needed improvements.)
Elaine Corman—"I always confront challenges with a positive attitude, even when it is hard to do." (One of our earliest Bookstore volunteers, in l998 Elaine assumed the responsibility of coordinating the corps needed to staff both our Bookstore and book sales, and she's still keeping all bases covered.)
Harriet Strauss –"Born in Los Angeles in 1929, I've lived in the San Fernando Valley since 1938, have always been interested in community groups (i.e., Scouts, youth groups), became an elementary teacher, married Dan, had two girls, and have been a dedicated Platt Library Friend since the first year the branch opened." (Harriet has served in Board positions from Publicity to President—another of our hat-juggling energizers.)
Ellie Haney—"Growing up in rural Minnesota, we did not have libraries, much less a book store, so our sole source of books was a Ďdime' store—needless to say, today, I support our local library." (From 1995, to be exact, and Ellie has also filled many Board positions over the years, mostly those that require reliable self-starters and able coordinators.)
David Perrell—"An electronics technician/motorcyclist turned graphic designer/computer software developer/motorcyclist, I'm the art director half of Hearn/Perrell Art Associates." (In addition to providing graphic production of the printed newsletter, David took over management of the Friends Website in 2001 and created the Webletter section.)
SarŠe Shenkin—"I'm a parent, grandparent, and educator who is interested in people of all ages and the community I live in." (SarŠe joined the Board and the Friends volunteer community this year.)
Stay in touch!
Comments and inquiries can be addressed to individual Board members at www.plattlibrary.org/contact. Click on the desired member, type your message in the pop-up form, and press "send". Your message will be forwarded immediately to their current address. You can also call the phone numbers listed in the newsletter or drop a note in the suggestion box in the Friends Bookstore.

The Friends of the Platt Library Newsletter is produced and maintained by Hearn/Perrell Art Associates. Editor: Therese Hearn
Artwork, photos and information are copyrighted by their respective Authors, the Friends of the Platt Library, and/or Hearn/Perrell Art Associates and may not be reprinted without permission.
Problems? Comments? Suggestions? Please tell the Webmaster.