Light Notes
It's all good news for a change!
In April, Sharon and Shel Schuster and I represented Platt Branch at a luncheon hosted by City Librarian Fontayne Holmes for Friends groups throughout the LAPL system. The event gave volunteers an opportunity to share concerns, and Shel's ideas for ways Friends Groups could continue to network on-line were well-received. His offer of books for other branches' book sales was also very welcome.
More New AV Materials
I've ordered a lot of new books on CD and current DVD's. The new DVD's will be placed in the KWIK cases. This way patrons will be able to see and read the covers without removing the DVD's from the protective case. I'm looking forward to ordering many more DVD's and CD's in the next fiscal year. Patrons really like the books on CD, so I'm sure the DVD's will be equally popular.
New Signage Coming Soon
Our new shelf signs are in the process of being made. We're making the list of each shelf's contents on our in-house computers so that it can be changed easily. Our old signage will be given to branches that need more. 
A Friendly Save
Thanks to Ed Berger and Ted Haas's attentiveness and immediate action, Recreation & Parks Construction Division sent Plumber Carl Meyer, who fixed a broken irrigation pipe so quickly Platt's grounds sustained no damage at all. We really appreciate being spared a big, muddy mess. And thanks, as well, go to Millie and Ed for once again repainting our ever-flaking curbs. Platt would be a shabby branch without our vigilant Friends.
And a Staff Addition
Platt Branch is pleased to have Omid Ensafi join our staff, filling the vacant messenger clerk position. We're still down a Young Adult Librarian, however. If anyone knows a good one, please mention that Platt Branch has an immediate opening.
Lynn Light, Senior Librarian
Children's Programs
At the end of March, the Friends of the Platt Library sponsored a very popular program: Bubble Mania & Company's "The Science and Magic of Bubbles". Children's Librarian Barbara Mattison says she stopped trying to count heads after the tally passed ninety. And no wonder. As the San Diego Home/Garden put it 18 years ago, "The best part is that you do more than watch! We found out what it's like to be inside a bubble. And we learned a little science, painlessly: observation skills, predictions, testing logical conclusions." Here at Platt, after Barbara braved enbubblation, so many kids were clamoring to be next that our professional bubblologist, Christopher, didn't have time for a whole lot of science. But still, they learned a lot of interesting things, like what kind of bubbles a tennis racket makes. And that "noses" form when you blow on the inner surface. And that talking inside a bubble creates square bubbles, triangular bubbles, bunches of bubbles, and bubbles inside bubbles. Whee!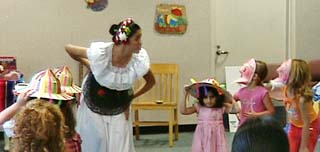 In May, DiverseCity brought us another fascinating view of LA's varied cultural mix. Singer, songwriter, dancer, and storyteller Elizabeth Rodriguez-Craig, originally from the Dominican Republic, presented Stories and Dance from Mexico. A complete change of pace, this program took children on a tour through various Mexican states, singing, dancing, and participating in local folk tales all the way…in Spanish. Titi Eli (Auntie Eli) has a knack for weaving English, Spanish, and gesture into an intelligible whole. Accompanying herself on her guitar, she sang traditional folk songs and her original compositions solely en Españole. The kids sang the refrains along with her. In Michoacan, they donned masks and danced the Vehitos. Further north, they joined in an exuberant Mexican Hat Dance. Best of all, though, were the stories. Using bright cut-paper animals, the children helped Titi Eli reenact the Chiapas legend of The Lizard and the Sun. And casting her troupe as the villagers, she told a lovely rendition of The Woman Who Outshone the Sun. En todo, Elizabeth Rodriquez-Craig gave her audience a broader, deeper view of Mexican lore without losing them for one instant.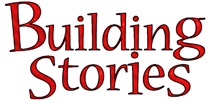 in the Children's Summer Reading Club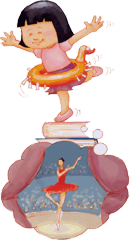 Platt's Summer Reading Club begins Monday, June 26. Children who join will receive a free folder, book bag, bookmark, and stickers. Find the fun at the sign-up table in the reference area!
We've also got a super kick-off program and more great story-building events coming up. Check them out. Plan to enjoy family-friendly summer reading, marveling, frisking, listening, and telling—all at Platt Branch Library, your entertainment and information headquarters.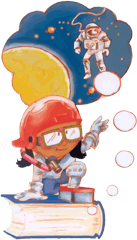 Thursday, June 29 at 4 pm
Gypsy Folk Ensemble
Open the summer reading season with marvelous music and dancing and plenty of games and refreshments, too!
Thursday, July 20 at 4 pm
Storyteller Rebecca Martin
Princesses, Dragons, and Dreams Come True.
Journey into the land of imagination with a fantastic teller of tales for kids of all ages.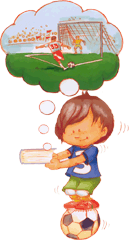 Friday, August 11 at 4 pm
The Magic of Tony Daniels
Who better to inspire stories for many months to come than one of our all-time favorite magicians?
Plus:
Thursday, September 28 at 4 pm
Kourosh Zolani presents
An Introduction to Persian Music
This DiverseCity program features the ancient cultural traditions of LA's Iranian community.
Thursday, November 9 at 4 pm
Meet Caroline Hatton,
Vietnamese-American author of Véro and Phillipe
Our final DiverseCity program explores the very different roots of Southeast Asian cultures.
For further information, call Children's Librarian Barbara Mattison at (818) 340-9386.
Young Adult Programs
It's Teens Summer Reading Club time again! And this year, Tigertainment's all new Swords & Swordplay III will kick off the program on June 21. Be sure to sign up and get your nifty Reading Club materials in the Reference area that week. This year's theme, there's a little manga in everyone, highlights the art of manga comics and anime film animation. Watch the bulletin board and check LAPL's central website for more entertaining and informative tie-in activities and events July through September.
For more information call Acting Young Adult Librarian Elliott Gordon at (818) 340-9386.
LAPL Adult Literacy Program
One of LAPL's most worthwhile community outreach services, the Adult Literacy Program recruits Volunteer Reading Tutors to help adults who read English at or below a sixth-grade level improve basic reading and writing skills. As are all Adult Literacy Services, the program is free to the public and generously supported by Caroline W. Singleton through the Library Foundation of Los Angeles.
Tutors (18 or older) work one-on-one with English-speaking adults. Drawn from branches throughout the LAPL system, tutors receive free training at designated, specially equipped Literacy Centers. They then tutor students in any LAPL branch, usually 2–3 hours a week—with a minimum 6-month commitment. The Literacy Centers augment volunteers' efforts with a literacy collection consisting of books, videos, audiocassettes, and interactive computer-based tutorials run on dedicated computers.
Launched in February 1984, the program has already made an important difference in the lives of over 15,000 adults tutored from LAPL's 15 existing Literacy Centers. These facilities are located in the Central/Southern (5), East Valley (2), Hollywood (3), Northeast (2), and Western (2) areas, with one at Mid-Valley Branch. LAPL has applied for funding to extend the program further into the West Valley Area, with Platt Branch deemed the best location for a new Adult Literacy Center.
Members interested in volunteering for this successful service should contact LAPL Adult Literacy Services at (213) 228-7037 or log onto the literacy Web site at www.lapl.org/literacy.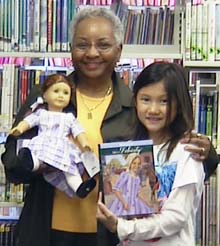 Children's Librarian Barbara Mattison and patron Jackie Phongmai display American Girl's generous gift to our children's collection.
Platt Branch Receives Sets of The American Girls Collection
As part of a gala new store opening, American Girl gifted Central Library's Children's Literature collection and all LAPL branches with complete sets of the American Girls series books and one doll for each branch.
Platt Branch received six episodes each of eight characters, a total of forty-eight new chapter books, along with "Felicity", the spunky, sprightly colonial girl who begins the series.
Written for children age 8 and up, these books take youngsters into the worlds of American girls who lived in successive eras of our country's development. In each, readers can share the excitement of historic events, details of bygone lifestyles, and the more familiar joys and struggles, relationships and feelings that endure through all eras. Children's Librarian Barbara Mattison tells us Platt's young ladies and their parents especially appreciate this very popular collection.
Meet the Staff
Messenger Clerk Omid Ensafi joined Platt Branch's staff in March. A Valley Guy, born in Northridge and raised in Reseda,Omid is in his first year at CSUN, majoring in Computer Science. Ultimately, he hopes to own his own Computer Graphics company and "create wonderful things." However, he expects to be in college for a long time because he feels he needs at least a Masters to accomplish his goal. Right now, he's having a grand time learning library systems as well—especially since his first job makes it easy to pop into the Friends Bookstore to pursue another love: collecting speculative fiction. When you have a chance to welcome Omid to Platt, be sure to ask him why he named his positively ancient 4-year-old goldfish Nemo.
Spring into a Display of Friendship
Did you catch Adult Librarian Dara Eklund's fresh and flowering spring display? You have to keep an eye out for Dara's seasonal creations, which showcase current book selections throughout our library.
Just now, however, be sure to stop and peruse the display cabinet's current exhibit from The Friendship Force of Los Angeles. There are some exquisite mementos of trips to Russia that you'll miss if you just glance in passing. The Friendship Force is a private, international cultural exchange group that aims to promote world peace through family-to-family visits. The display highlights one such "citizen Ambassadors" exchange. Many thanks to FFOLA President Carol Lee Lawrence and her assistant, Marilyn Wolf, for bringing this interesting and informative exhibit to Platt's patrons.
If you have a non-commercial collection or craft you'd like to share with fellow library patrons, contact Senior Librarian Lynn Light at (818) 340-9386 or click here to send an email.
---
GAB Interactive Children's Reading Program needs volunteers for Thursday afternoon and Saturday any time. 6-month commitment required. Free training provided. Contact Children's Librarian Barbara Mattison at (818) 340-9386
---

The Friends of the Platt Library Newsletter is produced and maintained by Hearn/Perrell Art Associates. Editor: Therese Hearn
Artwork, photos and information are copyrighted by their respective Authors, the Friends of the Platt Library, and/or Hearn/Perrell Art Associates and may not be reprinted without permission.
Problems? Comments? Suggestions? Please tell the Webmaster.