Over the last 3 months, the Friends brought two very worthwhile programs to Platt patrons. As a "retirement" gift, we asked Friends President Frona DeCovnick to give you a report on both:
Hip-Hop Hooray!
Our March General Meeting was an eye-opener, even for teachers in the audience.
Our speaker, Alan Sitomer, teaches insightful English at Lynwood High School, a Title I school where 70% of the students get free lunch, the teaching ratio is 48 to 1, and only some 860 students graduate out of a population of 1600. He spoke passionately of what he calls "the dirty little secret of scholastic achievement": that the core factor isn't ethnic or economic status, it's the ability to read. Teens who can't relate to the written word drop out. "The schools are failing kids," he stated. "There will be a crisis in this state unless someone figures out how to reach these students."
Since this is a communication problem, for his students, Alan developed a lesson plan that inspired reading through the power of Hip-Hop. He'd discovered during graduate studies that current "street lit" is directly comparable to classics that were street lit in their day. By sharing the poetry of Dylan Thomas in tandem with Hip-Hop poet Tupac Shakur, for instance, he began to "build bridges" between the required curriculum and his students' interests. They began to understand the various genres and to enjoy reading authors like Shakespeare and Dickens. He then wrote two YA novels predicated on this upbeat approach, both showcasing reverse inner-city archetypes, the first popular well beyond his intended audience and the second just out.
"Swept up" by his enthusiasm, our audience responded with accolades and book purchases, which Alan signed as gleefully as his teen protagonists would have. It was indeed an enlightened evening.
Memories Are Made of This…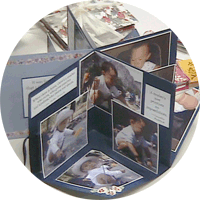 Moments– a special time captured by camera or pen
Scrapbooking– a popular hobby
Hee-Jin Choi– a creative, talented, and enthusiastic teacher, seen here with Program Chair Phil Binderman
At our May General Meeting, Hee-Jin Choi mesmerized a large audience with her charm and scrapbooking artistry. By day, Ms Choi is a history teacher for gifted students at Lawrence Middle School. In the evening, she conducts workshops primarily at Scrapbook Safari and Treasured Memories. During her presentation, she enticed us with an array of clever projects that could be done with scraps and minimum time consumption—a method she developed to motivate her middle school students to do their homework.
The big, why-didn't-I-think-of-that idea was small, one-subject displays. Pop-up books, dollhouse books, map booklets, accordion books, boxes with pull-up pictures, and a die cut shoe titled, "Put Your Best Foot Forward" were some of the samples she showed us, all just a few pages that contained the essence of an event…or a life.
She further "whet our appetites" with mini demonstrations of techniques and advice on finding materials around the house, creating multiple copies for gifts, and scrapbooking for fun rather than duty. The seminar concluded with a barrage of questions and hands-on discoveries. Definitely, Hee-Jin Choi convinced all of us to preserve our memories in many unique and entertaining ways.
Frona DeCovnick, President
Program Chair Phil Binderman, who hates writing articles as much as Frona loves it, deserves a big hand for securing these two engaging speakers. For both programs, special thanks also are due First VP Mary Ann Ostrom and her Hospitality team. Everyone certainly enjoyed the array of delicious refreshments they added to the occasions.
Congratulations Friends!
At the General Meeting held on Wednesday evening, May 17th, Friends members elected the following individuals to serve on the Board of the Friends of Platt Library for the 2006 - 2007 term:
| | | |
| --- | --- | --- |
| President | – | Sharon Schuster |
| 1st Vice President | – | Annie Haas |
| 2nd Vice President | – | Ruth Bromund |
| Recording Secretary | – | Eileen O'Neill |
| Treasurer | – | Terry Haney |
These are seasoned members who have served in the past. They will do an outstanding job of carrying on the strong tradition of supporting Platt Branch Library. We extend our congratulations to them and our appreciation for their willingness to give their time and energy.
Millie Berger, Nominating Committee Chair
Welcome Back to the Bookstore!
We are disappointed that we had to discontinue our Fabulous Super Book Sales, but we are so gratified that we have been able to reopen the Friends of the Platt Library's fantastic Bookstore. It's hard to imagine Platt Branch without it. Since our library opened in 1995, patrons have been coming by to drop off and to look for real bargains. Without this resource, which is open during regular library hours 6 days a week, many would have a hard time finding affordable high-quality books when they need them.
Our Bookstore volunteers were equally pleased to return to what they consider a labor of love. They were eager to welcome back our loyal patrons, even though the first month was hectic. In one day alone, they greeted a local screenwriter—a regular browser who buys great quantities of background material. Two teachers came in to stock up on children's books for classroom incentives. A donor brought in a pristine Time-Life Nature Series, which went out the next day to an artist who combs the shelves regularly for photographic "scrap". And another familiar face arrived to see if we'd received more horse books. This in addition to the normal flow of patrons looking for out-of-print collectors items, current novels, interesting non-fiction, coffee-table gift books, audiotapes, and magazines. Needless to say, donations and sales are both up. Thanks to all who have contributed to the Bookstore's continued success!
Please come in to browse and say hello. You never know what treasures you may find. Categories have been rearranged and labeled with laminated titles. Several categories that were available only at the one-day sales are being incorporated: a foreign language shelf and an expanded dollar fiction book selection. (Yes, we do pay attention to suggestions.) Also, don't forget Friends members have until the end of June to use their 2-for-1 discount coupon, and if you look real hard you just may find another discount coupon in this issue.
If you'd like to stay and help, we'd love to welcome you to our team. One permanent position is open at present, and we always need substitutes. It's a most enjoyable job, and you meet the nicest people. Click here to send us a message.
Elaine Corman & Harriet Strauss
Bookstore Volunteer Co-Coordinators
City-wide Friends Meeting Productive
Members of Friends groups throughout the City of Los Angeles were invited to lunch and discussion at the Central Library on April 22 by City Librarian Fontayne Holmes.
Sharon and Shel Schuster, Platt Friends President-elect and Bookstore Manager, respectively, represented the Platt Friends. Platt's Senior Librarian, Lynn Light, attended also. After an informal lunch with other Friends representatives and branch staff, Librarian Holmes presented a short program about unique services available through the system.
During the question and answer time, Shel informed the other Friends groups that Platt often has excess used books that are available to them. Several libraries were delighted to learn of this. Among the special requests were those from the Chinatown Branch, which is always looking for books on Chinese heritage to put in their collection, and the Sylmar Branch, which helps the youth at the Sylmar Correctional Institution by supplying easy to read but teen-oriented titles.
Shel and Sharon requested an e-mail list of the Friends groups contacts to make communication easier, and Librarian Holmes promised to follow up with those that are interested. Since that time, Shel has been exploring the possibility of an Internet bulletin board for the Friends groups, which might better meet their needs and maintain confidentiality. All agreed that there are times we want to be in touch and that the Internet offers unique opportunities.
Sharon Schuster, Founding Past-president
"…California's November election will not lack for meaty, even historic, political conflicts…no election of recent vintage has offered such a variety with such potential for far-reaching impacts…" Dan Walters, The Sacramento Bee (run in The Daily News, May 19, 2006)
VOTERS, MARK YOUR CALENDARS NOW!
Tuesday, October 24 at 7 pm
The Friends of Platt Library will present a November Ballot Issues Review with a knowledgeable representative of the League of Women Voters
General Membership Meeting at 6:45 pm
Refreshments following the program.

The Friends of the Platt Library Newsletter is produced and maintained by Hearn/Perrell Art Associates. Editor: Therese Hearn
Artwork, photos and information are copyrighted by their respective Authors, the Friends of the Platt Library, and/or Hearn/Perrell Art Associates and may not be reprinted without permission.
Problems? Comments? Suggestions? Please tell the Webmaster.