Scrapbooking Seminar Wednesday, May 17, at 7:00pm
Don't miss this chance to learn how to display your most prized memories with panache. Our May General Meeting speaker, Hee-Jin Choi, specializes in the art of creating dynamic albums that will be treasured for generations to come.  Her workshops elicit high marks from crafts devotees around the Valley.
In this introductory program, Ms. Choi will give those who've never scrapbooked an overview of what's possible and how to get started. She'll also bring a wealth of new ideas for those already hooked on this popular pastime. Plus, for those looking for other creative projects, she'll demonstrate some of the many items that can be made with scrapbooking supplies…such as doll-house books, lotus books, pop-up cards, school projects, gifts for special occasions. The list is really as long as time allows.
So gather up all those memories you've been meaning to immortalize and bring them to our May General Meeting, which begins at 6:30. This is a program for you and your life's treasured moments.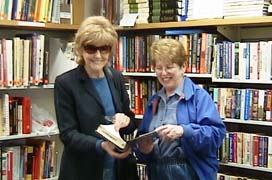 Bookstore volunteer Muriel Eiduson (at right) assists our first return customer, Sheila Holman, with her book selections.
FRIENDS BOOKSTORE REOPENS!
As you read this, the Friends Used Bookstore is back in operation. Thank you for your patience!
At the beginning of February, the Friends lost the space adjacent to the staff workroom that we had used for sorting your donations since the library opened. Ample sorting space is vital to our operation. We have to separate books that go directly into the library collection or into the Bookstore from those to be sold in our five yearly one-day sales. We then further cull and categorize the one-day sale offerings before putting them out on the day of the sale and making the remainder available to other libraries. Without adequate space to process the donations, it was necessary to close all book-selling activities down temporarily.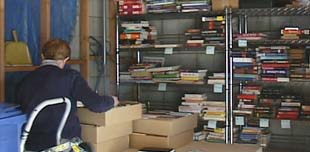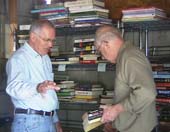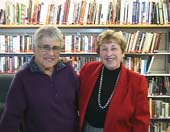 Above, Millie Berger, and at left, Warren Bromund and Shel Schuster, in the shed, sorting books in preparation for the Bookstore's reopening. (Note all the labeled shelves, the large table, and the room to turn around. Luxuries!) Below left, Harriet Strauss and Frona DeCovnick await more quality selections to restock the Friends Bookstore.
After surveying a number of options, we finally found a solution! We converted the book-storage shed adjacent to the parking lot into a sorting room. This required shipping out 300 boxes of books to other Friends groups. We now have a much larger processing space than we had before. We expect to do an even better job of sorting donations, which will allow us to further upgrade the quality in the Bookstore and better serve community needs on a day to day basis. We definitely will continue to accept all donations as usual.
Unfortunately, the loss of storage space means the donations we can't use in the Bookstore right away must be redistributed as soon as possible. Which, in turn, means we will not be able to continue our one-day sales. The April 8th and all subsequent super sales have been canceled. However, once within the next three months, Friends members will be able to save up to 50% on books they find
in the Friends Bookstore. Look for your special Friends Member Bookstore Discount coupon in your mailed newsletter. (Only originals will be accepted, so be sure to clip yours out.)
We'll also be expanding the Bookstore's capacity a bit. If you would like to see a particular category that isn't currently available on the shelves, please contact me at the numbers below. We'll do our best to accommodate your request.
Looking forward to seeing you in the Friends "Renewed & Improved" Used Bookstore—same times, same place!
Shel Schuster, Bookstore Manager
LAPL Senior Officials Meet with Platt Friends Board
As part of the Central Library's efforts to improve communications with branch Friends groups, four of Los Angeles Public Library's most senior staff visited Platt Branch to discuss Platt's concerns with FOPL Board members at the January Board meeting.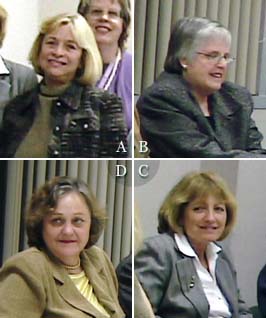 City Librarian Fontayne HolmesA, who oversees all aspects of LAPL's policy and operations, headed the delegation. She was accompanied by Pat KieferB, Assistant City Librarian, who is mainly responsible for Public Services; Cecilia RiddleC, Director of Branch Library Services, who administrates the overall functioning of LAPL's 72 branches; and Christina HansonD, West Valley Area Manager, who works closely with the Senior Librarians in our area.
The discussion encompassed many aspects of Platt's operations. Fontayne Holmes clarified LAPL policy on new book acquisitions and withdrawals. Pat Kiefer considerably enhanced the Board's understanding of the Library's standard book purchasing system. Also covered were possibilities for upgrading our library's physical plant, the difficulties all branches are experiencing with the City's maintenance priorities, and Platt's problem with periodical retention. Patron's materials requests were given special attention, and the Board's on-going request for an over-all policy adjustment regarding the handling of commemorative books was advanced another notch.
Happily, although this meeting was mainly intended to familiarize central administration with Platt Branch's needs and preferences in general, several specific items were completely resolved. All agreed that increasing Adult, Young Adult, and Children's audio materials should be given high priority and that all in-print Caldecott and Newbery Award books should be added to the children's division purchasing lists. The Friends got a firm go-ahead for more patron-friendly stack-end signage throughout the library. Our Senior Librarian's purchasing authority was clarified to help Platt meet special, time-critical local needs. And—ah, the power of place—within the month our grounds maintenance volunteers received a very necessary little piece of equipment that Platt had been requesting for over three months.
At that time, no one present was aware FOPL would be facing a space dislocation that would disrupt the Friends's primary fundraising activity. It may be just as well, however. As it was, this valuable and unprecedented opportunity was devoted to reconciling the administrative necessities of one of the nation's largest library systems with our community's individual imperatives.

The Friends of the Platt Library Newsletter is produced and maintained by Hearn/Perrell Art Associates. Editor: Therese Hearn
Artwork, photos and information are copyrighted by their respective Authors, the Friends of the Platt Library, and/or Hearn/Perrell Art Associates and may not be reprinted without permission.
Problems? Comments? Suggestions? Please tell the Webmaster.