Light Notes
As you may have noticed, 2005 ended with a flurry of reorganization and general upgrades. Most notable:
Held books have been moved behind the Reference Desk so that you can find your holds without waiting in the Circulation Desk line. This should prove quicker since you can check them out on the self-check machine with your large library card.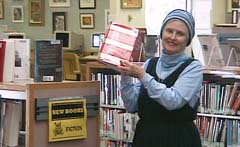 Dara Eklund places a new title in the browsing section.
Our New Fiction and Non-fiction Browsing Section has been completed and is already very popular. As usual, the latest titles are checked out quickly. Restocking the shelves has been given top priority.
The Book Theft Security Gate has been replaced with the latest model. The improvements will keep previously unprotected materials from being stolen. But be forewarned, checkout coding lasts only a few days, and the gate beeps at any uncoded book that passes it.
The Books on Audiotape and CD Section continues to expand. In addition to accelerated purchases, Central Library has given Platt new items it had in duplicate.
Staff Update
Platt Branch certainly welcomed our two new Circulation Clerks, Chris Morales and Esther Mariscal. Both are new to the library system, so please introduce yourself and help them settle in.
On the other hand, Adult Librarian Chukwuji Nwajei left us on January 6 to go to the Sylmar Branch as an additional Young Adult Librarian there. Also in early January, Circulation Clerk Teresa Martin returned to Mid Valley Regional.
New Years Thoughts
2005 has been a bumpy year, full of staff losses and other operational disruptions. The one consistently bright note has been the Friends' steadfast support, both financially and in terms of time and effort lavished on Platt Branch. Thank you all. I hope 2006 returns your generosity threefold.
Lynn Light, Senior Librarian
Children's Librarian Barbara Mattison comes to Platt Branch from West Valley Regional.
Perhaps the most unusual element of Barbara's 16-year career with LAPL is that, except for a temporary transfer to Mid Valley Regional during the renovations, Barbara has been West Valley's Children's Librarian for almost the entire time. Since she has also been a journalist and is currently writing a children's book, as well, she's the best qualified to tell you how she got there.
Originally pursuing a teaching career, Barbara earned her BA from Wayne State University in Michigan with a major in Child Growth and Development. But then she "…left a teaching position in the Detroit Public School system to enter Library School at the University of Michigan. [Upon receiving her MLS], she served 2 years with the Detroit Public Library."
In 1987, she "…opted to take up a recruiter's offer to become a librarian at the Los Angeles Public Library. She arrived in California eager to accept the position only to find that a disgruntled patron had set fire to the Central Library. With Central closed and its entire staff dispersed throughout the system, LAPL suddenly had no opening for Barbara. Here she was—in a new city, with no job and no income. Being a survivor, however, she was able to fall back on her teaching degree to do some subbing for private schools, and she worked weekends for Pacific Oaks College Library in Pasadena.
"Finally, over a year later, she was hired as a part-time YA Librarian at Angeles Mesa Branch, subsequently becoming its full-time Children's Librarian. Soon after, she transferred to West Valley Regional…" Where she remained until we had a crying need for a dedicated, experienced Children's Librarian.
Barbara is also the proud mother of one son, Monty J. Mattison—a professional sculptor and jewelry artisan in New York. In her free time, she volunteers at the Hollywood & Vine Recovery Center in Chatsworth, where she conducts a children's writing workshop. She shares her home with two cats, Prozac and Pamolar, who's naming is another human-interest tale. Be sure to ask for the details when you have a chance to chat with Barbara in the library.
Children's Programs
Thanks in part to the Friends underwriting of extra programs, Platt's Children's section was buzzing with holiday cheer, music, and inspiration.
In October ~ Storyteller Laura Pruden brought us some smashingly "Funny Bone Chilling Tales" for Halloween. Truly. The tale of Papa and the Exploding Pumpkin was a real grabber and totally original.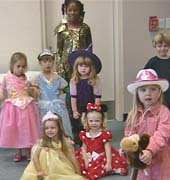 But then all of Laura's tales were grabbers: beautifully executed, fresh, and fun. The kids had a grand time singing The Five Days of Halloween and supplying sound effects for the tale of Little Boo Baby & the Ghost of Mabel's Gable. Adults had equally as much fun identifying the classic tales underpinning Laura's witty Juan & the Magician and Aunt Clara & the Disassembled Man. Not only that, we all got to admire some great costumes, and the kids all got treats after the performance.
In November ~ On a more sober note, both Native American Heritage Month and Thanksgiving were observed with "Native American Stories—Living Then and Now" by Storyteller Geri Keams.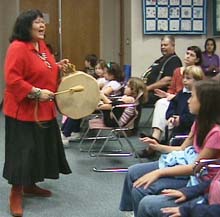 A member of the Streak of Black Forest Clan, Geri grew up on the "big reservation"—in the Painted Desert region of the Navajo Nation. She is acclaimed throughout the US, Europe, and Australia for her superb presentation of the classic Navajo storytelling style. And "more sober" doesn't mean less enthralling. Geri Keams has "The Voice"—the master storyteller's almost mystic ability to capture attention and draw it into the heart of a tale. Although complicated and filled with unfamiliar characters, Geri's signature "Grandmother Spider Brings the Sun" swept toddlers to seniors along its central theme. A room full of young children was so quiet you could hear the storyteller's every whisper. The same was true of "Quillgirl and her Seven Brothers," although that tale presents a value system and a symbology that was totally foreign to most of this audience. It was as if, when Geri sang the opening call to hear her tales, she transmuted us all into a people who could understand them. Needless to say, when Geri explained the more tangible details of her handcrafted ceremonial robes, jewelry, drum, and rattles, everyone was all eyes and ears. It was an amazing learning experience few will ever forget.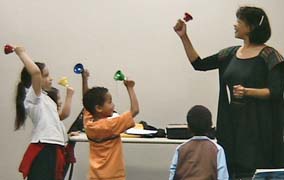 In December ~ The demands of the holidays made a major dent in attendance, but that just meant more fun for those who could attend Marilyn Miller's "Songs & Stories" interactive concert. An accomplished musician and storyteller, Marilyn came loaded with interesting musical instruments (drums, rattles, various bells, whistles, and some exotic clappers) that turned the most well-known, well-worn nursery tales into something else altogether. While she told the tales of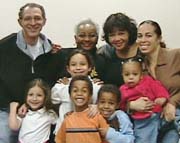 Henny Penny, The Gingerbread Boy, Three Billy Goats Gruff, and The Boy Who Cried Wolf, the audience gleefully sang refrains and added a wealth of sound effects on cue. The kids were so totally into it that by the third tale, they spontaneously played their assigned characters all around the room. Heavily scheduled parents couldn't help but give in to "Just one more!" As a finale, Marilyn played her guitar for a rousing game of musical chairs. No doubt about it: A grand good time was had by all.
Upcoming Children's Events
Tales of Asia & the Pacific
Thursday, January 26 at 4:00 pm
Storyteller Barbara Wong's unique blend of Hawaiian and Chinese folk tale adventures and riddles offers an original storytelling odyssey that's both humorous and dramatic. This is a perfect program for families to enjoy together. It's just in time to help celebrate Chinese New Year, too!
Music Americana
Thursday, February 9 at 4:00 pm
Come celebrate African American Heritage Month with Clabe Hangan & Ray DeLa Paz, the award-winning duo that combines music, music history, storytelling, and musical theater to teach and entertain. And come prepared to sing along with these American music masters as they present the history of a people who sang their way to freedom.
The Science and Magic of Bubbles
Thursday, March 30 at 4:00 pm
Want to be put inside a real bubble? Join us when Bubble Mania & Co. shares the fun of bubbles and how they work. Kids of all ages will be simply amazed by what this light-hearted crew can do with a handful of air.
For more information, call Children's Librarian Barbara Mattison at (818) 340-9386.
Young Adult News
Young Adult Council Convened at Platt Branch Library
In the interests of providing resources and tailoring programs that truly serve the needs of our teen patrons, Platt Branch Library hosted a Young Adult Council Meeting last December.
Conducted in a genial atmosphere, the meeting allowed for a free-flow of ideas. The topics ranged from improving the appearance of the Young Adult Section to widening the scope of the Branch's paperback selections. Other issues raised included the placement of posters and informational signage, moving hardbound comic books to the section adjoining the magazine section to provide more general access, and shelving most YA non-fiction in the general stacks—both to consolidate Platt's offerings on specific topics and to provide more space for teen-oriented fiction. (An important insight the Council brought to the table was that there is no hard line between teens' need for data and that of adults; whereas, a section devoted to a wide selection of YA literature and study guides is a major plus.)
Refreshments were provided for Council members, but their real interest lay in the betterment of YA services at Platt Branch (although the snacks were devoured by meeting's end). Several of their ideas have already been enacted and will be monitored to check their efficacy. Kudos to the young adults who joined the Council and gave their time on behalf of all our teen patrons!
Elliott Gordon, Young Adult Librarian
Winter Wonders on Display
Did you see Adult Librarian Dara Eklund's selection of winter-themed titles in the display case? Patrons really should check Dara's lovely arrangements regularly for interesting reads available in Platt's diverse collections.
Also, be sure to stop for a minute to view the Friends' January tribute to Platt's wonderful volunteers, mounted by Board Member Sue Strickland. And if you have a non-commercial collection you'd like to share with fellow patrons, don't hesitate to contact Senior Librarian Lynn Light at (818) 340-9386 or click here to send an email.
---
Our GAB program needs a few more voices to read to children 2 hours a week (or every other week), especially on Saturdays. Contact Children's Librarian Barbara Mattison @ (818) 340-9386
---

The Friends of the Platt Library Newsletter is produced and maintained by Hearn/Perrell Art Associates. Editor: Therese Hearn
Artwork, photos and information are copyrighted by their respective Authors, the Friends of the Platt Library, and/or Hearn/Perrell Art Associates and may not be reprinted without permission.
Problems? Comments? Suggestions? Please tell the Webmaster.