Light Notes
As noted in my last column, Platt Branch is phasing the Project Best Seller collection out gradually. You'll find some PBS books remaining on the shelves for a short period of time. The new fiction and non-fiction books will be moved to the Project Best Seller location as soon as the program ends.
We are adding to the new book collection regularly; the latest choices are currently shelved just behind the PBS books as you enter the library. Ultimately, the section will house a browsing collection composed of both new titles and classic favorites.

Barbara Mattison

Bruce Silver
Staff Change Update
First off, the Staff and I wish our former Children's Librarian, Vicki Magaw, great success in her promotion to Senior Librarian of the Sylmar Branch, which took effect September 5. Although we share the sense of loss expressed in the accompanying article, we're all very proud of Vicki's achievement.

I am also pleased to announce that Barbara Mattison came to Platt Branch to assume the Children's Librarian's duties as of October 18. With Barbara's years of experience, any changeover disruption will be very brief.

This is the last you'll see of Circulation Clerk Bruce Silver. Bruce transferred to the Sherman Oaks Branch in October. We will miss him!

But— Teresa Martin replaced Bruce on October 4th. Also, Eric Castro has joined the staff as a 20-hour messenger clerk. Please welcome them both to Platt Branch!
Downloadable Books
LAPL has a new service up and running. Patrons will now be able to download selected titles onto their home computers or MP3 players. For a list of titles and complete instructions on how to use this Downloadable Books on CD service, go to the LAPL website. (www.lapl.org). You'll find the new section listed on the home page. (Note: Downloading has to be done from your home or office.)
An Upcoming Holiday Event
We are looking forward to having the West Hills Recorder Consort return to Platt Branch on December 3 to entertain the staff and patrons with holiday music. The concert will be held in the Young Adult Section, but you will be able to enjoy their artistry as you browse throughout the library.
Happy holidays, everyone, and best wishes for the coming new year!
Lynn Light, Senior Librarian
Meet the Staff
Be sure to give Teresa (Terri) Martin an especially warm welcome when you see her at the Circulation Desk. Terri joined Platt's staff at the beginning of October. That's a simple enough fact, but her route to our branch is somewhat more complicated.
Originally, Terri interviewed for Platt Branch. She was all set to step right in when she was told to report to Mid-Valley Regional instead. Since this was her first experience working in a library, after 5 months at Mid-Valley, she put in for permanent assignment there. However, she says, "Then they told me, 'No—report to Platt Branch on October 3rd.'" Welcome to the world of musical staff crises, Terri. Now that she's where she originally wanted to be, let's all help her want to stay. "So far, I like the library as much as I thought I would," she told us. "But with everything so new, I'll need a while to get my bearings."
A local California girl, Terri was born and raised in the West Valley. She first joined the ranks of LA City employees in 2001, when she went to work for the Department of Transportation.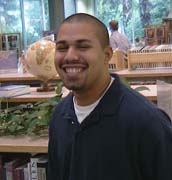 When our newest Messenger Clerk, Eric Castro, joined us in September, Platt Branch finally achieved a full compliment of Messenger Clerks again. Progress!
And Eric is a young man who knows exactly where he's going. Just out of high school, he's already pursuing a pilot's license as a first step toward his dream of becoming a helicopter pilot with the LAPD (a dream that took shape when his high school Sea Cadets unit worked training missions with the US Marines). He's also beginning his first year in Pierce College's Criminal Justice program, from which he intends to transfer to USC's School of Law—which will help when he moves on to the Police Academy. This is Eric's first job at a library, or with the City in general, but the Dewy Decimal system holds no mysteries for someone who has managed to organize his future so well.
Also local, Eric was born in Northridge and grew up in Canoga Park. Asked if his interest in criminal justice runs in the family, he said not exactly. His dad is a cook who has always loved being a cook. However, his sister also plans to study law and pursue a career with the LAPD. Not flying—that's Eric's passion.
Children's Programs
Platt's Children's section has been humming in the months since the last newsletter.
In August – A large crowd assembled to welcome the return of The Little Puppet Shop with Jim Peace. The final tie-in event of this summer's city-wide Summer Reading Program, "The Animal Jamboree" took the audience on a journey around the world to meet many new animal creations and hear them play musical instruments. Thanks to Jim's wonderful imagination, everyone had every bit as much fun as his star puppet, Sam, while a magical talking book whisked us all from hilarious adventure to adventure.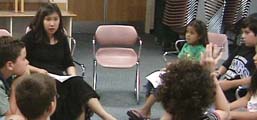 The Boys & Girls Book Club met to discuss Roald Dahl's book, Charlie and the Chocolate Factory—and Roald Dahl and the movie and creating great children's literature in general.
And in her last week with us, Children's Librarian Vicki Magaw teamed up once again with GAB volunteer Grandma Judie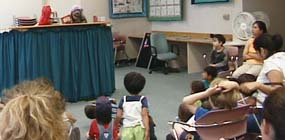 for another of their popular Storytimes. This one featured a Little Red Reading Hood puppet-play along with Labor Day-themed stories and crafts. Needless to say, the kids had a rousing good time while their parents lined up to wish Vicki luck in her new position.
With more in October – Thanks to Vicki's preplanning, Platt's patrons enjoyed an outstanding Meet The Author session. Children and parents alike got a great deal out of Sharon Sharth's animated and informative presentation.
The vivacious actress turned award-winning children's author began by taking the kids through the process of creating a book. Ms. Sharth projects the passion for her subjects that she says is the key to writing interesting non-fiction.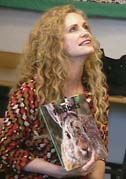 As she discussed selected examples of her fact-filled introductions to various animals, the audience got a great feel for how ideas for subjects evolve and truly understood the excitement that comes with writing about topics that can be explored and verified. Whether aspiring authors or not, everyone took both the method and the motive for good writing away with them to use whenever writing anything.
Although best known for her children's books, Sharon Sharth recently won the Young Adult Fiction Award from the Society of Children's Book Writers and Illustrators for Wild Mind, a novel about teen suicide. She's also a playwright with a number of produced works to her credit.
Platt's annual Special Halloween Family Funfest wasn't forgotten, either. The newsletter was just going to press when Storyteller Laura Pruden brought her "Funny Bone Chilling Tales" to help us celebrate the occasion. Watch for memorable moments in the next issue. 
Upcoming Events
Don't miss Native American Stories—Living Then and Now. On Thursday, November 10 at 4:30 pm, Navajo Storyteller Geri Keams will help us get in the mood for Thanksgiving by sharing the legends of her people and of other Native Americans.
Young Adult Programs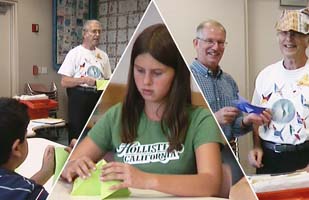 While the class folds, Elliott Gordon examines some of Leon Brown's latest creations.
Interest in the gentler arts is alive and well at Platt Branch. In October, a goodly group of teens took advantage of Leon Brown's ORIGAMI workshop. They weren't disappointed. A black belt in the ancient oriental art of paperfolding, Leon taught them the moves for his celebrated jumping frog. They also learned how to fold themselves a helmet, a whirlybird, and an amazing number of other useful items in the hour-long session.
"Student Smart" Starts
Also in October, The Los Angeles Public Library initiated "Student Smart: Tools for Becoming a Better Student" seminars that will take place at various LAPL branch libraries throughout the city. These seminars are conducted by the Princeton Review to enable students to develop effective study and test-taking strategies. They are free and open to all students. Those who wish to attend are asked to contact the various branches hosting the seminars and sign up in advance for the sessions of their choice. Schedules can be found in the branch take-one racks or on the LAPL website.
The program kicked off in the West Valley at Mid-Valley Regional Branch and Canoga Park Branch. So far, the program has offered opportunities to actually take a New SAT practice test and provided seminars in "Study Skills", "Intro to the Tests"—an overview of important tests for college admissions, "Deciding Where, When and How to Apply to College", "SAT & PSAT Test-Taking Strategy", and "SAT Essay Writing".
On Wednesday, November 9 from 6:30 to 7:30 pm, Mid-Valley Regional (16244 Nordhoff St.) will host "Financial Aid and Scholarships", which covers all the various financial aid packages and scholarships available for college-bound students. Call (818) 895-3650 for reservations and further information.
Check the LAPL website for seminars in other areas, and watch for more opportunities in the West Valley throughout the coming year.
Elliott Gordon, Young Adult Librarian
Seasonal Displays
Have you been watching the seasons change in the library display case? You should. They're literally a seasonal guide to the library's literary offerings. We asked Librarian Dara Eklund where she gets the inspiration for such artistic creations. This is what she told us: "A love of nature combined with a modest art-training…Experience as a school teacher has helped, as well as wall-sized bulletin boards decorated with book themes as a Children's Librarian in Studio City. My current incentive is to inspire a love of reading in both children and adults from the diverse book collections here at Platt." Thanks for the inspiration, Dara.
The display cabinet also showcases personal or group collections of interest to our patrons. If you have one you'd like to share, contact Senior Librarian Lynn Light at (818) 340-9386 or click here to send an email.

The Friends of the Platt Library Newsletter is produced and maintained by Hearn/Perrell Art Associates. Editor: Therese Hearn
Artwork, photos and information are copyrighted by their respective Authors, the Friends of the Platt Library, and/or Hearn/Perrell Art Associates and may not be reprinted without permission.
Problems? Comments? Suggestions? Please tell the Webmaster.