President's Message
Dear Friends,
Your air-conditioned Library is the perfect get-away from a summer heat wave. While you're there, be sure to take advantage of the bargains in the Bookstore and the many activities Platt has to offer.
A Stellar Program
Even though our Evening with Ray Bradbury occurred in May, we are all still whirling from the effects. Mr. Bradbury spoke to a record breaking audience, orchestrating his speech chronologically—beginning with his first short story, The Lake, and continuing through his life—humorously spewing forth his trials and tribulations while becoming a writer. One of the points he made was that by accepting invitations to speak to library audiences, he is giving back what the library did for him. As he said, "The library was my first lubricant." What a pay back! Thanks to Joan Vos, our retiring Program Chairman, we have another memorable evening to reminisce.
Central Library Excursion
In brief, Friends had a fine time exploring a multifaceted gem that most Angelenos miss. Mary Ann Ostrom's full account of the Friends member's special June tour she arranged appears on page 6. Great job, Mary Ann!
Friends Board Elections and a Little Celebration
At our May General Meeting, members approved the Board's slate of officers for 2005–2006, which means most of last year's Board will carry over for a second term.
As a culmination and appreciation for a successful year, we invited the Library Staff to join the Board for an informal supper on July 15, once again hosted by Sharon and Shel Schuster.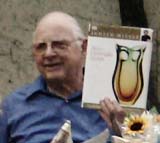 Appetizers, a delicious meal, desserts, and convivial company were a welcome reward for many jobs well done. As special thanks, we awarded books to our two retiring members, Platt's 10th anniversary party coordinators, and the Friends' infinitely supportive hosts. The Board also formally welcomed our two new Board members, Program Chair Phil Binderman and General Support Member Geoffrey Ball.
Special credit goes to Harriet Strauss. Harriet assumed the Hospitality Chair's responsibilities when Paula Russo broke her ankle and then had to cope with a serious illness in her family. Thank you, Harriet. We owe you a book.
Noteworthy Coming Events
August 19 & 20 – Book Sale

October 18 – General Meeting with Conductor/Composer Sheldon Cohen speaking on great American "Pops" from film and stage.

October 25 – Ballot Issue Review (to be held only if the November 8 Special Election takes place)

December 3 – Our annual Children's Holiday Boutique. See page 8 and contact Mary Ann Ostrom to join the gift creation team now.
I hope you'll take advantage of all the opportunities Platt Library has to offer and look forward to seeing you throughout the coming year.
Frona DeCovnick, President
Friends Board Officers & Chairpersons 2005–2006
Elected Members

President

Frona DeCovnick

1st Vice President (Fundraising)

Mary Ann Ostrom

2nd Vice President (Membership)

Millie Berger

Recording Secretary

Kathy Cromar

Corresponding Secretary

Eileen O'Neill

Treasurer

Annie Haas

Appointed Members

Past President

Terry Haney

Newsletter Editor

Therese Hearn

Hospitality

Paula Russo

Programs/Special Events

Phil Binderman

Publicity

Carol Roseman

Mailing

Joan Wagner

Civic Affairs

Stanley DeCovnick

Bookstore Manager/Book Sales

Shel Schuster

Volunteer Coordinator

Elaine Corman

Volunteer Co-Chair

Harriet Strauss

Historian

Ellie Haney

Webmaster

David Perrell

General Support Member

Geoffrey Ball

General Support Member

Sue Strickland

Senior Librarian

Lynn Light

The Friends of the Platt Library Newsletter is produced and maintained by Hearn/Perrell Art Associates. Editor: Therese Hearn
Artwork, photos and information are copyrighted by their respective Authors, the Friends of the Platt Library, and/or Hearn/Perrell Art Associates and may not be reprinted without permission.
Problems? Comments? Suggestions? Please tell the Webmaster.