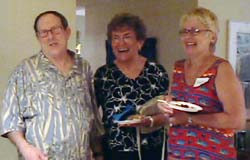 Circ. Clerks Bruce Silver & Patty O'Bryan at Board supper with In House Volunteer Harriet Segurson (center).
Light Notes
Well, let's see: Was the highlight of the 2nd Annual Friends Board Transition Supper the genial ambiance of the Schuster's hospitality…the artichoke bars—the shrimp—the spinach dip…the spirited conversation…the artful book racks on each table…? The eleven staff members who could attend are of eleven different opinions, but we're all united in our thanks to the Friends for including us in this lovely evening. And those who had to miss the supper certainly enjoyed the leftover cake.
More Staff Changes
Platt's new Circulation Clerk, Michael Beukelman, has been transferred to Porter Ranch Branch, effective June 27. Both the Staff and library patrons were very sorry to see Mike leave. On the bright side, however, Messenger Clerk Corrina Arevalos—on loan here from Granada Hills Branch for over a year—has became a permanent part of the Platt staff.
Project Best Seller
At the end of 2004, in concert with the Friends Board, Platt significantly augmented the titles available for Project Best Seller rental and referred patrons to the program at every opportunity. However, after reviewing the results of this concerted effort to increase patron's interest as of May 2005, the Board and Platt Branch jointly decided to phase out the Project Best Seller project. Patron participation just wasn't broad enough, and it was decided the space would be better used to highlight both the most popular new releases and books of enduring interest in Platt's regular collection…creating a "highly recommended" section. This will be implemented as soon as Project Best Seller is officially over. So in the future, start with the shelves at the entrance when you're browsing for a good read.
Lynn Light, Senior Librarian
Library Security Changes
The Los Angeles Department of Parks and Recreation has combined its security operations. There now is a single entity for security at the zoo, parks, swimming pools, and libraries.This was done in the interest of efficiency and economy, according to budget recommendations approved by the various boards of commissioners and the City Council in February. The reorganization affects Platt Branch in that only certain libraries with major disruptions will be assigned security personnel on an ongoing basis. All other branches' alternative for any security problems is to call the Los Angeles Police Department.
Stan DeCovnick, Civic Affairs Chair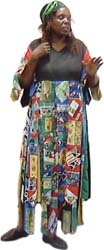 Nailah Malik Brings Vietnam to Platt Branch
Colorful and accomplished, Storyteller Nailah Malik delighted patrons with her rendition of three Vietnamese folk tales. The Raven and the Star Fruit Tree dressed the familiar "rich brother/poor brother" theme in exotic imagery, underscoring the universal quality of native morality tales. The tale of The Two-step Snake, on the other hand, invoked a clear, detailed vision of life in a very different culture. And Opera, Karate, and Bandits was uniquely Asian and yet reminiscent of resourceful wives in some European tales. Nailah's selection of material was truly fascinating and very apt for an American celebration of Asian-Pacific Culture Month. In all, this thoughtful program provided a lot for adults to consider and kids to remember fondly.
Vicki Magaw, Children's Librarian
Children's Programs
Platt Branch launched its Summer Reading Program June 6, and of course, our summer tie-in events followed close behind.
In June
Naturalist Alligator Al brought along a selection of reptiles for a children's program made possible by the Friends of the Platt Library. It was a resounding success! After Al taught the kids a bit about each animal, they got a chance to touch and feel the creepy critters. Parents got busy taking pictures of their excited children holding a snake, a lizard, or a frog.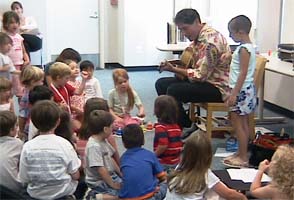 My 9-year-old daughter, Syndel, will never forget the day a snake hung on her shoulders at the library.
Bob Harrison's musical show, ABC's of Do-Re-Me, was also a hit! Bob established good rapport with kids as young as preschoolers. He got them to listen, sing, and—most importantly—laugh. He got across how music has patterns and beat. Amazingly, the children were able to accompany his guitar and stay in sync with each other on the musical instruments he provided. Everyone, including this librarian, had a great time!
In July
Geebo the Clown gave another great show to an audience that nearly spilled out of the room. With his lively patter, his trunks full of tricks, his "friendly" tarantula named Harry, his rat, and his dove, he kept that crowd of kids totally engaged. And amazingly, each youngster received a balloon sculpture of their choice along with tips on how to find books on everything in his act.
Coming in August
Don't miss The Little Puppet Shop with Jim Peace "The Animal Jamboree" on August 11!

Join our Boys & Girls Book Club on August 16. All kids ages 8 to 10 have to do is read the book Charlie and the Chocolate Factory by Roald Dahl and show up that Tuesday at 4:30 pm for a guaranteed fun time. This club is about meeting new library friends, sharing favorite parts in the book, winning a contest, and enjoying free refreshments (thanks to the Friends again). No sign-ups necessary. Just be there!

Then enjoy a Labor Day Storytime featuring a puppet show and other activities on August 25.
And in October
We've scheduled a special Author Program featuring Sharon Sharth on Thursday, October 13 at 9:30 am. Reservations are required, so call me at (818) 340-6302 for more details and plan to attend now.

Plus, we're lining up a Special Halloween Family Funfest for Thursday, October 27 at 4:30 pm. Watch the bulletin board for entertainment/activity specifics, but plan right now to come in costume and enjoy Halloween treats.
Vicki Magaw, Children's Librarian
Young Adult Programs
Platt Branch's 4-hour High School Study Hall project in May met—even surpassed—most of it's goals. Bolstered by snacks underwritten by the Friends, students from El Camino High and Chaminade Preparatory School made excellent use of our Multipurpose Room, studying for finals and working on their year-end term papers. With research facilities right at hand, teens were able to work together in small group formats or as individuals, assisted at need by Senior Librarian Lynn Light, Adult Librarian Sherry Brent, and myself. Although attendance fell short of the 25-student limit, our Study Hall's basic structure proved so productive for those participating that it will definitely be repeated as an annual or bi-annual YA event.
Teen Summer Reading Program
Platt's "Dare to Read" Teen Reading Club got off to a respectable start in June…solely on the appeal of YA Services' particularly cool program materials and the giveaways Platt's Friends provided to stuff in the book bags. Then in mid-July, participation started steaming: Well over 50 young adults and their families turned up for our special screening of Spiderman II, complete with snacks and soft drinks.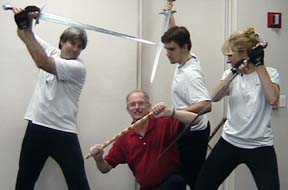 By month-end, after Tigertainment Studios brought Swords & Swordplay II to the Platt Branch Multipurpose Room, we topped all previous records.
Sword & stunt masters Michael John, Nick Bonora, and Nancy John (at left, from left) defy any brief description of their expertise. The amount of sword lore, slam-bang demonstrations, and audience participation they cram into an hour is incredible to anyone who hasn't seen it live. And word certainly must have spread. Teens—graybeards to toddlers actually—just kept pouring in. That's me with the stick, being taught how to defend myself from anyone who expects an equally well attended YA program any time soon.
Coming up on Tuesday, September 13 ~ ORIGAMI: The Ancient Oriental Art of Paperfolding. The library will provide all supplies needed for this creative workshop conducted by Leon Brown. Jumping frogs at fifty paces, anyone?
 Elliott Gordon, Young Adult Librarian
Did you see them?
Friends' member Martha Zoloth filled the library display cabinet with an incredible array of unusual hats. Martha and her husband are seasoned travelers whose trips have taken them to all parts of the world, thus allowing Martha to add to her unique collection. Martha's favorite, by the way, is the red Chinese "minority" hat.
Each hat has a small card inside giving clues as to its origin and use. Martha, a former teacher, used the hats with their clue cards to introduce geography lessons to her older students. Younger children wore them, which motivated them to practice their oral language skills as they explained the origin and function of each hat to fellow classmates. Library visitors generally couldn't read the cards inside the hats; however, everyone was truly enchanted by the fascinating shapes and decorative elements. Thanks Martha, for giving us such an intriguing way to visit around the world.
Millie Berger, Membership VP
If you have a collection or personal craft (no commercial displays, please) you would like to share with our patrons, please contact Lynn Light, Senior Librarian. Telephone (818) 340-9386 or click here to send an email.

The Friends of the Platt Library Newsletter is produced and maintained by Hearn/Perrell Art Associates. Editor: Therese Hearn
Artwork, photos and information are copyrighted by their respective Authors, the Friends of the Platt Library, and/or Hearn/Perrell Art Associates and may not be reprinted without permission.
Problems? Comments? Suggestions? Please tell the Webmaster.