Although it's "only" August, we're beginning to plan for our 6th Annual Children's Holiday Boutique, which is scheduled for Saturday, December 3 from 12 noon to 2:30 pm or so.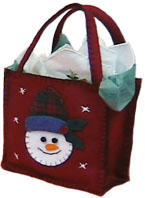 Supplying new gift items for our discriminating young shoppers is a major endeavor. Last year, our talented elves piled the tables with quality, hand-crafted goodies—everything from holiday pins, toys, and ornaments to crocheted coathangers, exquisite teacup pincushions, and labor-intensive gift bags and boxes—and the tables were virtually bare before the sale ended. So this year, of course, we need more of everything…especially craftspeople with fresh ideas to create prototypes and shepherd their projects through the gift-assembly workshops in October and November.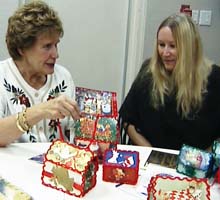 I've tentatively scheduled a planning session for September 15 from 6:30 to 8:00 pm at the Library. But if you have a project suitable for holiday gift giving and would like to get involved in the Friends' most rewarding annual event, please don't wait until then. Call or e-mail me now, and let's get started.
As soon as we've determined what items we'll be producing, assembly workshop schedules will be posted on the bulletin board in the Library foyer.
Mary Ann Ostrom, Fundraising VP
Our Special Thanks to Recent Donors
| | | |
| --- | --- | --- |
| From | To | For |
| Anonymous | General Funds | Book Purchases |
| Ed & Millie Berger | Memory of Debra Lebenbalm | Autobiography/Biography |
| E. J. Gold | General Funds | Book Purchases |
| Janis & Richard Mortillaro | Memory of Mary Alice Head | Autobiography/Biography |
| Nellie Nickey | General Funds | Book Purchases |
| Dick & Hermalee Schmidt | In Honor of Joy & Gerry Picus | Autobiography/Biography History |
| Timothy & Catherine Smirnoff | General Fund | Book Purchases |
| Solomon & Jackie Steg | General Funds | Book Purchases |
A donation makes a wonderful gift
You can experience the pleasure of helping your library by making a donation. Funds can be contributed for general library use, or you can specify that your gift be used for purchasing any quantity of one or more of the items listed below. A gift can also be made in honor of a special occasion such as a birthday or anniversary, or in memory of someone. (Click for more…)

The Friends of the Platt Library Newsletter is produced and maintained by Hearn/Perrell Art Associates. Editor: Therese Hearn
Artwork, photos and information are copyrighted by their respective Authors, the Friends of the Platt Library, and/or Hearn/Perrell Art Associates and may not be reprinted without permission.
Problems? Comments? Suggestions? Please tell the Webmaster.