Ray Bradbury, one of America's most celebrated authors, was the speaker for our General Meeting in May. Anticipating a large turnout, we arranged for the meeting to be held in the library proper. Even so, his fans filled every available space, and nearly 300 people of all ages waited with patient anticipation when Mr. Bradbury was delayed in traffic. Actually, the delay proved fortuitous because it gave the audience time to examine and purchase many of Mr. Bradbury's books, which were available for sale that evening. (Special thanks are due Frona DeCovnick for making the book sale arrangements with Mr. Bradbury's publisher, and Harriet Strauss's efforts coordinating the refreshments that everyone enjoyed while waiting were especially appreciated.)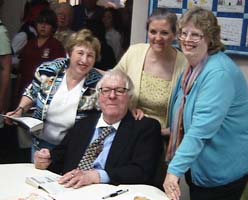 With Ray Bradbury at the book signing, are, from left, Frona DeCovnick, Joan Vos, and Lynn Light.
When Mr. Bradbury arrived, the crowd welcomed him with great warmth and enthusiasm. He immediately engaged the listeners with stories of his life's journey. Each story hung on his belief that the things we love will eventually shape our purpose and our destiny. He advised all present to hold onto the things they love. Some examples he gave from his own life were his love of information and imaginative speculation about the planet Mars in the 1950's and 1960's, which lead to the publication of his compilation of stories known as The Martian Chronicles. His love of John Huston's films and his love of dinosaurs lead to his authorship of the screenplay for Huston's remake of "Moby Dick". (Huston had read Bradbury's story, The Beast from 20,000 Fathoms, and that dinosaur had many of the qualities of Melville's great white whale.) His love for the comic strip "Buck Rogers" lead to the futuristic fiction that first established his stellar place in the field of Science Fiction.
Mr. Bradbury has since won acclaim for his mainstream short stories, poetry, teleplays, historical narrations for short subject films, and a space education program. He even has a star on the Hollywood Walk of Fame!
To accommodate the great line that formed after his talk, Mr. Bradbury stayed until 10:00 pm, signing books and charming everyone. (We all thank Senior Librarian Lynn Light for hanging in there with us through the last fan.)
Throughout the evening, Mr. Bradbury was filled with good cheer and lots of love. His zest for life has taken him many places and has given birth to a unique and imaginative vocabulary of images and ideas of the future. Many thanks to Ray Bradbury for sharing some of his joy with all of us.
Joan Vos, Program Chair 2004-2005 Season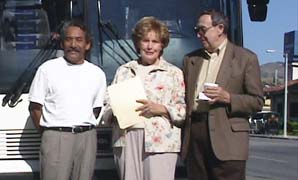 Our speedy bus driver with Mary Ann Ostrom and her husband, Sherm.
Friends Central Library Tour
Our June excursion got off to a fast start! The bus driver whisked members and their guests to the Central Library so quickly that we could explore the Maguire Gardens before the main tour commenced. 
"The Spine", as the main garden is called, contains some wonderfully unique features. The lifts between each step in the main aisle are inscribed with examples of every known language in the world, as well as several "universal" languages and symbolic communication in higher math, art, and poetry. The lower level is dominated by a fountain literally drenched in literary significance and by the World Peace Bell, which was dedicated to the City of Los Angeles by Japan. We were delighted no one had to choose between this fascinating corner of the city and the Library's other options.
| | |
| --- | --- |
| | The World Peace Bell. |
For the main tour, the docents divided us into four smaller groups and led us initially through the original building to describe the architecture, the effects of the disastrous fire in the 1980's, and the friezes, paintings, murals, and marble carvings in various areas. The tours then moved to the new Tom Bradley Atrium Wing, which is quite modern, a significant contrast to the traditional Spanish style of the older building. It's eight levels house music and computer services, special galleries sponsored by Foundations, and a large Taper Auditorium for theater events.
 Of special interest to our group, the Main Library's children's facilities provide three distinct reading areas: one for teenagers, one for pre-teens, and one for young children, with really pint-size furniture and a small theater. The First Floor Galleries' current display of San Fernando Valley photos also intrigued many. We almost had to pry some members out of the extensive genealogy section. And of course, several attendees enjoyed the gift shop before the tour ended.
 In all, an interesting and enlightening view of the literary side of Los Angeles not seen by a majority of its citizens.
Mary Ann Ostrom, Tour Coordinator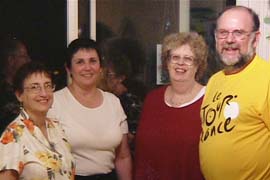 From left, Carol Roseman and Charlene Montante chat with Senior Librarian Lynn Light and her husband, Steve.
2nd Annual Friends Board Transition Event
On a balmy July evening, in Sharon and Shel Schuster's beautiful garden, the Friends of the Platt Library Board and members of the Platt Library Staff again gathered to celebrate a year well spent and look forward to more successful endeavors. Thanks in large part to our Founding Past President and Book Sales Manager's gracious hospitality, everyone thoroughly enjoyed the Board-sponsored supper and ceremonies.




above, top: From left, Senior Librarian Lynn Light, MC Patricia Cornche, Kathleen O'Malley, Circulation Clerks William Leventhal & Patty O'Bryan, and Eddie Cornche dig into the buffet.

bottom: Harriet Strauss (center) helps some of her Appetizer & Dessert Brigade (from left, Ellie Haney, Therese Hearn, Elaine Corman, and Joan Wagner) clear away the final treats. Also providing before & afters were Millie Berger, Frona DeCovnick, Carol Roseman, Sharon Schuster, and Joan Vos.
Friends President Frona DeCovnick presented expressions of thanks (carefully selected books, of course) to departing Board members: Program Chair Joan Vos and Publicity Chair Charlene Montante. General Support Members Carol Roseman and Sue Strickland were honored (with more books) for the outstanding job they did coordinating Platt's gala 10th Birthday Party. For good measure, Frona also slipped a book to the Schusters in recognition of their invaluable support.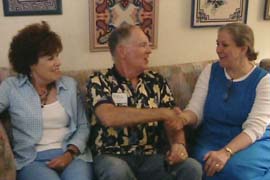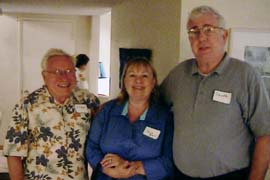 above, top: Incoming Program Chair Phil Binderman and his wife, Myrna (left), congratulate Joan Vos on last year's offerings.
bottom: Stan DeCovnick (left) welcomes incoming General Support Member Geoffrey Ball and his wife, Julie.
There actually wasn't much ceremony. Most of the Friends Board are continuing in their existing capacity for the coming year, with Carol Roseman moving into the Publicity chairmanship. We do have two new faces. Frona introduced Phil Binderman, who has accepted the duties of Program Chair, and Geoffrey Ball, who will serve as a General Support Member in Carol's place.
The Board is still looking for new members, however. FOPL is known throughout the LAPL system as the most active library Friends group in LA, and we always need more time and energy. If you have some to spare and would enjoy joining a "working administration", please email our Membership VP, Millie Berger.
Harriet Strauss, Nominating Committee Chair and
 Acting Hospitality Chair for Paula Russo
Plan for TWO Friends programs in October!

Sheldon Cohen's presentation on music
From the Silver Screen to Broadway
Tuesday, October 18 at 7pm

An integral part of America's music community for over three decades, Shelly Cohen knows his musical Americana…especially America's contribution to musical theater and cinema. In addition to 30 years as Assistant Musical Director on the Tonight Show Starring Johnny Carson, Mr. Cohen has written and produced major music specials for network TV. He founded the popular "Pacific Pops" orchestra and has guest conducted major "Pops" orchestras across the nation. He's also current Director and conductor of The San Fernando Valley Male Chorus, which is touring his concert version of "From the Silver Screen to Broadway" locally.

At his presentation, you'll not only get to tap your toes and recall the pleasant memories the best show tunes invoke, you'll learn their background from an expert whose business it is to know why they're loved around the world.

Special Election
Ballot Issues Review
Tuesday, October 25 at 7pm

In the event the November 8 Special Election takes place, a League of Women Voters representative will present analysis and background on the 8 or more ballot initiatives. Obviously, if the election is canceled, so is the ballot review. Check the bulletin board in the library foyer for updates.
Watch for the Entertainment 2006 Books!
Coming to the Platt Library Bookstore in August.
For more information call Ethel Margolin (818) 340-2000.

The Friends of the Platt Library Newsletter is produced and maintained by Hearn/Perrell Art Associates. Editor: Therese Hearn
Artwork, photos and information are copyrighted by their respective Authors, the Friends of the Platt Library, and/or Hearn/Perrell Art Associates and may not be reprinted without permission.
Problems? Comments? Suggestions? Please tell the Webmaster.