Going on 11—and Many More!
Was there anything more heartwarming than the laughter of children enjoying themselves at our 10th Birthday celebration? Carol Roseman and Sue Strickland did a Herculean job coordinating the event. Shel Schuster did his usual superb job supervising the book sales—inside and outside the library. And how wonderful it was that businesses in the community, the library staff, and our indefatigable volunteers could cooperate so fully to make this such a happy occasion.
Speaking of volunteers, assisting at April's party and Book Sale were Barbara Abromovitch, Carly Adelman, Danielle Bass, Annette & Millie & Ed Berger, Pam Bieber, Becky & Jenna & Julie Booth, Jacqueline Brenner, Ruth & Warren Bromund, Elaine & Sandi Corman, Frona & Stan DeCovnick, Lynn & Dan Durbin, Fay Dean Doyen, Muriel & Sid Eiduson, Vivian Estabrook, Faye Faraldo, Jesse Goldbaum, Sharon Gugler, Annie Haas, Ellie & Terry Haney, Therese Hearn, Rebecca Joseph, Pearl Kalechstein, Paul Kennedy, Leatha King, Willa Kurtz, Richard Lee, Brittany Lehman, Ethel Margolin, Ellen Marshall, Roberta Mehegan, Ruth Mehlworm, CeCe Mestman, Harriet Millman, Charlene Montante, Mary Ann Ostrom, David Perrell, Patricia Peterson, Nancy & John Reeve, Peggy Richmond, Carol Roseman, Corie Rosenblatt, Dick Schmidt, Don & Michael & Samantha & Sue Schuster, Sharon & Shel Schuster, Harriet Strauss, Sue & John Strickland, Joan Wagner, Michelle Watts, and Margaret Young.
Whew, that's quite a list! And all very necessary. Please join us as we begin our 11th year. Any Friends members who would like to volunteer can e-mail us.
Elaine Corman & Harriet Strauss
Co-Bookstore Volunteer Coordinators
At Last!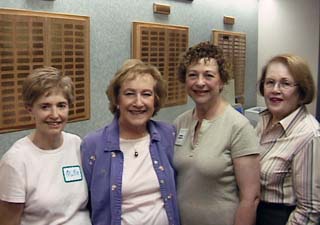 From left, project mover Millie Berger, former LA City Councilwoman Joy Picus, founding Past President Sharon Schuster, and founding Board Member Hermalee Schmidt at the dedication of Platt's permanent Volunteer Appreciation plaque.
No, it's not the refrain of an old song we're singing. It's a bit of relief that "at last" the Friends of the Platt Library's Board has achieved a long desired goal. Nearly 4 years ago, the Board began searching for a permanent way to honor Platt's many volunteers. Each January, a tribute honoring the prior year's volunteers has been placed in the Library display cabinet, but no way existed to honor the many dedicated individuals who gave selflessly of their time year, after year, after year.
Jan Metzler, Senior Librarian of Platt Branch at the time, selected the location for such a project, and also suggested "books" as a basic design idea. Thus, the project grew into a definite plan. It has been a struggle, however, to get the project approved by the library administration, to find someone to carry out the design, and to cull through mountains of volunteer-sign-up-sheet records and records to document service dating back to the inception of Platt Branch. We are grateful to Bob Romaro for the courage to tackle constructing books with the curvature of open pages, and to the Trophy Shoppe for the huge job of inscribing nameplates. Difficult as it was, we were more than pleased that "at last" we accomplished our goal this year, on Platt's 10th birthday, and these fine people finally received the recognition they so well deserve.
There are three book-shaped plaques, together with smaller label plaques. One "book" is allocated to volunteers who have given 3 years of service to Platt Branch Library. A second book honors 5 years of service, and the third represents 10 or more years of volunteer time. (A minimum number of hours per year are required to qualify for a "service year".) Although the years of service need not be continuous, in almost all instances the individuals have been volunteering continuously. The plaques were designed to be "perpetual," meaning that each year volunteer records will be reviewed and updated, new members will be added, and those increasing service years to the next category of time will have their names moved to the succeeding plaque.
The entire Volunteer Appreciation memorial is displayed in an alcove to the left and adjacent to the Senior Librarian's office and staff workroom door. It can be seen as you stand at the check out desk. We invite you to stop and spend some time reading the names of those we are so happy to honor – and I'm sure some of you will be delighted to see your names there. Congratulations. You deserve it!
Millie Berger, Membership VP
VOLUNTEER OPPORTUNITIES
Experienced Sorters,
Shelvers & Book Processors
needed to augment Platt's critical staff shortage. Any day or time. E-mail the Volunteer Coordinator.
---
Readers Needed!
Can you spare 2 hours each week to make a positive difference in children's lives?
Sign up now for LAPL's Grandparents and Books program. Readers must attend a training and certification session, so please contact Children's Librarian Vicki Migliori today! (818) 340-9386.

The Friends of the Platt Library Newsletter is produced and maintained by Hearn/Perrell Art Associates. Editor: Therese Hearn
Artwork, photos and information are copyrighted by their respective Authors, the Friends of the Platt Library, and/or Hearn/Perrell Art Associates and may not be reprinted without permission.
Problems? Comments? Suggestions? Please tell the Webmaster.