Light Notes
First off, congratulations to the Friends for a very successful 10th Birthday Party. Thanks for the tremendous volunteer time and effort it required. At least 300 – 400 parents, children, and other patrons enjoyed the great programs, activities, balloons, and birthday cake. I've never seen a branch so filled with exuberant celebration, and I'm very glad Platt's original Senior Librarian, Jan Metzler, could be here to enjoy the outpouring of community support.
All the official recognition gratified us both as well. Platt Branch received a congratulatory plaque from County Supervisor Zev Yaroslavsky, a certificate from Mayor Hahn's office, and a letter from US Representative Henry Waxman. City Councilman Dennis Zine even brought his certificate of recognition over himself.
The Staff and I also deeply appreciate the beautiful new Birthday Quilt Mrs. Shin's 4th-grade class at Welby Way School created and presented to Platt Branch that day. Since Sue Schuster's intensive labors to keep this tradition alive mean a great deal to Platt's patrons too, it will be hung at the library entrance the minute the hooks are finished. I'm sure its bright, bold colors will draw a lot of attention.
Another Valuable Addition
I'm happy to say, thanks to Millie Berger's perseverance, a superbly crafted Volunteer Appreciation Plaque was installed in time for Platt's 10th anniversary. At the party, I saw people already busy reading the roll of our exceptionally active volunteers, and I've received a number of very positive comments since.
More Thanks
In April, the Friends also helped us with the LAPL's Customer Satisfaction Survey. As a consequence, data collection went very smoothly, and Platt's contribution was completed early in every time slot. For this, too, we all thank you very much!
Lynn Light, Senior Librarian
Children's Programs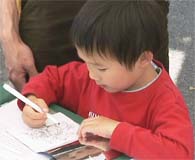 The great 10th Birthday programs and activities were the high point of Platt Branch's spring offerings. Platt patrons, especially the youngest, really are fortunate to have Friends who throw parties with so many wonderful things to see and do!
Upcoming Summer Fun
The citywide Children's Reading Club will start up at our branch on June 6. From that date, reading club materials will be available in the Reference Area. Kid's enrolled in the program read for fun and participate in a variety of free activities all summer long. Thanks in part to the generosity of the Friends, they'll also be able to enjoy free "Jamboread"-themed programs through August—starting June 9 with Alligator Al, an exciting new live animal show. 
Vicki Magaw, Children's Librarian
Young Adult Programs
One of the unremarked benefits of the Friends galas is the opportunity they give Platt's teen patrons to join adult volunteers and the library staff in a relaxed, fun, but still major undertaking. Our new YA Librarian, Elliott Gordon, told us he was impressed by the way our younger volunteers handled the face-painting booth and pitched in at the crafts table.
But then, Elliott seems to approach many things from a somewhat different angle. At press time, he had his hands full orchestrating an ambitious experiment that should be of interest to most high school students.
Finals Study Hall Project
By the time you receive this newsletter, the Multipurpose Room will have been turned into a half-day study hall in which 9th through 12th-graders could prepare for their upcoming final exams. Reference librarians and teachers will have been on hand to assist them. The snacks and sodas underwritten by the Friends will have been consumed. And the lucky first-25 students who signed-on will have gained a two to three-week jump on their cramming. At least, that's the theory. Cross your fingers. If successful, this will be a valuable addition to Platt Branch's teen out-reach programs.
Summer Excitement for Teens
LAPL's annual citywide
Teen Summer Reading Club
Check at the reference desk for the June sign-up date and watch the bulletin board for more exciting and informative tie-in activities and events.
Special Tie-in Program Thursday, July 21 at 4 pm
SWORDS & SWORDPLAY II
Be sure to be here when master sword & stunt men Michael John and Rand MacPherson return with more sword lore and more demonstrations of the fine art of choreographing sword fights for stage and screen. A big hit at the Teen Screen Festival downtown last year, their pilot program at Platt was our most popular teen program ever.
For more information call Young Adult Librarian Elliott Gordon at (818) 340-9386.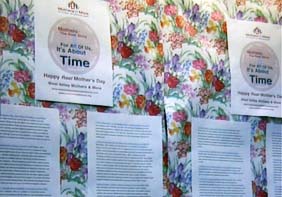 Display Case
For Mother's Day, members of Mothers and More mounted a display that featured lists of the many women's books their organization recommends. Thanks, ladies, for presenting information our patrons could find useful.
If you have a collection or personal craft (no commercial displays, please) you would like to share with our patrons, please contact Lynn Light, Senior Librarian. Telephone (818) 340-9386 or click here to send an email.

The Friends of the Platt Library Newsletter is produced and maintained by Hearn/Perrell Art Associates. Editor: Therese Hearn
Artwork, photos and information are copyrighted by their respective Authors, the Friends of the Platt Library, and/or Hearn/Perrell Art Associates and may not be reprinted without permission.
Problems? Comments? Suggestions? Please tell the Webmaster.