Light Notes
Well, we've had some bad and some good over the last few months.
Last February, a car hit our flagpole. General Services thinks the pole can be trimmed and remounted. We're currently getting bids for repair and hope to have our flag flying again soon.
Effective this month, late fees have been raised to 25¢ (from 20¢) per day on adult books and 10¢ (from 5¢) per day on children's books. (Fees have not been raised for 10 years.)
But now the good news…
Platt Branch is very happy to have Mike Beukelman and Travis Erwin join our staff. Both are very good workers. They are still learning the circulation system here, however, so please be a little patient with them.
Although Adult Librarian Chukwuji Nwajei was temporarily transferred to Porter Ranch, she's been returned to us. Our Reference Desk will be fully staffed again.
Plus, the entire staff is looking forward to the 10th Birthday Celebration. Especially me—this will be my first chance to participate in a renowned Gala Platt Branch Birthday Extravaganza. Hope to see you there!
Meet the Staff…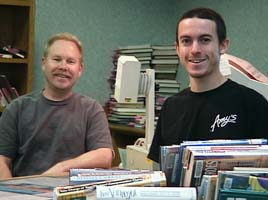 Hooray! Platt Branch has filled two vacant staff positions. Our new Circulation Clerk, Michael Beukelman (left), joined us in February. He has a hard act to follow, but he's been with LAPL for 20 years, serving patrons for all that time in the Valley Bookmobile unit. Equally needed, Travis Erwin (right) started as a Messenger Clerk in January. Although this is his first position with LAPL, Travis has some LAPL staff experience; prior to becoming a teacher, his mother was a Messenger Clerk at Chatsworth Branch.
Born in Indianapolis, Indiana, Michael moved to Sunland-Tujunga as a child. He still lives there with his wife and 12-year-old daughter. He'd still be with his Bookmobile unit, too, if the Library hadn't just canceled the program. He says he really enjoyed working in that valuable community service. Travis is a homegrown California guy. Currently a student at Pierce College, he's an organic food buff, an admirer of Krishnamurti, and an ardent back-lot baseball player. In addition to researching psychology and politics, he enjoys playing music and writing.
Children's Programs
"Performing Books" Performs Well
In February, the Los Angeles Public Library, in collaboration with the Music Center and the Los Angeles Times, debuted Performing Books at Platt Branch. This new program is designed to introduce performing arts to children through picture books and an accompanying live dance or musical instrument performance.
The first of a proposed series of programs featured storyteller/actor Peter Kors reading Roxanne Orgill's beautifully illustrated If I Only Had a Horn, a story about jazz musician Louis Armstrong. Performing on trumpet, Bobby Rodriguez provided the lively background sound effect. Both performers brought the story to life in front of seven 4th grade classes from Hamlin Street, Welby Way, and Haynes Street schools. 
This program accomplished many things. The students were assigned to read a biography about Louis Armstrong as a way to celebrate Black History month, as well. They were also encouraged to explore their interest and talents in music and the arts through books at the library.
Special thanks to teachers Karen Perry, Sandi Block, and Gloria Yniquez, as well as the schools' Principals and Literacy Coordinators, for their help in coordinating this successful event.
Vicki Magaw, Children's Librarian
Black History Month Observed with Storyteller Leslie Perry
Also in February, Leslie Perry entertained our kids while bringing them his unique view of the folklore African-Americans brought to this country and their roles in the historical tapestry of our nation.
Leslie's animated, down-south, almost revivalist style engaged the entire audience in episodes ranging from the American Revolution to the Civil War to the present. In some pieces it was fascinating to see and hear tales we've come to love in other cultural venues translated into his idiom. Like the story of Stone Soup: In Leslie's world, it became a story of Union soldiers drumming up a hearty gumbo from suspicious plantation slaves…with the kids merrily chiming in with where each ingredient was hidden. Needless to say, a grand time was had by all.
Happy Holidays with Our Library Grandmas
| | | |
| --- | --- | --- |
| | | Valentine's Day Preschool Storytime ~ This year, GAB Grandma Judie Mount joined me for a Valentine-themed program that delighted our preschool patrons and their parents. In addition to loving stories and songs, the children all created Valentine necklaces for their special someone. |
| | | |
| --- | --- | --- |
| St. Patrick's Day Celebration ~ In-house volunteer Aviva Sterns, GAB Grandma Therese Hearn, and I presented another round of Irish tales and music and crafts for Ireland's special day. We finished up with shamrock cookies and green lemonade, courtesy of the Friends, after kicking up our heels a bit and all joining in a puppet play. | | |
Upcoming Events:
| | | |
| --- | --- | --- |
| | | Platt's 10th Birthday Party ~ Be sure to catch Tony Daniel's magic, storyteller Janeece Flint, and John Abrams Animal Magic—plus all the other fun and goodies—at our day-long celebration April 16. |
| | | |
| --- | --- | --- |
| Nailah Malik's Folk Tales from Vietnam ~ School-age children, teens, and adults will all enjoy this exotic journey on the wings of a master storyteller's art Thursday, May 26 at 3:30 pm. | | |
LA Kids Read Festival ~ Don't miss the "JamboRead" at our Central Library downtown on June 4. Kicking off this year's Summer Reading Programs, the Festival will feature all kinds of free events and activities for all ages. Details will be posted in the library, or call me at (818) 340-6302 for more information.
Vicki Magaw, Children's Librarian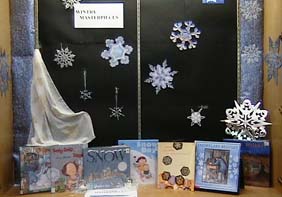 Display Case
Platt's lovely "WINTER" reading display was created by Adult Librarian Dara Eklund. Watch for more of Dara's seasonal selections throughout the year. And don't miss Sue Strickland and Carol Roseman's current tribute to Platt's 10th Birthday. You're sure to find food for thought and a chuckle or two amid the frosting and party favors.
If you have a collection or personal craft (no commercial displays, please) you would like to share with our patrons, please contact Lynn Light, Senior Librarian. Telephone (818) 340-9386 or click here to send an email.

The Friends of the Platt Library Newsletter is produced and maintained by Hearn/Perrell Art Associates. Editor: Therese Hearn
Artwork, photos and information are copyrighted by their respective Authors, the Friends of the Platt Library, and/or Hearn/Perrell Art Associates and may not be reprinted without permission.
Problems? Comments? Suggestions? Please tell the Webmaster.