Light Notes
First off, let me say, "The new carpeting is wonderful!" It makes the whole branch look new. The Multipurpose Room has been recarpeted with the same material, as well, and it has made a big difference in that room. As a little "extra", the book drop also was carpeted, so it's a little quieter now. And the City Building and Maintenance crew deserves our heartfelt thanks for completing the job right on schedule. As do Platt's staff and volunteers for preparing the library so the carpeting crew could get right at it. That was quite a job!
Staff Update
I'd also like to welcome Elliott Gordon to the staff as our permanent Young Adult Librarian. Elliott's knowledge of our branch and his extensive experience will be a great asset. Since he has been a substitute here for many years, he's familiar with both Platt's patrons and collection. The staff does miss Jack Zafran, who has been transferred to Granada Hills Branch until he goes back to Fairfax Branch. But Elliott comes with Jack's enthusiastic endorsement and will continue to expand YA materials and program offerings.
Kudos to Our Merry Elves!
The Friends 5th Annual Children's Holiday Boutique was a great success. Several patrons have commented on how much they liked their children being able to shop here. And the end-of-day sell-out speaks volumes about the kids' appreciation of our volunteers' efforts. Fundraising VP Mary Ann Ostrom and her talented helpers did a wonderful job!
And so, Platt Branch seems to be entering the new year on a rift of bright notes. Let's hope they continue. Have a great 2005, everyone!
Lynn Light, Senior Librarian
Meet the Staff
No stranger to Platt Branch, and hardly a newcomer to library science, Elliott Gordon filled Platt's need for a permanent Young Adult Librarian last November. But then every available hand was shifted to removing books from the bottom shelves so the library could close for recarpeting, and lately you may have seen only the top of his head as everyone frantically returns books to the bottom shelves. What a welcome for a veteran librarian who started his career with LAPL in 1967, made the rounds from North Hollywood Branch to Studio City Branch to West L A to Vernon Branch, then shifted to the VA as a medical librarian, and then became Director of Kaiser, Woodland Hills, Library (1986 – 2004)—while helping out at LAPL's Valley branches (including Platt) for the last 10 years.
We are truly fortunate to gain a staff member who can shelve his titles, degrees, and seniority with such good humor and just pitch in with whatever priority arises at the moment.
Elliott hails from New York City. He moved to Los Angeles in 1965 and earned both a Bachelors and Masters in History from California State University, Northridge. He then took his Masters in Library Science at California State University, Fullerton. Married for 31 years (to the same lady: Sandy), Elliott has two children, one a grant writer in Washington DC and the other a teacher in Korea. When not shepherding books, he enjoys serious long-distance walking and foreign travel. So far, he's made it to Europe and Australia/New Zealand (not walking).
Do stop by the Reference Desk and extend a Friends member's welcome to a long-time friend of Platt Branch and its patrons. A few pranksters not withstanding, our young adults deserve a librarian as committed and outgoing as Elliott is.
Children's Programs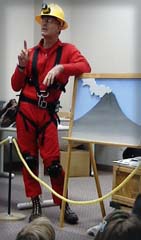 "Volcanoes in Story and Science" brought a real, and educational, blast to Platt Branch last November. "The best way to describe why a volcano erupts is through the power of bubbles," Richard Wade explained as he began his very visual presentation. Equipped with a hard hat, he used a welding-type torch to boil a beaker of water, causing its cork to pop. (He was quick to warn his audience not to try this trick at home, for of the seventy times he's done it, he's "been hurt seventy times.") A talented artist, Richard created colorful visual aids to show the kids various cross sections of volcanoes. By overlaying pictures he'd rendered, he demonstrated the effects of volcanic eruptions and showed how vegetation soon grows where once there were only ashes. Our "volcanologist" also brought lava rocks, including one filled with air pockets, which allow it to float in water!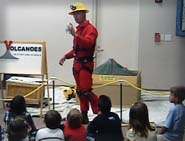 Humorous and entertaining, Richard then transformed into a storyteller with tales and myths about volcanoes. The kids learned about the Greek god Vulcan, the lost city of Pompeii, the Icelandic town that used the cooling lava for heating, and finally, the legends of Pele from Hawaii.
The finale was the eruption of a model volcano with the help of two young volunteers. "He's good!" said one of the parents, delighted that she was entertained as well as educated.
Richard proved to be POPular!
"Performing Books" Due in February
On Tuesday, February 8, Platt Branch will host a pilot program, coordinated by the Music Center, that celebrates the arts and children's literature through music and dramatic presentation. Peter Kors, a master storyteller, will read If I Only Had a Horn: Young Louis Armstrong by Roxanne Orgill, while Bobby Rodriguez plays jazz trumpet in the background. Two 30-minute performances are scheduled in the Multipurpose Room at 10 am and 11 am.
To better accommodate audiences, two 4th grade classes from Hamlin Street School are scheduled to watch the first show. Two 4th grade classes from Welby Way School will see the second showing, and Haynes Street School will send one 4th grade class for each session. Teachers and parents should encourage their youngsters to read some short biographical information about Louis Armstrong before attending. This will enhance their experience and would be a great way to celebrate African-American month.
Since the library isn't open on Tuesday mornings, advance registration is necessary for individuals who want to attend. Call me at (818) 340-6302 or stop by the Reference Desk to sign up or ask questions.
Other Upcoming Events
February is a major month for Platt's kids:
Valentine's Day Preschool Storytime—Grandma Judie and I have special activities and crafts planned for Monday morning, February 14 at 10:30 am.
African-American Heritage Celebration—Storyteller Leslie Perry will bring his warm, engaging, high-energy style and lots of audience participation to African-American folk tales and historical stories for the whole family on Thursday, February 17 at 3:30 pm.
Then in March:
St. Patrick's Day Cèilidh—A Cèilidh is an Irish get-together with music and dancing, and that's just what you'll find on Thursday, March 17 at 3:30 pm—with fun stories and crafts, of course.
And on April 16 all day:
As described elsewhere in this issue, Platt's Gala 10th Birthday Celebration has so many great entertainers and activities scheduled it will take your breath away!
Plan to enjoy all these special events with us.
Vicki Magaw, Children's Librarian
Displaying Gratitude
If you have not already had a chance to stop by the library display cabinet during the month of January, please take a moment to do so. This is the month we honor our many active volunteers.
Read through the list and you will recognize the names of friends and neighbors who give so willingly of their time and energy toward the betterment of Platt Branch Library. The 86 individuals listed volunteered many, many hours during the past year. They deserve bouquets for their continued dedication.
Millie Berger, Membership VP
If you have a collection or personal craft (no commercial displays, please) you would like to share with our patrons, please contact Lynn Light, Senior Librarian. Telephone (818) 340-9386 or click here to send an email.
CORRECTIONS
Due to an editing error, Howie Segurson was misidentified in the last issue. He is a saxophonist, not an oboist.
At our Halloween Children's Program in October, Susan Bougetz, a Library Sciences major at CSU Fullerton, and Children's Librarian Vicki Magaw filled in for Nailah Malik. Nailah had to postpone her storytelling until May 26, when she will present Vietnamese tales in honor of Southern Pacific Asian month.

The Friends of the Platt Library Newsletter is produced and maintained by Hearn/Perrell Art Associates. Editor: Therese Hearn
Artwork, photos and information are copyrighted by their respective Authors, the Friends of the Platt Library, and/or Hearn/Perrell Art Associates and may not be reprinted without permission.
Problems? Comments? Suggestions? Please tell the Webmaster.