Notes from the Senior Librarian
The last 3 months have been a painful time for Platt. Staff members' heartfelt sympathy go out to Friends Board Member Harriet Strauss, who lost her husband, Danny. Dan Strauss contributed to Platt's success in many ways, and his death is the Library's loss as well.
And it was a second blow. I can barely begin to express the Staff's shock and sorrow upon learning of Daisy Chen's death in August. It will be many, many more months before we can deal with the fact Daisy is no longer with us. She was the last of Platt Branch's original staff.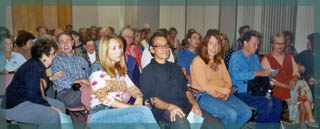 Over those 9½ years, she won many friends for Platt, both by her execution of her duties as a checkout clerk and her personal concern for our patrons. Her giving, caring spirit will be very difficult to replace.
However, the healing process began at a memorial gathering held by her colleagues here at the library. The crowd of previous colleagues and patrons whose lives she had especially touched tremendously heartened us all.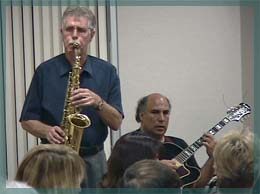 Thanks to all who contributed their special Daisy stories, and special thanks to saxophonist Howie Segurson and guitarist Ron Hershewe for contributing musical ambiance. Thanks also to the Friends for the many new books given in Daisy's memory. In a very tangible way, she'll remain with her "library family" in each book dedicated to her.
As Library Life Goes On
Just a few quick notes on upcoming library projects:
Platt Branch will be closed from December 6 through December 20 for recarpeting and general upgrades. We're sorry for the inconvenience, but maintenance is overdue, and this time frame will cause the least disruption. On a bright note, the new carpet throughout the building will be the new carpet squares that can be replaced in sections. Books can still be returned in the book drops or to any other LAPL branch.
Current Best Sellers availability is being aggressively addressed in concert with the Friends Board. Using the 10¢ increase in daily rental fees (from 15¢ to 25¢) and a special allocation from the Friends, we've already ordered 32 new books (22 currently best selling titles). Look for them on the Current Best Seller shelves facing you as you enter the library. We hope to increase subsequent orders as well—perhaps through a Friends volunteer processing program that is being explored now.
Plus Thanks for Saving Books
To help save books from being damaged in the return chute, the Friends provided funds for an adjustable book cart. Now returned books slide down onto a padded float tray instead of tumbling onto the floor. Their spines, pages, and covers remain intact. And it's much easier for the clerks to retrieve them. This is a wonderful improvement. The entire Staff's thanks go to the Friends Board and to all the members who make such extras possible.
Lynn Light, Senior Librarian
Young Adult Programs
The Teen Summer Reading program wrapped up with a pizza, popcorn, soda party and a wide screen showing of "Seabiscuit" in stereo sound. About thirty people of all ages enjoyed the motion picture and the refreshments, which were generously provided by the Friends of the Platt Library. Use of an LCD projector allowed the film to be projected onto the multipurpose room's drop down screen, giving the presentation a real movie experience. With over 180 teens having signed up for the Reel Books and Movies reading program, it was a fitting conclusion to the summer.

Teen Screen 2004
In conjunction with the film theme, a citywide Teen Screen Festival took place in October at the Central Library. Workshops in filmmaking, screenwriting and storyboarding were offered. Screenings of teen-produced films and readings of teen scripts took place in the Mark Taper Auditorium. Tigertainment also presented their Sword and Swordplay exhibition, a program that was first developed and performed at the Platt Branch as part of our summer slate of events. An enjoyable, educational, and productive time was had by all participating. Watch for a similar opportunity next summer.
SAT Workshop Coming Up in November
With school back in session, we will be offering a one time workshop on the new SAT, to be conducted by a representative of Kaplan Testing. This test will be changing substantially in March of 2005, and we encourage anyone applying for college in the near future to find out what they can about this key exam. The free program will take place on Saturday, November 13th at 2:00 pm. Reservations are required, and space is limited, so call Kaplan at 1-800-KAP-TEST or drop by the Reference Desk to sign up NOW.
Jack Zafran, Young Adult Librarian
Children's Programs
Nailah Malik was scheduled to bring the art of storytelling to the Platt Branch Library on October 28.

Unfortunately, she was not able to attend, and kids who anticipated the opportunity to attire themselves in their All Hallows Eve costumes and be delightfully chilled by her spooky tales were disappointed. All hope should not be abandoned, however, as Nailah foresees her appearance at Platt Branch in the future. Keep your eye on the crystal ball (AKA Calendar of Events).
Nailah, also known as the Vela Storyteller, has been a professional storyteller for 17 years. When not enchanting young audiences, Nailah provides storytelling workshops while also working as a part-time Young Adult Librarian at the Jefferson Branch in Los Angeles.
Upcoming Events
Active Mountains—Richard Wade will educate and entertain children with his Volcanoes in Story and Science program. He'll present the science part of how volcanoes erupt and grow, and will actually make a large model volcano erupt with bubbles! He will also share myths and legends about volcanoes suitable for children ages 5 to 12. Join the blast on Thursday, November 18 at 4:30 pm.
"Performing Books"—Platt Branch has been selected to host a program coordinated by the Music Center in which book meets performing arts. A storyteller will read a picture book biography of Louis Armstrong while a musician provides a trumpet rendition in the background. Geared for upper grade students, this pilot program is a great way to introduce music through a book. Since it's still in the planning stage, watch for fliers in December for a definite date.
Happy holidays to all!
Vicki Magaw, Children's Librarian
Constitutional Display
For Constitution Week, Betty Jeanne Farmer from the San Fernando Valley Chapter of the Daughters of the American Revolution brought in a presentation on America's famous founding document.

While timely, we're sorry the display could only be loaned for a week. Hopefully, next year the Constitution will receive a longer run so that more Platt patrons can appreciate it. Many thanks to Betty Jeanne and the DAR for a well-crafted and informative display. To learn more about the U.S. Constitution, click on the image at right.

If you have a collection or personal craft (no commercial displays, please) you would like to share with our patrons, please contact Lynn Light, Senior Librarian. Telephone (818) 340-9386 or click here to send an email.





The Friends of the Platt Library Newsletter is produced and maintained by Hearn/Perrell Art Associates. Editor: Therese Hearn
Artwork, photos and information are copyrighted by their respective Authors, the Friends of the Platt Library, and/or Hearn/Perrell Art Associates and may not be reprinted without permission.
Problems? Comments? Suggestions? Please tell the Webmaster.