Platt Branch Mourns Two Grievous Losses
Over the past 3 months, Platt's Friends and Staff were jolted by the deaths of Platt's remaining Charter Staff Member, Circulation Clerk Daisy Chen, in August, and one of FOPL's earliest members, Volunteer par Excellence Dan Strauss, in October. And as so often happens with the loss of long-time pillars of an organization, even long-time colleagues are left wishing they had paid more attention to their lives, their interests, and their accomplishments. Hence, we're preempting space usually devoted to Platt Branch news and triumphs to bring you the stories of two outstanding members of our library community.
DAISY CHEN
1961–2004
Sudden and completely unexpected, Daisy Chen's death on the evening of August 19th shocked everyone. She was driving to visit a friend when she began to feel unwell. She called to tell her friend she would be going to the doctor instead. Then she called 911. The paramedics found her in her car. Her heart had stopped beating. Although they were able to revive her temporarily, she did not survive. Her family, her friends, her colleagues, and Platt Branch patrons are still grappling with the incredible fact they'll never see this young, lively, unique person again. Which would probably tickle Daisy's unquenchable funny bone, were she here to hear it.
Born November 15, 1961, in Texas City, a port town on Texas's Galveston Bay, Daisy has been confronting people with conundrums most of her life. Her father was a sailor from China, and met her Korean-Mexican mother in Cuba. Since her two older brothers were born in Cuba, Spanish was Daisy's first language, to the surprise of many.
After moving to Los Angeles with her family, Daisy graduated from Belmont High School in 1979. She attended Los Angeles City College and worked a number of different jobs before she came to work for LAPL. She started working at the Frances Howard Goldwyn Hollywood Branch on its first day, June 14, 1986, after having worked for a time at Central as a messenger-clerk. She transferred to Platt when it first opened. She was always fascinated by working with the public, and was very happy with the friendly community she found at Platt.
Beyond the library, Daisy enjoyed movies. At one time, she had an extensive video collection. She especially loved comedies and could quote lines from vintage classics at opportune moments. A voracious reader, she favored an eclectic selection, and pursued creative writing herself. And, like her father, who traded sailing the high seas for running restaurants, Daisy loved to cook. Her barbecue sauce and Chinese chicken salad were enjoyed by many people. She learned to make kimchi and tamales from her mother and experimented with many other recipes, which she shared with great enthusiasm.
Laurie R. Perlowin (center, above), formerly at Frances H. Goldwyn Hollywood Regional, contributed the bulk of this article as an elegy that was read at Daisy's memorial.
This was one of the memories many shared at the memorial her colleagues held for her on October 5th. Staff members and patrons alike spoke wistfully of the delicacies she pressed on them—that and her unusual willingness to go out of her way to obtain just what they wanted, support them in times of crisis, and just cheer them up on down days.
It goes without saying that Platt Library without Daisy Chen is a familiar place in which something is suddenly a little off kilter, missing, strange. No substitute, but an attempt to keep Daisy's spirit with us none-the-less, the Friends of the Platt Library purchased thirteen books dedicated to her memory: Beagles: A New Owner's Guide, Doberman Pinscher: Beauty & Brains, Golden Retriever: All That Glitters, Living with a Shih Tzu, Pomeranians: A New Owner's Guide, Siberian Husky, Simple Guide to Labrador Retrievers, Weimaraners: A New Owner's Guide (all relative to another of Daisy's interests), When God Winks on Love, My Life—Clinton, Growing Up in a Korean Kitchen, The Habana Café Cookbook, and Old Havana Cookbook: Cuban Recipes in Spanish. Look for them on the shelves, and join us in remembering some of Daisy's favorite things.
DAN STRAUSS
1924–2004
It was with great sadness and regret that we learned of the death of Dan Strauss on October 2, after a long and courageous battle with cancer. Danny was a Friend in many ways. With his wife, Harriet, he joined the Friends of the Platt Library shortly after the library opened and contributed significantly in a variety of areas. 
Danny was known by his stage name "Houdani" when he followed his avocation, performing magic. He planned an evening of magic and illusion as an early fundraiser for the Friends; in it, Houdani performed along with a number of his friends. The library's birthday parties always had a magician to charm young and old, sometimes Dan, or otherwise one of his friends. One very special Friends program was "The History of Magic" given by Danny.
In addition, Dan volunteered everywhere and anywhere needed. Photography was a long-time hobby, and every library event was well pictured.  He provided special gifts for speakers, staffed events and book sales, and distributed flyers to the neighborhood—to name just a few of the tasks he took on. He could always be counted on, especially to back-up Harriet in her volunteer activities.
Dan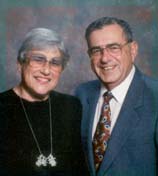 was born on the South side of Chicago in 1924, but his family moved to Southern California in 1938. They owned a bakery business in North Hollywood. Dan served in the Army in World War II, Pacific Theater, and then in the Air Force in the Korean conflict, ending his military career as a First Lieutenant.
He married Harriet in 1951 and then attended USC to receive a B. A. and a Masters degree in Marketing. During that time he was working as an electronic technician, but after receiving his degree, he became Director of Marketing for Litton and then ITT. The family grew with the addition of daughters Danelle and Melinda and now includes four grandchildren.
As Dan's interest in the scientific fields waned, both he and Harriet became travel agents. They spent the next 18 years as owners of a travel agency and traveled the world. They retired in 1986, and Dan pursued his hobbies of photography and magic while volunteering at Platt Library.
Danny always had a smile and warm words for everyone. He said, "Don't take life too seriously and have a little fun each day." We can best remember him by following his advice, but he will be sorely missed.
Sharon Schuster, Founding Past President
November Ballot Issues Nailed!
(From left) Senior Librarian Lynn Light, LWV Speaker Ellen Pangarliotas, and Program Chair Joan Vos—all justifiably delighted by the enthusiastic turnout for the evening's ballot issues discussion.
Despite the rain preceding our October General Meeting, over 120 people came out to become better informed about the issues on the November ballot. And they weren't disappointed.
Ellen Pangarliotas, Chair of the Los Angeles County League of Women Voters Speakers Bureau, presented background information that isn't available in the State's voter information guides, and she pinpointed the crux of the more obscure state measures. (The League of Women Voters does not support or oppose candidates or political parties. It is a non-partisan political organization that encourages citizens' informed and active participation in government.)
With so many measures on the ballot, Ms. Pangarliotas began her presentation by asking the audience which propositions they most needed to have clarified. She took those requests, restated the intention of each proposition in question, and presented facts that the League had investigated on both sides of the measures. She also explained the relationship between propositions that had to be judged relative to each other as well as on their intrinsic merits: Props 1A and 65 (protection of local revenues acquired through property tax, sales tax and vehicle license fees), 68 and 70 (tribal and non-tribal gaming issues), and 60 and 62 (proposed amendments to the state election process).
The evening offered an excellent opportunity for all present to better understand how measures get on the ballot, to further investigate the current propositions, and to clarify their own position on the issues. A representative of the West Valley Black Chamber of Commerce commented that she'd attended five ballot discussions that day, and this was the best she'd seen.
I think I can say my first Friends program was a success—thanks to Ellen Pangarliotas's outstanding presentation, Hospitality Chair Paula Russo and her helpers' delicious refreshments, and all the people who obviously came prepared. I'm also especially grateful to Senior Librarian Lynn Light for graciously allowing the program to extend beyond its scheduled time so that all our members concerns could be addressed.
Joan Vos, Program Chair
We're Still ENTERTAINING
Thanks to the energy of Ethel Margolin and Bookstore volunteers, Friends members have been steadily purchasing Entertainment books. The Friends earn $4 for every book sold, so each purchase directly benefits Platt Branch Library. A supply of books is kept on hand for Los Angeles, San Fernando Valley, and for Ventura County. These books contain savings many, many times more than their $20 purchase price. Just using Ralph's coupons for shopping turns the $20 cost into a $40 profit. When you want to dine out, there are bountiful discounts for food at local restaurants. So buy now, save for 12 months.
We will continue to sell books through the end of the year. You can drop by the Bookstore or purchase them during the upcoming Book Sale on November 19 and 20. In addition, a book for any area in the U.S. can be ordered. Stumped for a gift to send to Uncle Charlie in Oregon? An entertainment book is easily wrapped and lasts for an entire year. You can't beat the price and convenience.
Questions or special orders, please call Ethel Margolin at (818) 340-2000.
Millie Berger, VP Membership

Help make Platt's next birthday
a perfect 10!
Be a Friend and join the planning committee to help make April 16, 2005, a memorable, magical day… and a day that celebrates The Magic of Books.
In this initial planning phase, we need
people with ideas for programs and activities that relate to the magical powers of books;

people with a talent along these lines (any magicians? mimes? illustrators? calligraphers? actors? dancers? musicians? singers? storytellers? writers? papermakers?… you get the gist);

people with a knack for spotting ideas that aren't feasible and figuring how to implement those that are;

people with a knack for soliciting donations from commercial suppliers;

people with crafts materials they can spare;

people with the skills to turn those materials into crafts projects;

people who know people with the above qualities who would help if asked.
Send us an e-mail now…to actually join the team, to simply offer ideas or referrals, or to let the planning types know you're available in April.
Birthday Party Chairwomen: Sue Strickland • Carol Roseman
Email birthday@plattlibrary.org

The Friends of the Platt Library Newsletter is produced and maintained by Hearn/Perrell Art Associates. Editor: Therese Hearn
Artwork, photos and information are copyrighted by their respective Authors, the Friends of the Platt Library, and/or Hearn/Perrell Art Associates and may not be reprinted without permission.
Problems? Comments? Suggestions? Please tell the Webmaster.