Membership News
A very warm thanks and welcome to new members:
Ann & Tim Culhane
Grace Ek
John Hoehn

Ken Larson
Mustafa Ruzgar
Fran Yow
A sincere thanks also goes to Ellie & Terry Haney and Leatha King for upgrading to Life Member status. On that note, letters were recently sent to 2003–2004 Life and Sustaining members indicating book titles selected for Platt's collection in each member's honor for the year. A number of you sent back kind comments about the high quality of the selections. There is a lot of time and thought that goes into the process to try and match your special requests with the needs of Platt Branch's collection. The comments were much appreciated by the staff.
Gift Membership
This could be the perfect gift for those hard to please or "readaholic" people on your holiday gift list. They will appreciate your thoughtfulness and, as well, continue to reap the benefits of your giving throughout the year as they find savings on book purchases every time they attend our wonderful pre-sales. We will acknowledge your gift and will send a special gift card to the new member.
You may use the form below. Circle the mailing label on the reverse to indicate you are the donor and be sure to check the "Gift Membership" box. Or, stop by the bookstore and pick up a special gift membership form. In that case, please be sure to fill out all portions of the form for proper acknowledgements.
We're Still Working on Renewals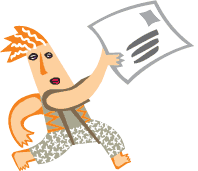 You are simply the best membership an organization could ever expect to have. More than half of our membership renewed promptly. Thus the number of reminder letters sent out at the end of July was greatly diminished, saving us considerable funds and time. Thank you.
If it slipped your mind and you have not yet renewed, you will find a stamp on the outside cover of this newsletter marked "Membership Expired". The next book sale is August 28, and the members' preview sale is Friday evening, August 27. This will be the last preview sale you can attend without membership renewal. You won't want to miss these events and the early chance to pick choice reading materials for inexpensive prices. You also won't want to miss receiving our exceptional newsletter filled with details of activities and coming events at Platt Branch.
Be a Friend!
Memberships in the Friends of the Platt Library are win-win relationships. Besides providing additional funding for our library, they also give opportunities for new friendships, socializing, and volunteering—as well as community recognition for your support of a worthy cause. If that's not enough incentive, you also get a printed copy of this newsletter in the mail…what an excellent investment!
To become a member, give a membership as a gift, or renew your existing membership, just fill out the form below and click the 'PRINT' button. Write a check payable to Friends of the Platt Library and send it along with the printed form to:
Friends of the Platt Library
23600 Victory Boulevard
Woodland Hills, CA 91367
...or bring them to the library in person. Thank you!
FRIENDS OF THE PLATT LIBRARY MEMBERSHIP
Business Members
Click on a business card to open a member's website.

The Friends of the Platt Library Newsletter is produced and maintained by Hearn/Perrell Art Associates. Editor: Therese Hearn
Artwork, photos and information are copyrighted by their respective Authors, the Friends of the Platt Library, and/or Hearn/Perrell Art Associates and may not be reprinted without permission.
Problems? Comments? Suggestions? Please tell the Webmaster.